Eventide EuroDDL Video Review - Digital Delay With An Analog Soul
Eventide's first Eurorack module is the EuroDDL, a multi talented delay unit. In his review, Loopop puts it to the test to find out exactly what it can do...
Eventide's first foray into the Eurorack world - the EuroDDL - is a much-anticipated digital delay unit that retails for $399. Our industrious friend Loopop whose passion for hardware knows no bounds has managed to get hands-on with one and shoot a video, offering his impressions of its sound and performance. It's published on his YouTube channel, where you will find many other gear videos. You can check out the video, and then read his full review below.
Eventide EuroDDL
Delay is one of the most popular audio effects, and understandably so. In this clip I review EuroDDL, as well as use its various CV interfaces to create a chorus/flange effects, a delayed harmonizer, apply a PWM-like effect to a synth that doesn't have that feature, loop drums and, since there's a built in filter, create percussive Karplus-Strong sounds.

While the concept of delay is simple – recording a snippet of sound and playing it back continuously, done at different delay times – delay can have a dramatic effect on your sound. Timed to the tempo of a song, delay can take a simple riff and turn it into a rich and dynamic soundscape, as shown repeatedly (if you don't mind the pun…) by U2's the Edge. Millisecond delay times can multiply your sound with a chorus or flange effect, and longer delays behave like a looper.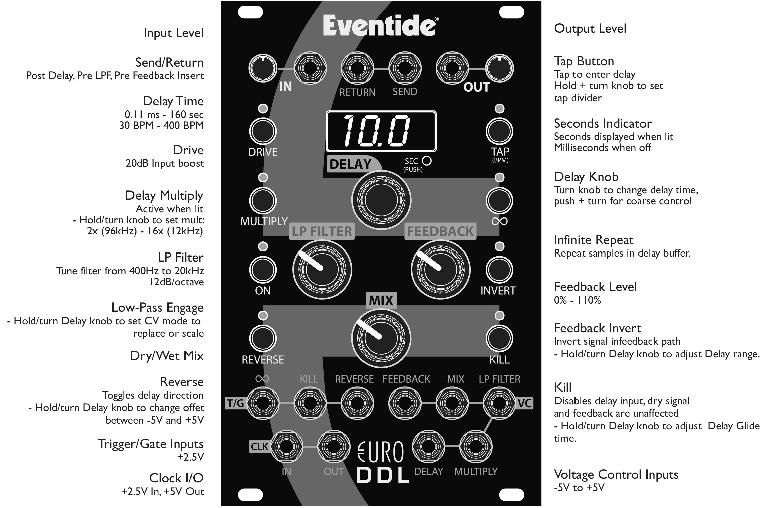 Eventide has a prolific effects history, and EuroDDL is their first Eurorack format module. EuroDDL's default sample rate is 192khz and can handle delay times anywhere from 0.11ms to 10 seconds at that rate. The sample rate can be adjusted in 16 steps down to a lo-fi 12khz, respectively bringing delay times up to 160 seconds.
Aside from "regular" delay, EuroDDL contains an analog low pass filter that can be applied to the feedback loop, a 20db drive toggle on the input, as well as reverse and infinite looping toggle buttons. Phase inversion is also available and can make a difference with millisecond long delay times.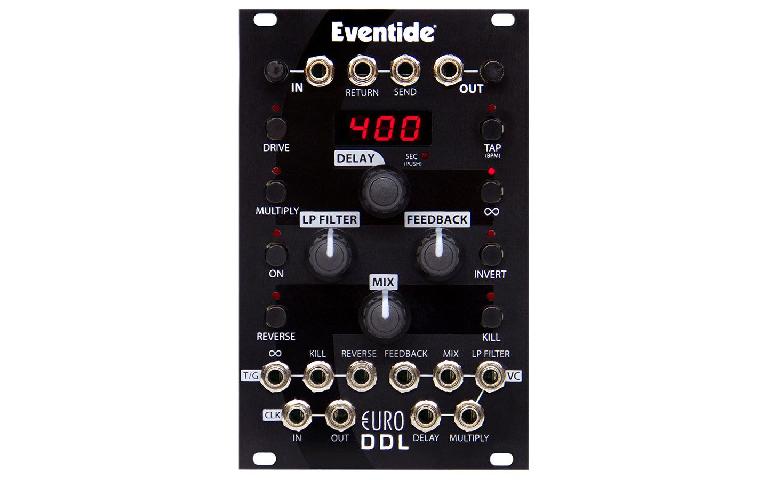 True to Eurorack form, EuroDDL is ready, willing and able to accept and send CV. Five CV inputs let you modulate delay times, sample rate, feedback, dry/wet mix and the low pass filter cutoff. Additional configurable trigger or gate inputs let you use CV to toggle the infinite loop, reverse and "kill" features (the dramatically named "kill" feature keeps the dry and wet feeds going but doesn't send any new dry audio into the feedback loop). Tempo can be synced via a clock input, and sent out as well thru the clock output.
Finally, send and return jacks let you insert external effects into the feedback loop, as I show in the "delayed harmonizer" example.
To top it off, the onboard display is extremely useful in establishing timing, tempo and visualizing the impact of CV modulation. The module is fairly straightforward and a one-page manual makes understanding the lay of the land quick and easy.
Price: $399
Web: https://www.eventideaudio.com/products/eurorack/delay/euroddl
Pros: The combination of onboard controls, built-in filter and openness to CV modulation makes EuroDDL capable of creating quite adventurous sounds, and it's a great Eurorack partner to bring delay to your system.
Cons: If it wasn't for Eventide's other work there probably wouldn't be a "cons" here… EuroDDL is a strong contender in the Eurorack delay market - but their other work leaves me wishing more of it was implemented here. EuroDDL is priced similarly to Eventide's own TimeFactor delay effect pedal – and while the latter isn't in the Eurorack format nor does it have any of the CV interfaces (though it does have an expression pedal input and MIDI controls), TimeFactor does have richer sound design options and the ability to store and recall presets.
Follow Loopop on YouTube: https://www.youtube.com/channel/UC-RA5BzE_BnZhf5iVdNF1hA
And FaceBook: https://www.facebook.com/pg/loopopmusic