With the advent of virtual studio technology, plug-ins have become an essential component of digital music production – but you don't have to break the bank to enhance your DAW with third-party effects. Here's a round-up of the best free plug-ins available for both Mac and Windows platforms.
Effect Bundles
If you're looking for a suite of easy-to-use effects, there are two go-to options.
The MDA bundle has been around for as long as I can remember, and it's still available from the fine folks at Smart Electronix (http://mda.smartelectronix.com). Featuring a range of simple, CPU-efficient plug-ins that utilize your host's default GUI, the package includes everything from basic dynamics, de-essing and limiting to more exotic options such as a talkbox, a multi-band distortion unit, a rising tone generator and a pitch-tracking oscillator.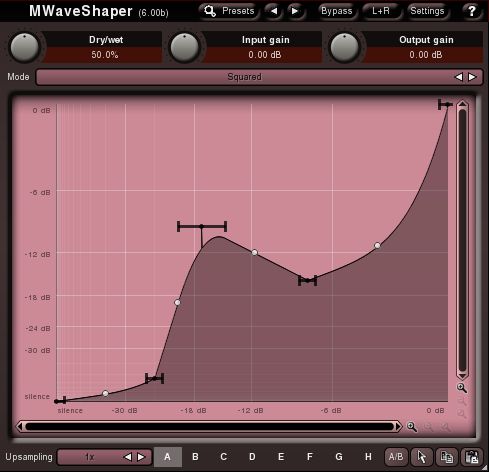 Don't worry – they're not all pink!
If you're looking for a more polished selection, head on over to MeldaProduction and grab their Free Effects Bundle (http://www.meldaproduction.com/plugins/product.php?id=MFreeEffectsBundle). Including everything from powerful analyzers and metering, compression, limiting, filtering, phasing, flanging, vibrato, tremolo, ring modulation, wave shaping and even autotune-like monophonic pitch correction, it also comes with handy utilities such as a note pad (useful for saving future ideas or change logs along with a project), in-line tuner, and a noise generator – all with a rather handsome design, if I do say so myself.
FSU
Need to add some unique character to your track? Want to harness intricate glitches and otherworldly spectral delays? Good news: you've got options! And they're free.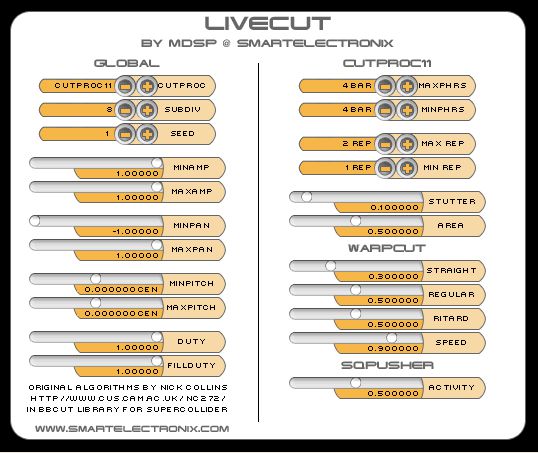 Sharpen your blades and slice away.
Smart Electronix developer MDSP is responsible for the legendary beat-mangling device known as LiveCut (http://mdsp.smartelectronix.com/livecut); with a range of options and controls, you'll be slicing your rhythms (or other elements – don't be afraid to experiment!) into Squarepusher-esque mania in no time. If you're looking for something a bit more subtle, MDSP created Fire (http://mdsp.smartelectronix.com/product/fire) for the annual KVR Developer Challenge way back in 2006 – and won 3rd place. It's still relevant today as I have yet to find another delay effect that achieves the same deliriously smeary results; try it out and you'll see what I mean.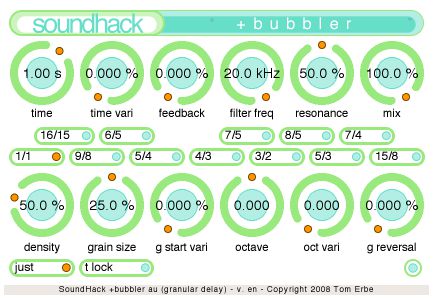 Soundhack: more bubbles than Alizé?
If you're looking for something a bit easier to control yet still achieve wild results, check out the Soundhack Delay Trio (http://www.soundhack.com/freeware), which includes a classic delay unit along with a unique pitch delay and a granular delay that spits out dynamically morphing textures in no time flat. While you're there, be sure to check out the Soundhack Freesound bundle, a set of experimental processing units designed at CalArts to get your creative juices flowing.
King Dubby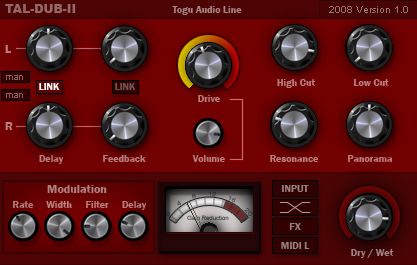 Rub-a-dub-dub...
Most DAW-included delay effects have a very clean, digital and at times even antiseptic sound – so if it's a classic bucket brigade-style feedback line you're looking for, you'll have to search elsewhere. Togu Audio Line has been producing free instruments and effects for some time now, and their Dub line of plug-ins (http://kunz.corrupt.ch/products/tal-dub) does the trick. Comprised of three different delay plug-ins offering a range of tape-saturation and other dirty delays, you'll have that tried-and-true dub echo sound dialled in quick. They may not be much to look at – and you'll want to exercise caution with the feedback parameter as these are fully capable of generating speaker- and ear-damaging gain loops – but then again, they're free!