Asheville, Carolina del Nord - Maggio 2014 ...
Il concerto, tenutosi presso Isis Music Hall di Asheville, caratterizzato Norlander, accompagnato da compagni Jeff Kollman alla chitarra, Mark Matthews al basso e Nick Le Par alla batteria. Rig sul palco del Norlander comprendeva tre molto particolari, completamente ristrutturato sintetizzatori vintage dagli archivi della Fondazione Bob Moog, tra cui un 1967 Moog modulare, uno dei primi Minimoog Modello D, e una rarissima Moog Apollo.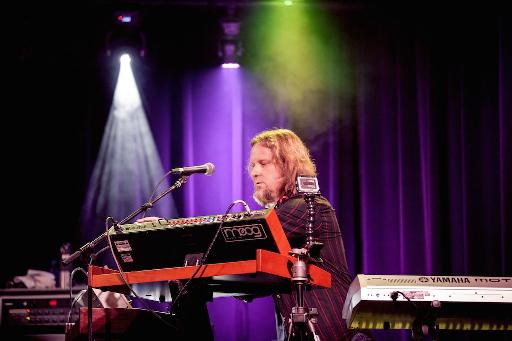 Erik Norlander esibirsi al compleanno bash BMF.
"La convergenza del Moog modulare, il Minimoog, il Moog e Apollo in una performance è quasi senza precedenti", osserva Michelle Moog-Koussa, direttore esecutivo della Fondazione Bob Moog. "Non da Keith Emerson in tour con un prototipo Apollo nei primi anni '70 se siano stati sentiti insieme in performance live, rendendo questo" Tribute to Dr. Bob "concerto un evento veramente storico".
Il 1967 RA Moog Co. modulare è un sintetizzatore iconico in prestito permanente presso la University of North Carolina a Greensboro. E 'stato costruito per il primo studio di musica elettronica nello stato, e consegnata a mano da Bob Moog.
Il 1973 Minimoog è stato donato alla Fondazione da Asheville compositore e arrangiatore Tom Coppola, che ha usato per registrare la firma di tre note "sound Duracell", tra le molte altre applicazioni commerciali e musicali. Il Minimoog è stato il primo prodotto in serie disponibile in commercio sintetizzatore che il musicista di lavoro poteva permettersi. E 'considerato da molti come il sintetizzatore più iconica di tutti i tempi.
Norlander usato Minimoog e modulare per giganti spazza bassi e droni della Fondazione, l'aggiunta di peso e l'atmosfera ai suoi brani, "arrivo", "cielo pieno di stelle" e "The Dark Water".

L'inestimabile Moog Apollo è uno dei pochi del suo genere al mondo. Questo strumento del 1973, recentemente e completamente restaurata dalla Fondazione Bob Moog, servita come prototipo per il modello di produzione Polymoog. L'Apollo è uno dei primi synth polifonici, sintetizzatori che potrebbero giocare più di una nota alla volta.

Norlander ha portato l'Apollo vivo in uno splendido assolo durante il suo pezzo firma, "Dreamcurrents," utilizzando il programma di clavicembalo di evocare i primi giorni di performance polysynth arte con il classico, toni vintage. Ha ripreso nuovamente il clavicembalo nella sezione valzer di "Dopo la rivoluzione," normalmente suonato al pianoforte acustico. Norlander successivamente impiegato programma famosa "Vox Humana" nel suo altisonante apertura corale di "Neurosaur" e ha utilizzato il suono analogico in ottone morbido Apollo per il suo delicato tema introduttivo su "Fanfare for Absent Friends".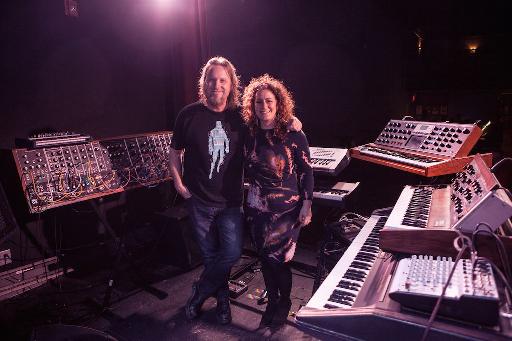 Erik Norlander con BMF direttore esecutivo Michelle Moog-Koussa.
"Bob Moog ha portato una nuova voce al panorama musicale, e il nostro vernacolo musicale sarebbe molto diverso senza il suo contributo duraturo", ha sottolineato Norlander. "Il nome 'Moog' è sinonimo di arte, scienza e innovazione, e come tastierista e sintetista, mi viene in mente non superiore tributo che usare le invenzioni senza tempo di Bob come gli strumenti fondamentali nel mio mestiere."
Drew Heller, chitarrista della band fusion africana Toubab Krewe, ha aperto lo spettacolo per il Galactic Collective, affiancato da suo padre, Grammy premiato produttore / compositore Steven Heller. Bob Moog aveva uno stretto rapporto musicale con Toubab Krewe; Steven Heller era amico di lunga data e collaboratore musicale. Il loro set acustico è stato caratterizzato da storie di generosità di Moog, senza paura inseguimento dello sconosciuto, e il suo senso dell'umorismo.