We've always been intruiged with the goodies coming out from Erica Synths, so expect some reviews coming soon. In the meantime, here's what the good folks there tell us about their new Black Classic System:
January, 2016–We are incredibly excited to introduce our first modular set – Erica Synths Black Classic System with functionality of classical two oscillator synthesizer and tons of cool features to address contemporary needs of modular users.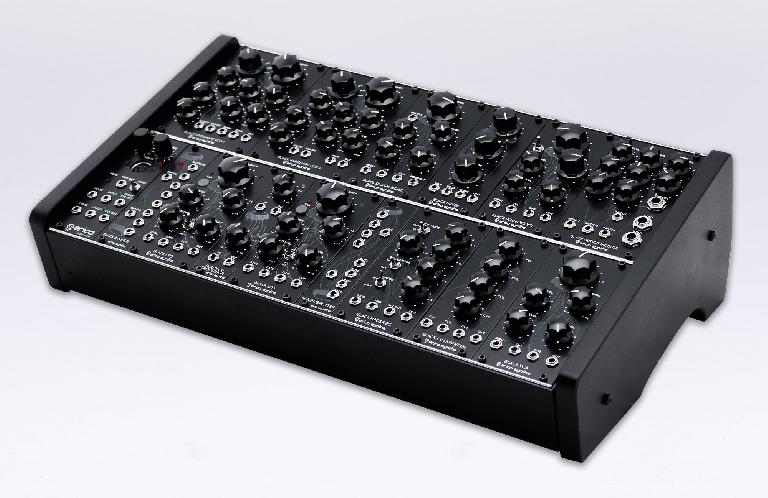 The heart of the system is two Polivoks inspired Black Varishape VCOs. Unique waveform mixer, PWM circuit and most importantly transistor based suboscillators will bring you one of the fattest sounding VCOs you can get around.
Shape sounds with Black Polivoks VCF and Black VCA. Black Polivoks VCF has famous resonance screams in self-oscillation and can also be used as sine VCO. Versatile lin/log response VCA with CV bias control gives great tremolo effects.
Go further and add some crazy sounds! Black Digital Noise makes range of noise effects: from almost pure white noise to Atari console-like one bit noise and other more-less predictable noises. Its CV control over various parameters and clock sync feature give infinite explorations in non-musical sounds.
Black HADSR/AHDSR envelope generator has unique looping functions and CV control over each parameter and lin/log envelope option.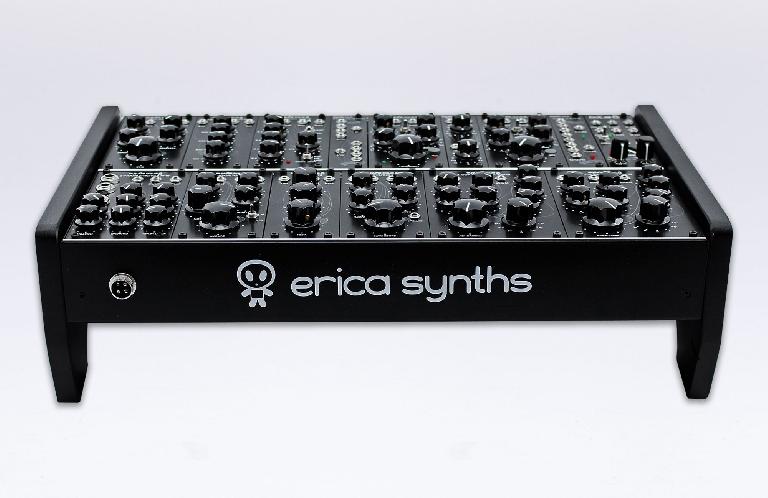 Of course, don't forget about two Black LFOs! We stuffed LFO with broad range of functions including 6 waveforms + S&H, TAP tempo, sync, start on GATE function and built in VCA with LFO amplitude hold/attack and decay function. Moreover, it can be used as envelope generator.
Keep going and for monitoring your modular masterpieces choose Black Output module. It has manual and voltage control panning, balanced outputs and headphone amplifier.
Last but not least, very accurate monophonic/duphonic MIDI-CV interface which has analogue GLIDE, master TUNE, modulation CV, key velocity CV, CV IN (adds CV from midi controller to external CV for arpeggios).
And one more thing, you won't be left feeling indifferent to the systems black design that looks mighty! We also paid attention to a layout making the system easy to play. Large knobs assigned to main functions of modules make it even more user friendly.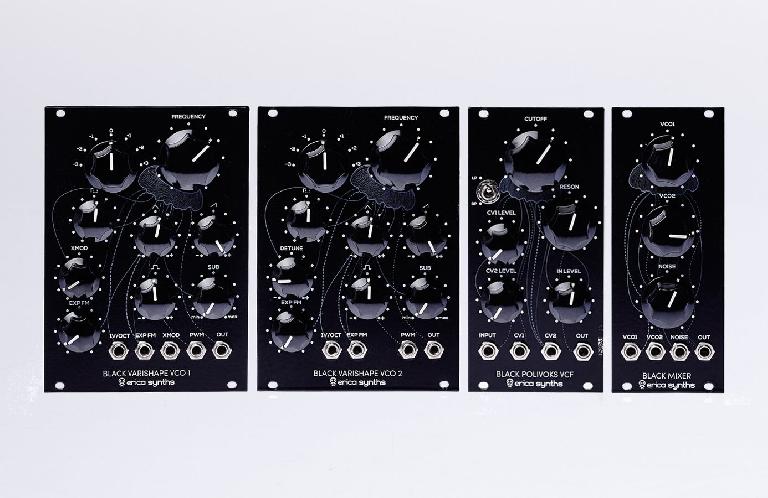 Erica Synths Black Classic System includes:
Black Varishape VCO1
Black Varishape VCO2
Black Polivoks VCF
Black VCA
Black 8-multi
2 Black LFO
Black Digital Noise
Black Mixer
Black Output module
Black CV Processor
Black Mixer/Splitter
Black HADSR EG
Black EG CV Expander
MIDI to CV
Eurorack skiff case
External linear 1,25A PSU or built in 1,3A switching PSU of your choice
Horizontal wooden side panels
20 Patch cables
Price: 2222 € (ex. VAT). Buying modules separately the price is 2770 € (ex. VAT)!
For those who are interested only in Black series basic set we offer Black Sound modules bundle! Upgrade your modular synth with high-end Black Series modules saving up to 15%!
Prices:
VCO1 + VCO2 + Mixer + Polivoks VCF = 646 EUR (ex. VAT)
VCO1 + VCO2 + Polivoks VCF = 612EUR (ex. VAT)
VCO1 + Polivoks VCF = 399EUR (ex. VAT)
VCO2 + Polivoks VCF = 399EUR (ex. VAT)
More info: www.ericasynths.lv/en/shop/eurorack_modules/
Available from www.ericasynths.lv and leading retailers worldwide!