With many Live users unfortunately not having a dual monitor set up the ability to have Session and Arrange view living side by side became one compromise too far with screen real estate at a premium! EraserMice could see how frustrating it might be as the workflow of seeing your arrangement start to breath life whilst having a Session view at the same time became a compelling project. And thus the ProSession devices were born as Eric describes below...

"The ProSession tools are all about making your workflow in Live more productive and more, well, 'LIVE'! Starting back in live 8 before Live had dual windows, we created a set of 'floating windows' tools that broke through the normal limitations of lives single window world. Now that Live has changed with the times, so have we, bringing even more power to both dual and single window workflows. If you work on a single monitor (for example, like just about every laptop performer in the world!) you'll appreciate how we've brought the power of multi view and immediate interactivity to Ableton's single window.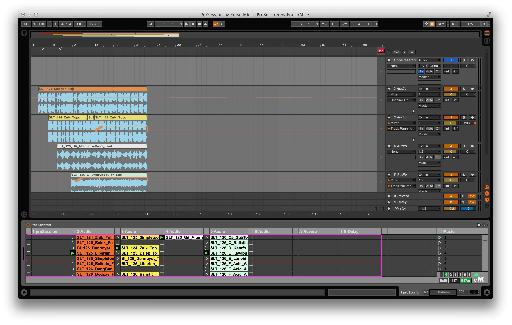 Yup, it's true. For a small payment EraserMice ProSession unites Session & Arrange View in Ableton Live!
If you're a dual monitor power user, we think you'll find plenty of features to optimise your workflow too, after all, just because you have a lot of display areas doesn't mean you want to give yourself carpal tunnel syndrome or wrist stress continuously mousing all over it, or spend your time digging through window after window and tweaking your track sizes continuously to see the detail or overview you really want instant access to.'
With one ProSession device sitting in the Master track you can switch views and still keep track of the clips you're launching with your Ableton Live supported controller, with one or many ProSession HUDD devices you get powerful control of every parameter and device within your set without having to switch views constantly!
As ever there's a comprehensive list of walkthrough, individual feature and demo videos below to support the written manual'¦
INSTALLATION VIDEO - https://www.youtube.com/watch?v=e-kD0rtjQLk

KAOS PAD STYLE DJ EFFECTS - https://www.youtube.com/watch?v=-eCinQARVyM

CONTROL SURFACELOCK - https://www.youtube.com/watch?v=ZEEu2LRrd2g

SESSION VIEW ZOOM - https://www.youtube.com/watch?v=C_Jy46Yf0oQ

Web: http://isotonikstudios.com/erasermice-mixing-tools/
Price - £13.99 GBP
Bundle Upgrade - Also available as part of the EraserMice Bundle which also includes the Idea Tools and OSCular Series. £25.99 - http://isotonikstudios.com/erasermice/