Launching on the App Store today is a revolutionary new social music making platform; Endlesss.
Free to download, it's easy to start for the newbie but deep enough to change how self-isolating musicians jam remotely.
Each Endlesss "Jam" is a virtual musical hangout with a live chat room. Players exchange "Rifffs" and create an evolving piece of collaborative music together. The jam could go on for hours or you could record a 30 second riff and share it.
On Endlesss you build songs loop by loop and it works in lightning fast real time. Built into the app are software versions of the gear in a music producer's studio; drums machines, samplers, synths and FX. It puts these instruments at your fingers tips. You record your work with an intuitive "tap to loop" flow. It's a multiplayer music creation workflow which works equally well on a smartphone screen as it does on a large bank of professional MIDI controllers.
Every riff you make is remixable by you or people in the jam using the "Kaoss pad" style FX .You can plug in your external instruments like a guitar and sync it up with link-enabled apps like Ableton. If you are already a musician and have experience, you could pull together a jam band from the four corners of the Earth in minutes. If you're stuck at home looking to entertain your friends, make a beat and send it to them to play with.
Operating in Beta for the past year, there are already thousands of dedicated users pioneering Endlesss. You can join one of the Jams that are already going now. As we find ourselves in a new socially isolated reality the platform is to become available to everyone on the App Store.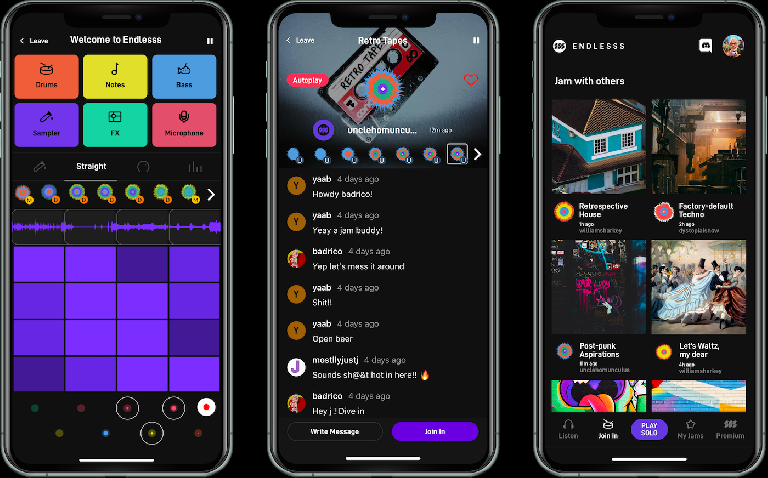 Later in April, Endlesss will launch a Kickstarter campaign to develop the next generation of the platform including an expanded social network and professional features by offering early-bird discounts, exclusive avatars and a chance to help create the future of its features. The core platform is free and offers an additional collection of soundpacks and FX for a £4.49 monthly subscription. The trial period has been extended from 7 days to 2 months in response to the COVID-19 crisis.
A professional subscription tier offering lossless audio, pro features and deep integration with pro equipment will be developed as part of the Kickstarter campaign.
To launch this amazing new app today, Endlesss have lined up a day of collaborative jams featuring amazing special guests and top jammers from the community. Imogen Heap, Flux Pavilion, KiNK and more to be announced will join founder Tim Exile remotely through the day to stream live chat and make music together. The jams will also be opened up to the Endlesss community. They go live from 10am BST to 11pm BST, follow the Endlesss Twitch channel here
Musician and technologist Tim Exile founded Endlesss to bring the joy of spontaneous collaborative creativity to music-making in the way TikTok and Instagram did with other media. These platforms empowered their users to create regular short-form work in an open social space.
As a seasoned musician and producer, Tim missed the elements of spontaneity, creativity and community in his long solo studio sessions. He set out to develop his 'Flow Machine' instrument for electronic improvisation which would become the DNA of Endlesss. Tim saw the potential of what he'd built to unlock a new purpose for music-making - a fast-paced, live-action, game-like alternative to the complexities of music production and the competitive music industry. Tim has developed software instrument products with Native Instruments and released records on Warp Records. He's performed live in every continent with his 'Flow Machine', collaborated with a diverse range of artists such as Nile Rodgers, Imogen Heap and Beardyman and has spoken multiple times at TED and TEDx conferences about music and improvisation.

Download Endlesss here
Web: https://endlesss.fm/