Connected music-making platform Endlesss is launching Endlesss Studio, a MacOS app and VST / AU plugin which expands their award-winning lockdown-busting iOS app into the world of desktop digital audio workstations (DAWs) and hardware. The new MacOS app adds deep integration with all major DAWs such as Logic Pro, Ableton Live, FL Studio and more. VST and AU plugin versions, MIDI controller support and instant audio drag & drop to connect the rapid Endlesss workflow to the heart of the professional music creation environment.


Endlesss Studio will be publicly available to purchase on Wednesday, December 16, 2020 at 4pm from Endlesss.fm
Endlesss is a powerful cloud-connected multi-track looper with a large collection of performance instruments and FX. It keeps music makers in fast-moving idea development to provide a lightning-fast creative flow. Since its launch in spring 2020, the Endlesss iOS app has been used by a long list of notable creators including Grammy-winning singer/songwriter Imogen Heap, electronica giants Underworld, Kevin Drew from indie-rockers Broken Social Scene and US comedian Hannibal Buress.
Watch how to build a track in 3 minutes on mobile, laptop and desktop:
Endlesss Studio comes with a broad collection of performance-optimised instruments designed to inspire creativity straight out of the box. It also includes 23 creative performance FX with instant recursive re-sampling capability. Sculpting complex and dynamic sounds in Endlesss Studio takes seconds, a process which otherwise involves hours of detailed automation and expensive plugins.
Endlesss Studio integrates seamlessly with the iOS app to enable instant handoff of the track-building flow between mobile and desktop, allowing multiple collaborators to contribute live from anywhere in the world with an instrument or their voice, hardware or software, on smart-phone or in a high-end studio.
"Studio is Endlesss's next step in building a home for creative musical culture where creators of every skill level can connect, learn and build communities around creativity," explains Tim Exile, musician and Endlesss CEO and founder. "As the lines between artist and fan erode, Endlesss is building an ecosystem where anyone can forge their own creative path. Whether that path leads to a tight-knit community of like-minded friends or rising to the top of the Billboard charts, Endlesss aims to put purpose and culture at the heart of music-making."
Development of Endlesss Studio was funded by backers of their Kickstarter campaign which ran during the month of June this year. Endlesss raised £141k, becoming the 7th most-funded software campaign in the history of Kickstarter. The launch of Endlesss Studio comes months ahead of the timeline promised to their backer community, marking it as one of the few Kickstarter projects to be delivered ahead of schedule.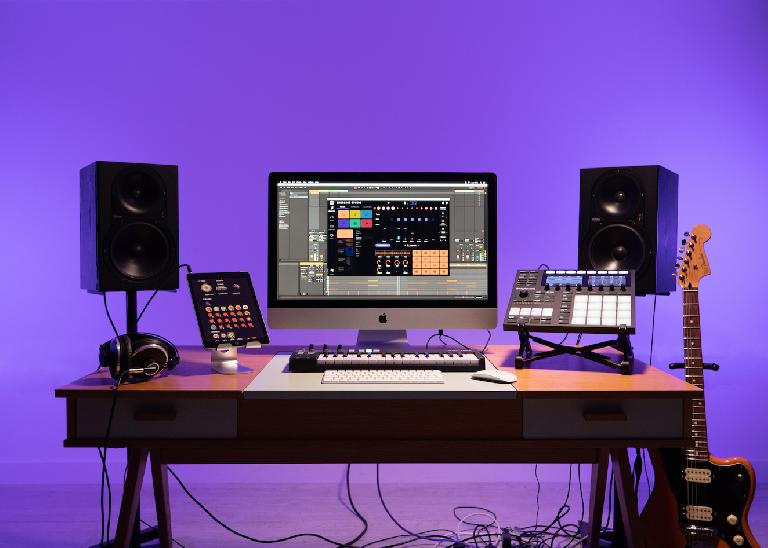 Endless Studio is available from today until 31st March 2021 at $99 / €99 / £79, a 50% introductory discount of the usual price of $199 / €199 / £159. A Windows version is under development and will be available in summer 2021.
About Endlesss
Endlesss was founded in 2017 by musician and technologist Tim Exile. Tim's musical journey began at age 4 learning the violin. As he progressed into electronic music production, he missed the performative nature of playing the violin. He moved on from his successful career as a recording artist to develop tools which brought a performative approach to electronic music creation. Before founding Endlesss, Tim created a number of influential VST plugin products such as The Mouth in partnership with Native Instruments and SLOO (Shed Loads Of Oscillators) under his own brand.
Endlesss website and shop https://bit.ly/buyendlesssstudio