Elektron Releases Analog Heat MKII: Backlit Buttons, Circuit Enhancements, Bigger, Better Screen
Sometimes minor changes can lead to major workflow improvements. This seems to be the case with Elektron's Analog Heat MKII which feels more like a instrument / performance tool than the original.
With a number of improvements to the original the Elektron Analog Heat MKII wants to be your best saturation and warmth-adding friend in the studio and out live. Some of the new features in Analog Heat MKII include backlit buttons, minor changes to the internal circuits for sound improvements, and a bigger screen with some new graphical elements which better illustrate what's going on inside the machine.
The new screen offers a signifcant improvement. Here's what Elektron tell us in the official press release for the Analog Heat MKII:
But before you dive in... here's a full video review of Analog Heat MKII by Loopop:
We'll bring you an Ask.Audio review as soon as we have more time to put it through its paces...
Introducing Analog Heat MKII
Swedish music instrument maker Elektron proudly present the Analog Heat MKII, a versatile and powerful stereo analog sound processing unit. It does not make any sound on its own but does an excellent job enhancing any sound source you plug into it. The eight analog stereo effects circuits, the multimode filter, and the two-band EQ provide a wealth of sound shaping options. Upgrades from the MKI version include tougher and more precise encoders, back-lit buttons and a larger, sharper OLED screen. Great for stage, great in the studio, it even works as a 2-in/2-out sound card, for the on-the-go music producer.
"We get so much love from musicians who use this amazing little furnace. The Analog Heat, great for giving any sound an analog boost, just got even better," says Elektron CEO Jonas Hillman.
Analog Heat MKII Highlights
Eight Effects

The eight stereo analog circuits are designed to quickly access varied and powerful sound shaping. Each circuit has a distinctive way of processing sound. Clean boost, tape-like saturation, tube amp-like enhancement, overdrive, crunch, distortion, harmonic fuzz or high gain? You'll find your favorite flavor with ease.
Filter, EQ, Modulation
Right next to the effects dial there's a stereo analog multimode filter and a two-band stereo analog EQ, hands-on and accessible. Modulation sources include a custom envelope and an LFO, each with a host of possible destinations. The intuitive controls and the ample modulation options make precise sound processing a breeze. Combined use of filter and envelope lets you heat up just the frequency range you want, at just the amplitude threshold you want.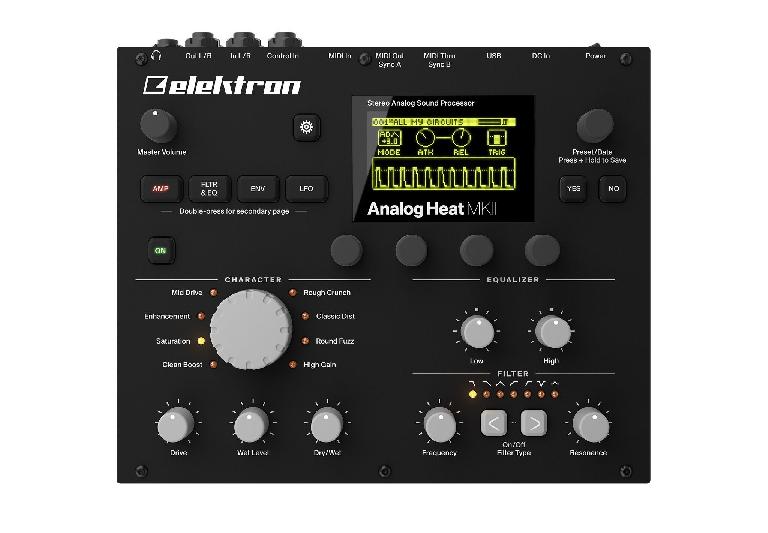 Brighter and Better
The MKII version of the Analog Heat features improved durability and precision encoders, new tough back-lit keys and a crisp OLED screen. The display is bigger, sharper and brighter: perfect for performing in the dark. There is also additional visual feedback on the Amp, Filter, Envelope and LFO pages that makes overview and understanding of sound processing and modulation a whole lot easier.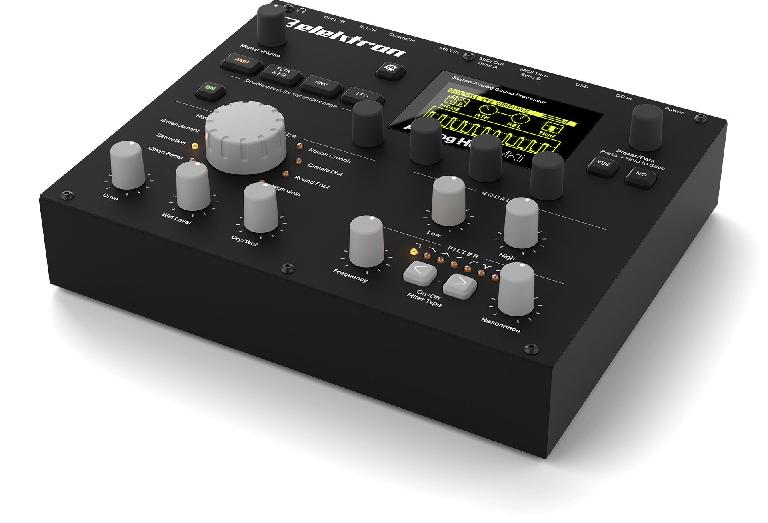 Analog Heat MKII Spec
Sound processing
8 × Stereo analog distortion circuits
1 × Stereo analog multi-mode filter (7 filter types)
1 × 2 band adaptable stereo analog EQ
1 × Assignable envelope generator/envelope follower
1 × Assignable LFO
Storage
Hardware
128×64 pixel OLED screen
MIDI In/Out/Thru with DIN Sync out
2 × 1/4″ balanced audio out jacks
2 × 1/4″ balanced audio in jacks
1 × 1/4″ stereo headphones jack
2 × 1/4″ CV/Expression pedal input jacks
48 kHz, 24-bit D/A and A/D converters
Flash-EEPROM upgradable OS
Hi-speed USB 2.0 port
Audio outputs
Headphones out level: +19 dBu peak
Headphones output impedance: 36 Ω
Impedance balanced main outputs level: +19 dBu peak
Main outputs impedance: 440 Ω unbalanced

Audio inputs
Balanced audio input level: +19 dBu peak
Audio input impedance: 39 kΩ
Control inputs
Input level: -5 V – +5 V
Accepts CV, Expression pedals, Foot switches
Physical specifications
Sturdy steel casing
Dimensions: W215×D184×H63 mm (8.5×7.2×2.5″) (including audio outputs, knobs and rubber feet)
Weight: approximately 1.5 kg (3.3 lbs)
100×100 mm VESA mounting holes
Miscellaneous
Overbridge enabled (available later)
3 year Elektron warranty
Included in the box
Power Supply PSU-3b
Elektron USB cable
Price: $819 / £750 / €830–870