Elektron Introduces Analog Four MKII & Analog Rytm MKII
Massive news from Elektron. 2017 will see all their most popular music machines updated with better screens and a whole lot more besides. Here's what's new for Analog Rtym 2 and Analog Four 2.
Hot on the heels of the release of the Digitakt drum sampler and the announcement of the Octatrack MKII, Elektron have announced the Analog Four MKII and Analog RYTM MKII! Here's what's new with the updates to both popular music machines. Let's start with the Analog Four MKII...
Swedish musical instrument company Elektron today announced Analog Four MKII and Analog Rytm MKII. They are the successors to the analog synthesizer Analog Four and the analog drum machine Analog Rytm. The MKII versions are improved in many areas and offer several new features and upgrades.
Analog Four MKII is a four voice analog tabletop synthesizer. The sequencer gives total access to all aspects of the active sounds and the four CV/Gate outputs mean external gear can be controlled as well. The analog circuitry of Analog Four MKII has been thoroughly reworked and provides deep, clear and defined bass plus a more prominent analog overdrive/distortion effect. Integrating the Analog Four MKII with external gear and computers is easy thanks to dedicated audio outputs for each voice, two expression/CV inputs, and high bandwidth Overbridge. The aluminium enclosure, the durable back-lit buttons, the big OLED screen, the hi-res encoders and the dedicated quick performance controls are other notable enhancements. They make the workflow quicker and more efficient. The total Analog Four MKII package is very complete, and offers an experience as close to sublime you can get.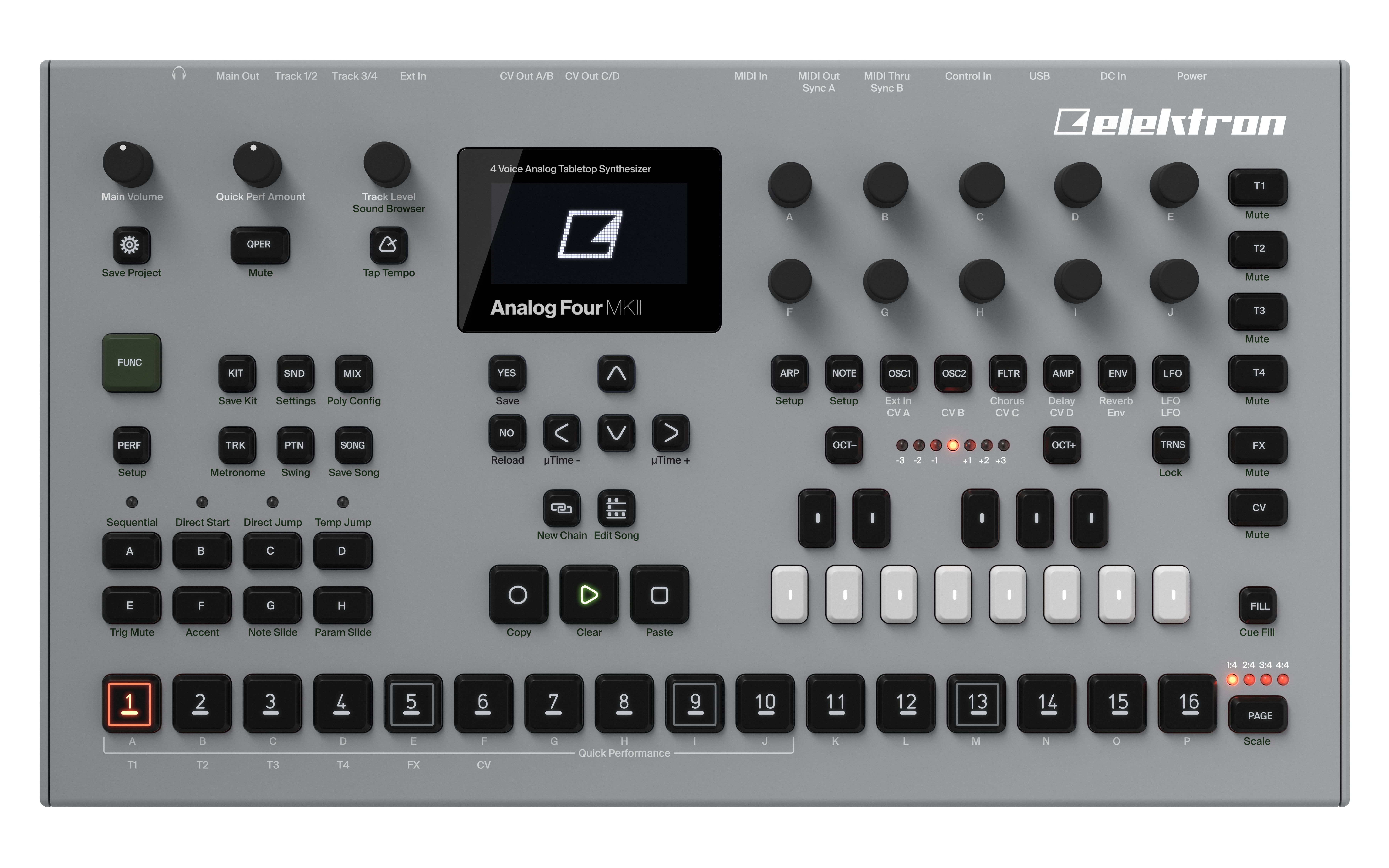 Analog Rytm MKII is an 8 voice analog drum machine and sampler. By combining analog drum synthesis with a digital sample engine and a sequencer, it offers vast beat sound design possibilities. Sampling with the Analog Rytm MKII is quick and effortless and perfect for adding a customized touch to any beat. General playability is stellar thanks to the large pads, the generous amount of dedicated buttons and the quick performance controls. High bandwidth Overbridge and two expression/CV inputs for external control further strengthen the Analog Rytm MKII case. The feel and look of the unit itself is stunning, thanks to the cast aluminium enclosure, the back-lit buttons, the hi-res encoders and the big OLED screen. All in all, the Analog Rytm MKII represents a major leap when it comes to beat making instruments.
"We are so proud of Analog Four MKII and Analog Rytm MKII. Not only do they feature such a strong feature set, which I am sure will be appreciated by analog aficionados all over the world, they are also beautiful to behold. Their design is elegant and timeless. True workhorses in magnificent form", says Jonas Hillman, CEO of Elektron

What's new in Analog Four MKII?
Reworked analog circuitry delivering very deep and defined bass
Enhanced analog overdrive for more bite and growl
Crisp, large OLED screen providing optimal feedback in dimly lit environments
Ultra durable back-lit buttons. Rated for 50 million presses
Precise, hi-res encoders
Quick performance controls
Increased amount of dedicated buttons enabling quicker workflow
Stereo audio outputs for each voice
Expression/CV inputs for external control of Analog Four MKII parameters
Overbridge with higher bandwidth
Premium cast aluminium enclosure
Analog Four MKII specifications
4 synth voices, each with: