Elektron Digitakt: First Look Video Overview
We got hands with the new Elektron Digitakt which is now available from Elektron. In this 23 minute video we cover all the major, and some lesser known, workflows for this 8-voice drum sampler.
We've been lucky enough to have an Elektron Digitakt for a few days now. So, naturally, we've been playing with it and finding it more addictive than we thought we would. Today this machine has "officially" begun shipping and hence we have a video on the Digitakt below.
Here's the 20+ minute video real-world video explaining and demonstrating the main functions of the Digitakt in action:
Elektron's Digitakt is an 8-voice drum sampler machine. It's a beat-making powerhouse with an 8-track / voice sequencer built-in. There's built-in effects and plenty of interesting sound design / mangling options available to sounds you sample.
I'm going to say this straight out. I really, really enjoy playing the Digitakt. There's not many machines I get a buzz out of playing with, discovering sounds and functions like the Elektron Digitakt.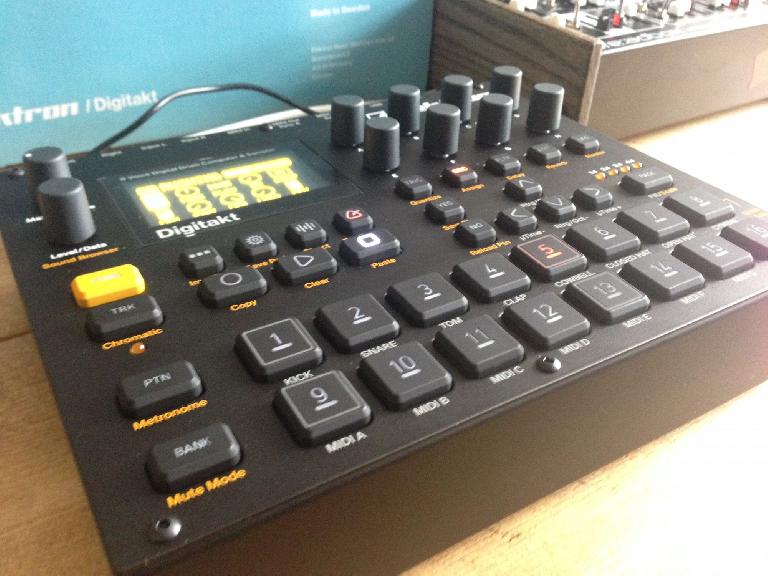 Digitakt Build Quality
The unit itself is rugged and satisfyingly weighty in the hand. The keys to trigger sounds and make patterns are odd to touch at first. There's an intentional wobble about them. They won't be quiet when you hit them. Initially I thought I might not like them. However, the more I use them the more I understand why Elektron haven't slavishly gone for rubberised pads like the rest of the drum machine crowd. And kudos to them as the keys make it easy to both trigger sounds and program patterns.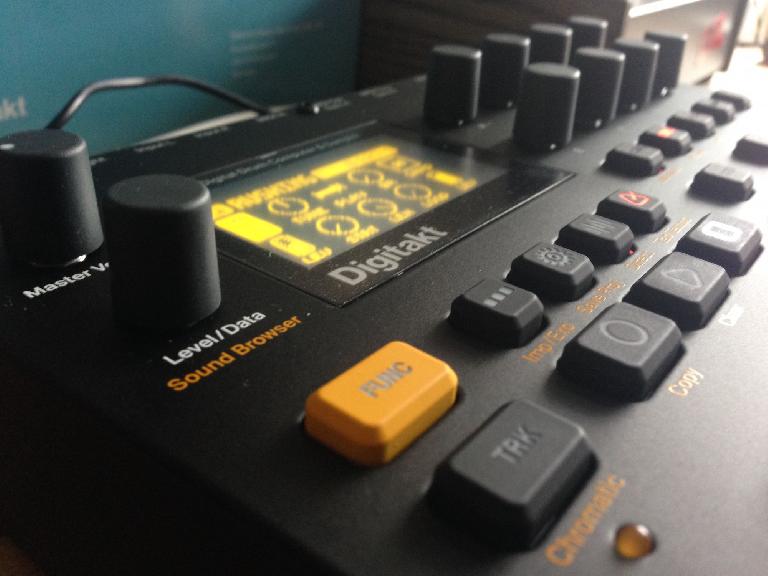 The screen is one of the big talking points. It's high-contrast, bright and super easy to read in most light conditions. I love the ease with which parameters on the screen are mapped to the 8-endless rotary encoders. Within no time you'll be tweaking sounds, adjusting banks, patterns and tracks.
Digitakt Drum Workflow
OK. So Digitakt is essentially a drum machine / sampler / sequencer. So how does it perform in terms of ease of use? Well, it doesn't require as much time and effort to learn as other Elektron gear. The interface has been well-thought out. There's plenty which is possible to pick up and figure out on your own. That's good as the included manual for the pre-release version of Digitakt is slim. The info that is there is useful and will help get you started, but there's still a bit of figuring out to do yourself.
The Sequencer is fun and, whether you've used other hardware sequencers or not, you'll probably find it makes complete sense in no time. There's two recording modes: offline (Grid Mode) and real-time (Live Mode). You can program beats pretty easily and switch tracks, playback and tweak sounds all simultaneously.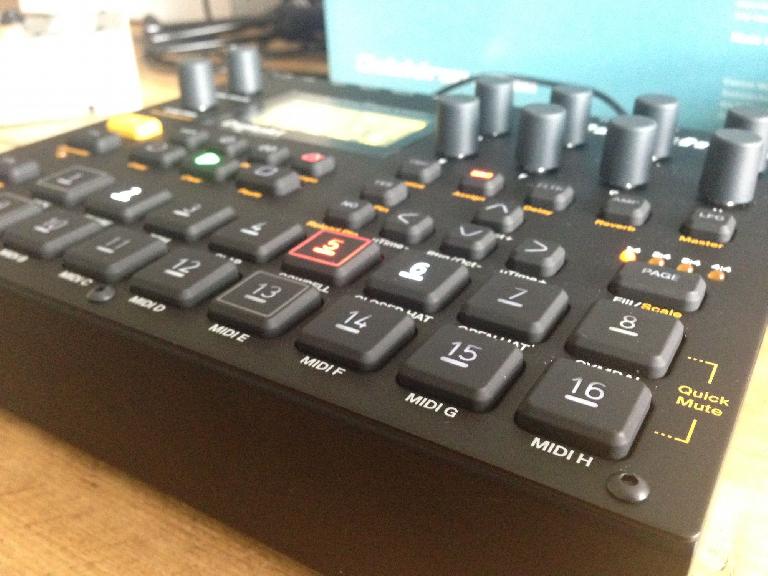 Adjusting tempo, swing and track meters is just a button click away. There's some smart ways you can experiment with mixing up the rhythm of certain tracks which can provide interesting results too.
Elektron's P-Lock (basically automation) is straightforward to implement. One way is, in Grid recording mode, to hold down the trigger (or step) of the pattern you want to lock a parameter setting to and simply move the coresponding knob. Then release the trigger. Done.
Sounds & Sampling
The Digitakt ships with a wide variety of sounds, and if you discover the correct menu you'll find the factory sounds are split into drums, synth and tools (bascially noises of sorts). And while these are all designed to a high quality and sound great, the beauty of the Digitakt lies in its ability to sample sounds directly to the machine.
Sampling is quite straight forward. Connect your hardware or source to the input(s), hit the "Direct" button and hit "Yes" to start recording. You can choose whether you want to monitor the source during sampling which is a nice touch and when it comes to trimming and editing the waveform Elektron have incorporated an easy way to use the push/click encoders to trim by large and small increments. The screen updates to show both a zoomed in and overview of the waveform. As you'll see in the video above the hard part when sampling is to make sure you have a good sound to capture!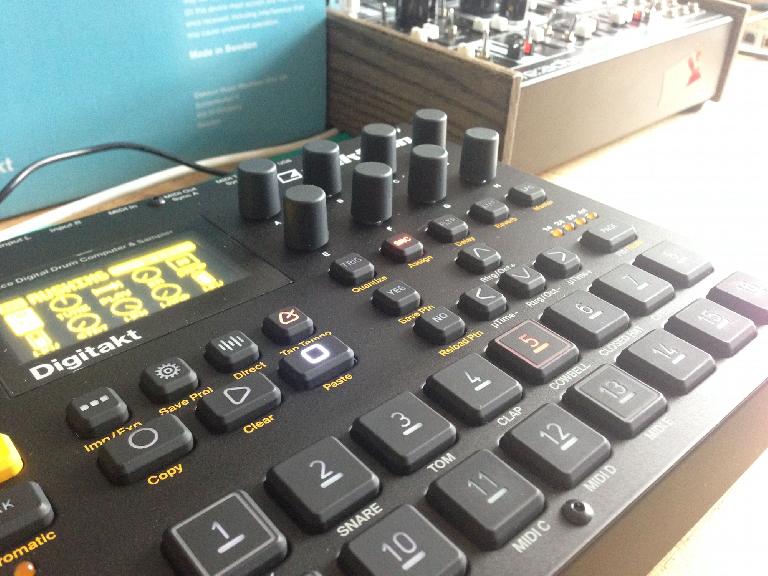 Assigning a saved sample to a track is a doddle too as the interface gives you the option to assign to a track straight after saving the sound. While Overbridge was not ready to test when I got the Digitakt, Elektron provided a sample transfer software app that makes it simple to quickly transfer sounds from your computer to your Digitakt.
Digitakt specifications
8 internal audio tracks
8 dedicated MIDI tracks
1 × Multi-mode filter per audio track
1 × Overdrive effect per audio track
1 × Assignable LFO per track
Delay and Reverb send FX
Sampling capability
64 MB sample memory
1 GB +Drive storage
480 factory samples
2 × ¼" input
2 × ¼" balanced output
1 × headphones output
1 × High Speed USB 2.0 port
MIDI In/Out/Thru with DIN sync out
Ultra-crisp OLED screen
Durable, backlit buttons
Dimensions: W215×D176×H63 mm (8.5×7.2×2.5″)
(including knobs and rubber feet)
Weight: approximately 1.45 kg (3.2 lbs)
First Impressions
Not everything about the Digitakt is perfect. But at this early stage it is an excellent sounding and very playable instrument / sampler / sequencer. We're sure with further firmware updates and Overbridge support Digitakt will become more fully featured and the workflow will continue to improve.
In Digitakt 1.0.1 it isn't currently posible to load sounds to all 8 audio tracks in one go. That would be a nice touch. Also, if it were possible to operate Digitakt using a battery that would make it the most insanely cool feature in the world for me. Although sturdy and bigger than one hand, Digitakt feels like it would be at home on a plane, train or when traveling. But really, I'm nitpicking here. Digitakt is a very capable, playable and fun 8-voice audio and MIDI drum sampler. And it's only going to improve as more updates come its way. Now that's a scary thought for the competition!