The Analog Four MKII and Analog Rytm MKII have both been updated with an eye-catching new aesthetic, giving the sturdy enclosure a sleek black finish and a fresh back-lit color palette to complement the user interface.
In addition to the new look for the two machines, their factory content has been updated with some exceptional new slices to get you started. The likes of Eraldo Bernocchi, Lucifer's Aid, Spit Mask, and (d) glitched, as well as the dedicated Elektron team from across the globe, have collected a fresh bank of patterns and kits to tap into - giving you access to a variety of awesome audio straight out of the box.
The sound of worlds colliding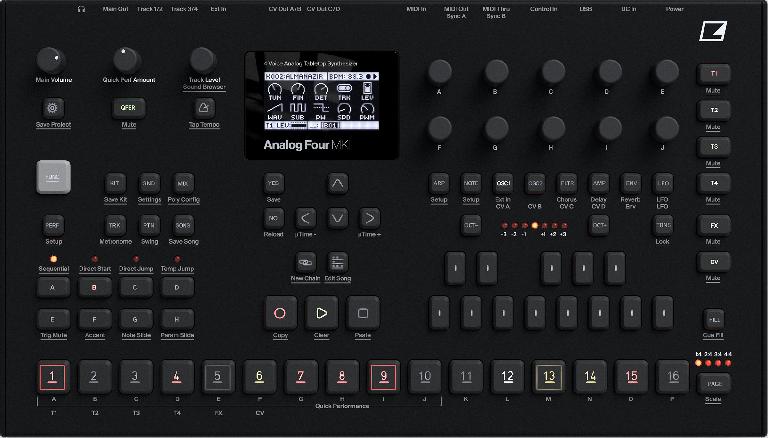 Analog Four MKII is a four voice polyphonic analog tabletop synthesizer that lets you immerse yourself in countless sonic possibilities. Organic, steely, warm, cold, chaotic, exact, and all the shades in between. Vocalize and mold your own basses, leads, drums, and whatever other abnormal noises can be dreamt up. Make them as glistening and airy or dark and dense as you desire. With sounds as vast as the most infinite of palettes, entire tracks can be created from scratch. The four CV/Gate outputs mean external gear can be controlled as well. A digital mind and analog soul. This machine fuses together the best of both worlds.
More info: https://www.elektron.se/products/analog-four-mkii/
A different drum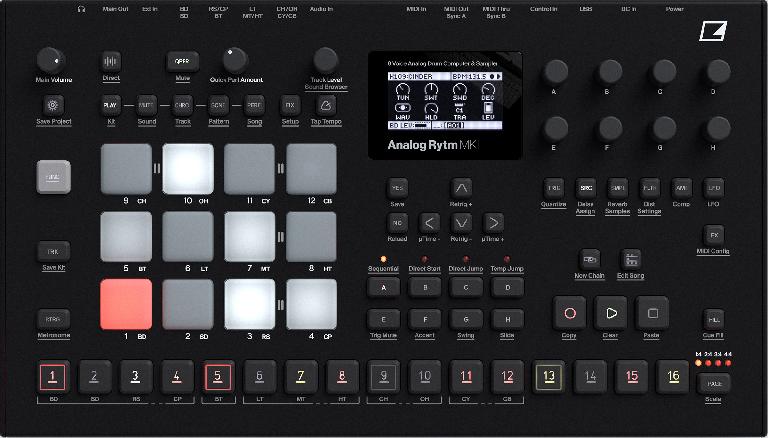 Analog Rytm MKII is an eight voice analog drum machine and sampler full of countless possibilities and infinite destinations. Feel the depth of booming kick drums, the snarling bite of snares, the bellow of cavernous toms, and the airy shimmer of hi-hats. Fine-tune or maul the analog sounds to your liking, then access ultimate creative versatility by layering samples on top for something uniquely yours. Release them all using the twelve velocity-sensitive pads. Make your fused beats as smooth, as rough, as realistic, or as fantastic as you'd like. A one-stop solution beat machine.
More info: https://www.elektron.se/products/analog-rytm-mkii
Analog Four MKII Specifications
4 synth voices, each with: Fully analog signal path, 2 × analog oscillator, 2 × sub-oscillator, 1 × noise generator, 1 × 4-pole analog lowpass ladder filter, 1 × 2-pole analog multi-mode filter, 1 × analog overdrive circuit, 2 × assignable LFO, 1 × amp envelope, 2 × assignable envelope
Up to 4 notes of polyphony
Up to 4 part multitimbrality
Up to 4 note unison playback
Chorus, Delay and Reverb send FX
Quick Performance controls
Live friendly Elektron sequencer
CV/Gate sequencing
1 × ¼" headphones output
2 × ¼" impedance balanced main output
4 × ¼" separate stereo voice output
4 × ¼" CV/Gate output
2 × ¼" unbalanced external input
2 × ¼" expression/CV input
1 × USB 2.0 Hi-Speed port
MIDI In/Out/Thru ports with DIN Sync out
Ultra crisp 128 × 64 pixel OLED screen
Precise hi-res encoders
Durable back-lit buttons
W385 × D225 × H82 mm (15.2 × 8.85 × 3.3") including knobs, power switch and rubber feet
Weight approx. 2.4 kg (5.3 lbs)
Analog Rytm MKII Specifications
8 drum voices, each with: 1 × specialized analog percussion sound generator, 1 × sample playback engine, 1 × 2-pole analog multi-mode filter, 1 × analog overdrive circuit, 1 × filter envelope, 1 × amp envelope, 1 × assignable LFO
Analog Distortion and Compressor master FX
Delay and Reverb send FX
Sampling capability
1 GB internal sample storage on +Drive
Quick Performance controls
Live friendly Elektron sequencer
1 × ¼" stereo headphone jack
2 × ¼" impedance balanced main output
8 × ¼" impedance balanced individual track output jacks
2 × ¼" balanced sampling input
2 × ¼" unbalanced external input
2 × ¼" expression/CV input
1 × USB 2.0 Hi-Speed port
MIDI In/Out/Thru with DIN Sync out
Ultra crisp 128 × 64 pixel OLED screen
Precise hi-res encoders
Durable back-lit buttons
W385 × D225 × H82 mm (15.2 × 8.85 × 3.3") including knobs, power switch and rubber feet
Weight approx. 2.5 kg (5.5 lbs)
Analog Four MKII is available for 1399 USD/1379 EUR/1199 GBP
Analog Rytm MKII is available for 1699 USD/1599 EUR/1379 GBP
More info: https://www.elektron.se