The new Electra One looks to be an impressive, unique MIDI controller that can visualise up to 36 MIDI parameters simultaneously for multiple hardware synthesizers, software synth plugins and DAWs. It's powered over USB, support SysEx and gives you control over 216 MIDI parameters at a time.
It's currently available for pre-order and has met almost 50% of its goal with 13 days remaining. Here's more info from the Electra One site about this curiously cool MIDI controller.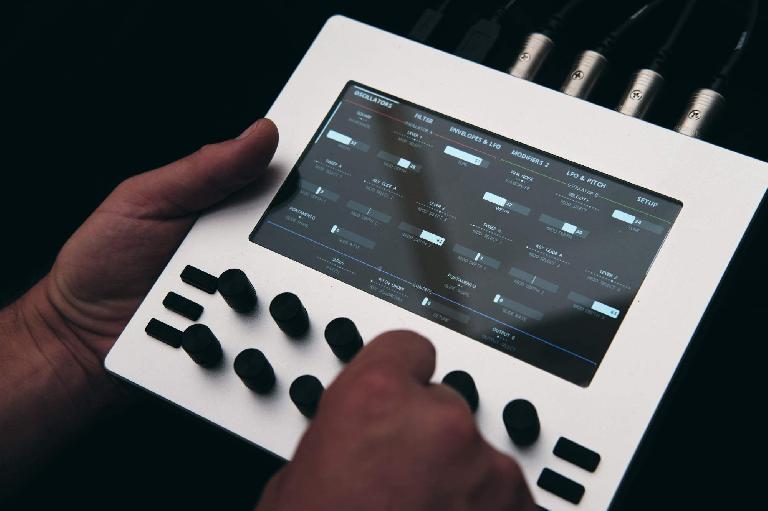 See and change 36 MIDI controls across multiple synthesizers at once
Modify sound parameters by turning 12 high resolution 360-degree pots or with a touch of your fingertips on the display and get instant visual feedback. Access to 6 pages of parameters gives you an instant control over 216 MIDI parameters.
Electra One not only sends MIDI messages to connected instruments, it also continuously reads their patch settings to give you clear insight into the sound structure and endless possibilities to tweak it.
Sound programming
Do you own classic synths that are hard to program? Electra One gives you a great level of control over the sound parameters of your synthesizers and sound modules. The Electra One controller continuously reads your synthesizers parameter settings to reveal the entire patch structure. This brings you a whole new dimension of creativity.
Live performances
Tweaking filter cutoff frequency on many synths with one controller has never been easier. Electra One allows you to create performance presets to control many distinct sound parameters across multiple synthesizers from one place. High resolution 360-degree pots adjust parameter values without any abrupt changes.
Electra One is MIDI controller with all connectivity you need. USB device with 2 ports, USB Host port for connecting 2 MIDI USB devices, and 2 standard MIDI IN/OUT ports.

Touch screens are great, but tweaking sound with quality knobs is a completely different experience. We do not rely on rotary encoders or standard potentiometers. Our 360-degree pots provide outstanding precision.
We even made knobs touch sensitive. Even a light touch gives you visual feedback on the display about what MIDI parameter will be modified when the knob is turned. You will never make a wrong move with our MIDI controller.
Pre-order Electra One and save €50. Shipping will start on December 2019. The first batch is limited to 200 units.
€379 (including VAT) + €29 worldwide shipping special early supporter price:
Web: https://electra.one