#1 - Audiobus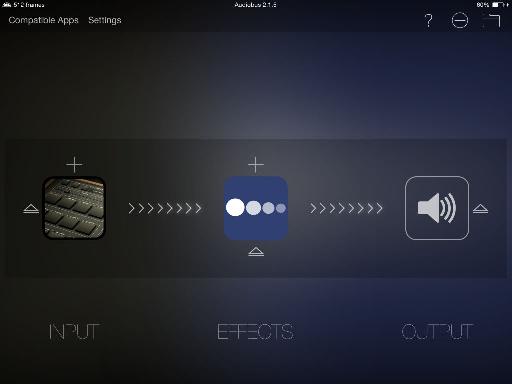 Audiobus is a very innovative app for the iPad that allows live audio streaming between apps. It works similarly to the way you would connect pieces of equipment together in a studio. Audiobus offers you the ability to add an input app, an effects app and an output app. It's a stand-alone app, and is also available as an API for other developers to include in their own applications. Audiobus makes it easy to navigate from app to app; it features a connection panel that opens which provides fast app switching and remote controls for all the connected Audiobus apps.
Audiobus 2's new multi-routing feature (which is an additional $4.99 USD in-app purchase) makes it possible for inter-app connections to be made, allowing for FX chaining and additional support for multi-channel input hardware. There's also a State-Saving feature that lets other apps to recall their configurations as part of an Audiobus preset. Highly recommended for everyone who's interested in connecting and using their assortment of audio apps together.
For more info: http://audiob.us
#2 - Noise Pad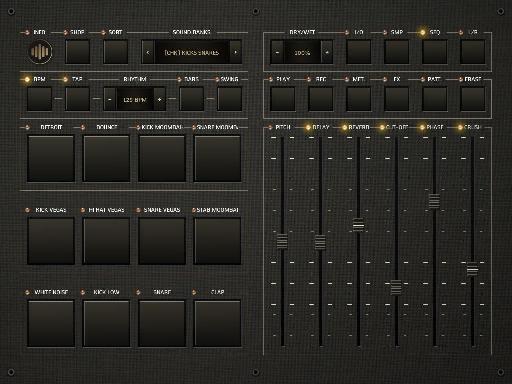 Noise Pad is a live DJ set performance app and studio sequencer for the iPad and the iPhone that's been co-developed by superstar DJ Chuckie. It features twelve sample pads and comes pre-loaded with heavy hitting drum and vocal sample banks created by Chuckie and Bong-Ra. Noise Pad also allows you to import your own samples and you can purchase more official samples from the in-app shop. The app features a sequencer, so you can program samples on the fly during your sets. Noise Pad allows DJs to process their samples using a variety of FX, and apply these FX to individual channels or to the overall mix. The latest version of Noise Pad has MIDI support and is Audiobus compatible. DJs and performers can use the MIDI clock sync feature for both studio sessions and live sets. This is a great app to use for live performances and the samples from Chuckie are stellar!
For more info: http://www.noise-pad.com
#3 - TKFX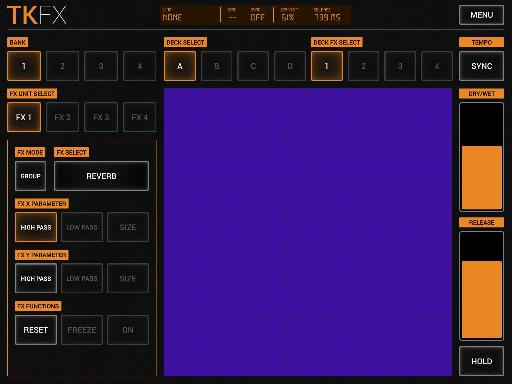 TKFX is an new Traktor DJ controller app that's designed specifically for controlling FX. The app features a large X/Y pad axis that's fun to use while DJing. You can control your single or group Traktor effects; simply select the effect you'd like to control and assign its parameters to the X/Y axis. From there, you can apply the single FX or group FX to one deck at a time.
One feature I really appreciated about this app is the setup time with Traktor is minimal; it's pretty much plug and play. It's able to receive MIDI clock information from Traktor, so the FX are beat-synced with Traktor. It works wirelessly, which makes it great for using in the DJ booth. The app is available for iOS and Android devices. TKFX is a free download from the App Store, and it's $0.99 to purchase additional features.
For more info: https://www.tkfxapp.com
#4 - Live FX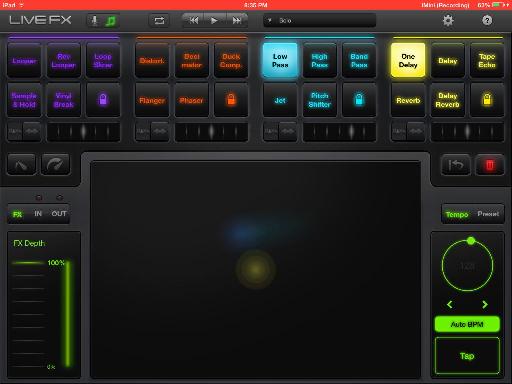 Live FX is a DJ effects kit and dynamic effects processor by elephantcandy. It allows you to process any audio source, including a DJ set, iTunes player or any other audio other audio app (via Audiobus). You can control up to four effects and create effect racks that can be controlled via a single fingertip swipe on the LiveFX touchpad. Similar in concept to the Kaoss Pad, Live FX takes things one step further into the future and brings creative FX control to your iPad. Other key features include looper effects, vinyl emulation break down and ducking compressor effects. Live FX will appeal to DJs, live performers and producers alike, as it puts multitouch effects control at your fingertips.
For more info: http://www.elephantcandy.com/app/livefx/
#5 - Traktor DJ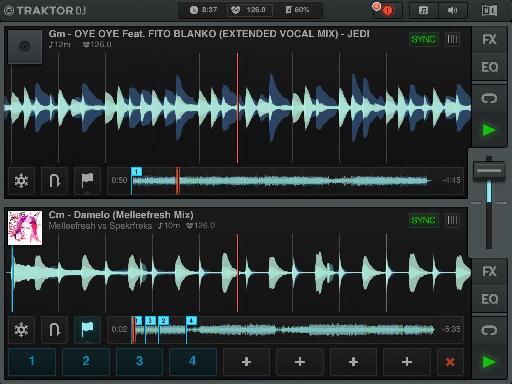 Traktor DJ is one of the best digital DJing apps for professional and bedroom DJs alike. The app gives DJs the ability to DJ on your iPad or iPhone, using an interface that is similar to Native Instruments' Traktor Pro. The iOS app offers two deck mixing, and includes Traktor's legendary effects. DJs who are familiar with Traktor will find that this app is intuitive to use; new users will appreciate that the app includes internal tips on how to use Traktor DJ's features. This is a great app for DJs who would like to practice their sets on the go, or are daring enough to use this futuristic app in live performances. Established and novice jocks alike should definitely put this on their list of apps to check out.
For more info: http://www.native-instruments.com/en/products/traktor/traktor-for-ios/traktor-dj/
#6 - Echo Pad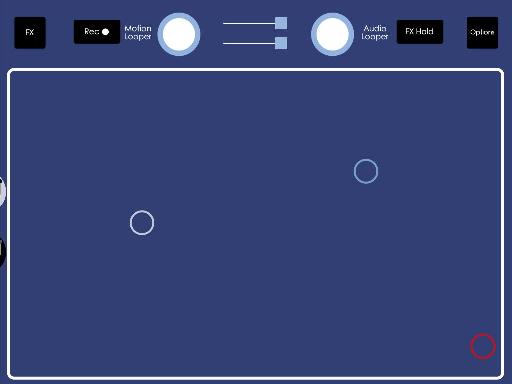 Made by Holdernenss Media, Echo Pad is a real-time effect echo processor for iOS. The app features a large X/Y interface, many types of delay and a sound on sound looper. Designed for live performance and sound design, this real-time FX processor could come in handy for DJs who are interested in using it in combination via Audiobus with other DJing/live performance applications, such as Traktor DJ and Noise Pad. The multi-touch XY control of the delay parameters allow for articulate control of the effects, and the looper can be used to improvise during live performances and keep sets fresh and interesting. In addition to the many types of delay available, there's an assignable LFO. Other fun features include the ability to share and export the loops that are created within Echo Pad. For only $2.99, it's a stellar FX app that's just waiting to be put to good use.
For more info: http://www.holdernessmedia.com/home/ios-applications/music/echo-pad
#7 - iMashup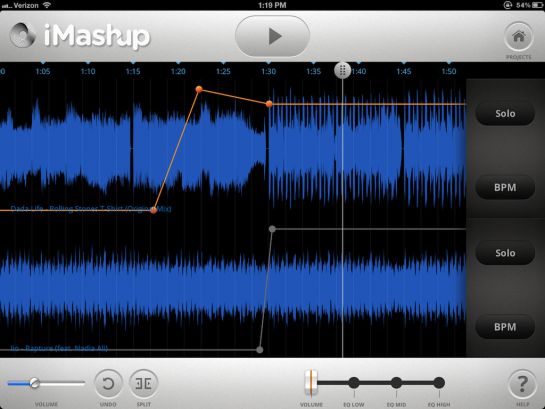 iMashup is an app for both the iPad and the iPhone that allows DJs to create mashups in minutes. It's designed to be a professional audio app that DJs can use anywhere to make mashups. Like all Mixed in Key software products, this app is easy to use and designed to make it effortless for you to create new songs that are 'in key'. iMashup will sort tracks that are added by their harmonic compatibility and then automatically beat matches your tracks. This app offers editing and EQ features, and an export function that allows you to export your mashup and instantly share via Facebook, iTunes or email. Mashups are a great way for DJs to begin to explore the larger world of production and creating a few mashups will give you original material that you can play in your sets and share with your fans. This is another great app for DJs who are interested in creating music that will help them stand out from the crowd.
For more info: http://www.imashup.com
#8 - Just for Fun: Vinyl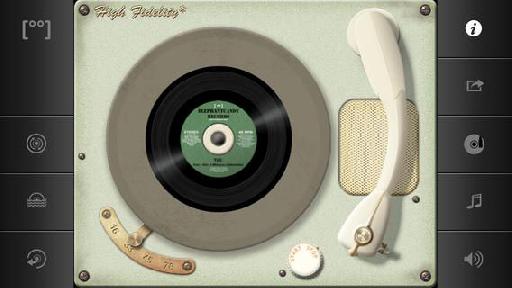 Vinyl is an app that all DJs and vinyl enthusiasts will appreciate. It turns your iPad into a vintage record player and allows you to play music with high quality sound. Users can choose to listen to their tunes on one of seven record players, ranging from the '40s right up until the '90s. In addition to the cool retro styling, app designers elephantcandy have included neat features like record flipping and cleaning. Just like real vinyl, records can also get scratched and dirty if you shake your iPad while playing them! For $0.99, this app will provide hours of enjoyment for everyone who downloads it. Highly recommended.
For more info: http://www.elephantcandy.com/app/vinyl/