There's plenty to enjoy with the Isotonik Studios Ecosystem Max4Live instrument. It consists of two devices and comes with three types of modules. Check out the full press releases and video below for more info.
Over the past few weeks we've been fortunate to spend loads of time with like minded people at some awesome events including SynthFest, WeAreRobots and finally Ableton's own Loop Conference. Whilst we've stuck resolutely to our passion of Live there's no denying the continuing growth of the Modular Synth enthusiasm displayed at each of these events.
Ecosystem is both a Max for Live Instrument and Audio Effect (2 devices). Ecosystem provides you with 3 different types of modules: Sound generators, basic audio effects, and controllers. Modules can connect together, sending audio or control signals to each other. Within its environment you can create soundscapes, textures, experimental synthesizers/effects and looping. It is a semi-modular device, and may be used however you imagine!
The three categories of modules/organisms are:
Sound Generator: a collection of basic waveform oscillators and a looper
Sine, Tri, Saw, Rect, Noise, Buffer/Looper
Sound FX: a collection of signal processing effects (ie filter, delay, vocoder, etc)
Plus, Multiply, Filter, Drive, Delay, Vocoder, Envelope Follower, SaH, Monitor
Controllers: a collection of modules used strictly for control values (ie sequencer, envelope, etc)
Knob, Sequencer, MIDI Note, Envelope, Automation
Other Features
Connections (<= 10 per module) to various parameters per module mode
Macro mapping for visibility in Live (for MIDI mapping, automations, Max for Live, etc)
LCD interface for semi modular connections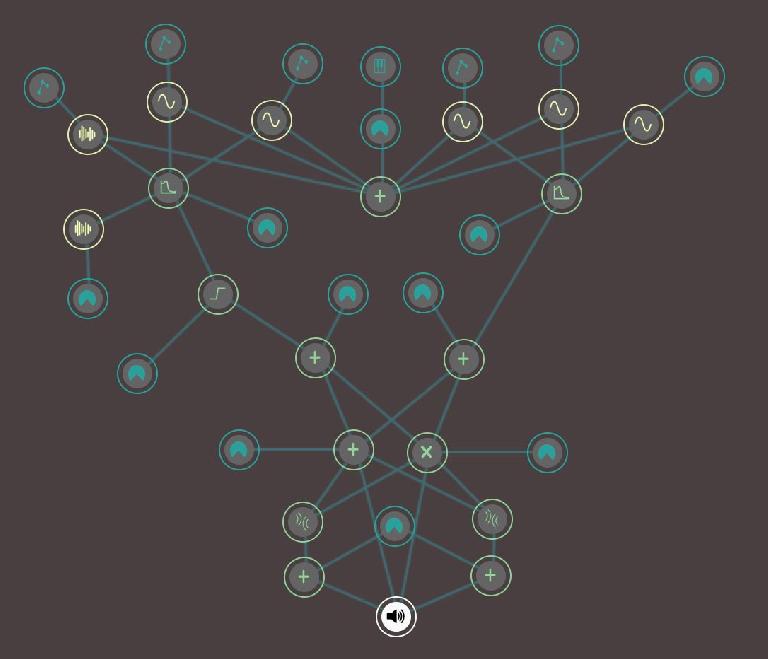 As the follow up to Dillon Bastan's IOTA Granular Synth this MaxforLive Modular Synth is simply great fun to use, check out the Demo and Overview videos for just a brief sample of what can be acheived with relatively little effort!