Hollywood, CA (October 23, 2014) - With the recent release of Hollywood Orchestral Percussion, EASTWEST now offers the most detailed and comprehensive orchestral virtual instrument collection on the market: Hollywood Orchestra. The company's flagship product includes Hollywood Strings, Hollywood Brass, Hollywood Orchestral Woodwinds, and Hollywood Orchestral Percussion, all produced by award-winning team comprised of Doug Rogers, Nick Phoenix, Thomas Bergersen, and engineer Shawn Murphy.

Hollywood Orchestra"This has been our labor of love - we've worked over a five year period as we completed each of the sections," says Doug Rogers. "We are proud to now offer a complete professional orchestra that is able to meet any demands composers might have. It's a true EASTWEST milestone."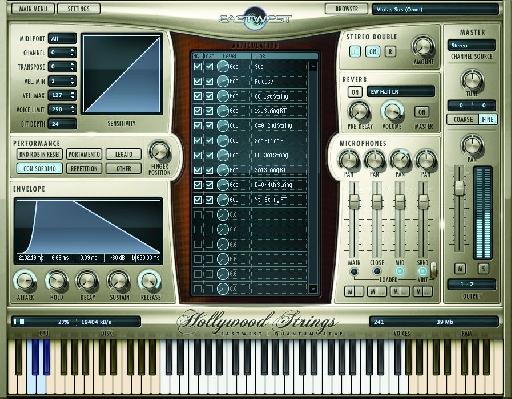 EASTWEST Hollywood Orchestra screenshot.
Each individual section of Hollywood Orchestra has received multiple awards from the international press for its unprecedented detail, superior true legato, sound quality, and sound control with five user-controllable mic positions, including main pickup (Decca tree), mid pickup, close pickup, surround pickup, and an alternate vintage circa 1945 RCA ribbon room pickup.

Producer Mark Linthicum says: "I love the realism of these Hollywood instruments. For the first time I can go for a big bombastic Hollywood sound, or an intimate sound with the mic options included. There's really nothing else that can do this. It's a game changer!"

Truly the Holy Grail for serious film, television, video game, and music composers, Hollywood Orchestra is the culmination of over five years of recording in the famous EASTWEST Studio 1, the home of major Hollywood Soundtracks and Television Themes. It includes PLAY 4 32-bit/64-bit software, powerful scripting for ease of use, and more user control than any other virtual instrument.
For more details, please visit www.soundsonline.com/hollywood-orchestra
System Requirements: 680GB free hard disc space, iLok security key (not provided)
Pricing & Availability
Gold and Silver versions are downloadable, Diamond is supplied on a hard drive due to the size of the collection. To purchase and for more information, please visit www.soundsonline.com/hollywood-orchestra
Diamond Edition: MSRP $2996, Introductory price $1495

Gold Edition: MSRP $1996, Introductory price $995

Silver Edition: MSRP $996, Introductory price $495 (coming soon)