Logic now has a pretty impressive suite of delay plug-ins. Since the introduction of Delay Designer, Logic users have a pretty wide choice of delay types to use in their mixes. One plug-in that stands out and produces something a little different is Tape Delay.
Here we'll take a look out how the Tape Delay is capable of producing dubby effects and exactly which controls enhance the analog tape loop effects that this plug-in is designed for.
Tape Delay Plug-in Basics
At first glance the Tape delay may appear pretty similar to any other standard digital delay. It does have some features you would expect to find in more run-of-the-mill processors but the devil is very much in the detail.
If you have never used a tape style delay before you may want to start by creating a simple "standard" delay. You'll find all the parameters you are used to here including a tempo sync section, feedback and a useful high and low pass filter.
You can hear below how the Tape Delay is more than capable of producing very ordinary delay line style effects. We'll use these settings as a foundation for our Dub style patch and step things up from here: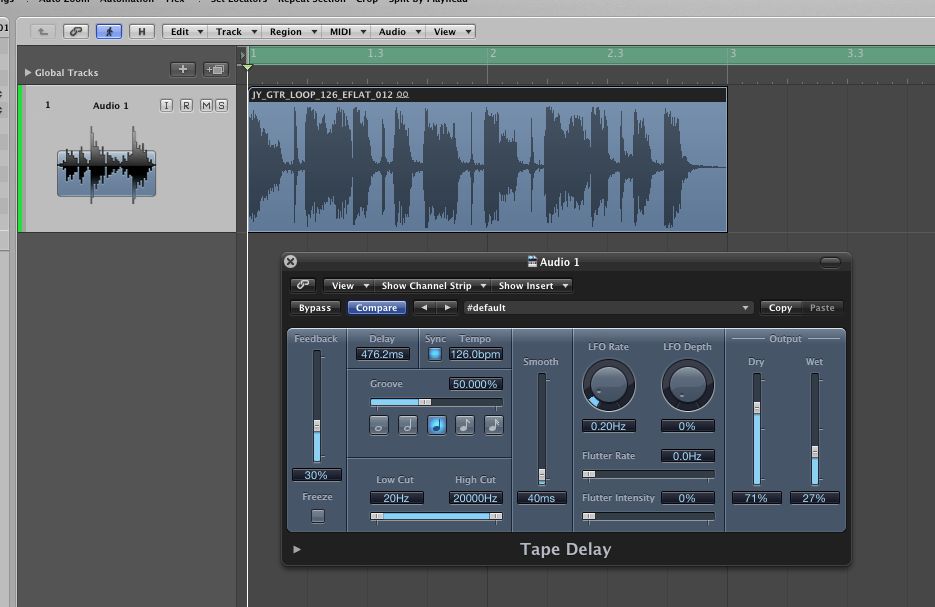 The settings for our basic delay effect
The basic delay effect:
Wow And Flutter
Wow and flutter is a natural tape-based effect that occurs due to changes in tape speed and head position. It was actually something that one would try to eradicate from tape-based recording sessions due to the detrimental effect it had on pitch and timing.
Tape-based delays actually employ wow and flutter as an effect and enhance it to produce interesting and quirky results. Obviously in the digital world there are no magnetic heads and there is no actual tape so other methods have to be employed.
Two LFOs in Tape Delay reproduce this effect and I have dialed in pretty slow-moving subtle settings into both of these as you can see below. When the feedback is increased you can start to hear a 'Dubby' delay effect start to rear its head!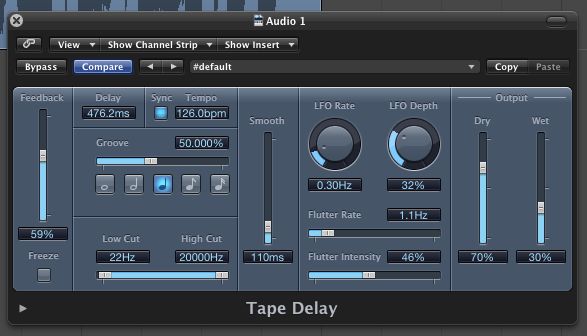 Introducing some 'Wow and flutter'
Some emulated wow and flutter:
Filtering And Tape Distortion
To make the emulation more realistic we can add further effects that show up when using real tape-based devices. One of these elements is distortion. When tape is looped the signal can be imprinted and repeated over itself several times. This creates an overloaded signal on the tape that saturates.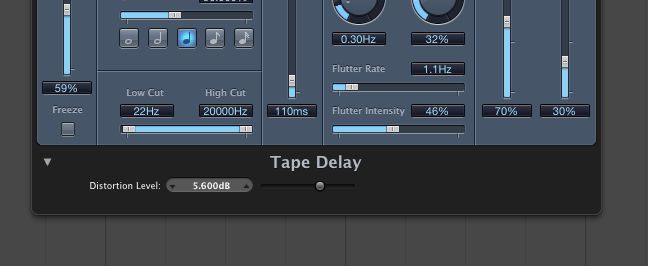 Adding some distortion
The distortion effect:
By opening the lower section of the Tape Delay plug-in a distortion parameter will be revealed. This can be pushed as far as you like but be warned when this is combined by high feedback settings things can get rather intense.
To make things even more interesting I often like to employ a sweeping filter effect. I find this works best when it's affecting a narrow frequency. You can see the filter setting used below and hear an audio example of it in action: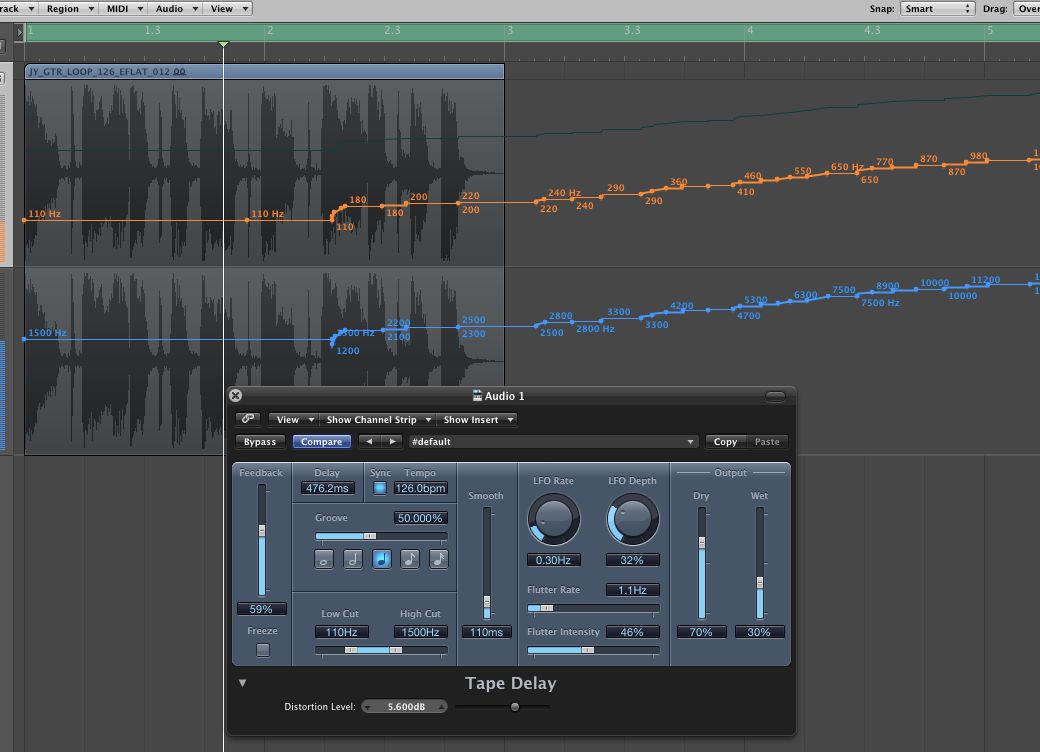 The sweeping filter effects
A sweeping filter is added: