Drum Rack is one of Ableton Live's most powerful tools. Many people think of it as a way to build a drum sound for a particular track. You can use this tool to organize whole libraries of sounds, and speed up your creative process.
Instead of painstakingly searching through the clumsy browser for drum sounds in your library, why not build several master Drum Racks? Then when you need to go hunting for "House drum hits" you can load up a preset Drum Rack, and quickly play all your favorite house drum hits.
It's a concept called "engineering time" versus "composing time".
Engineering Time
Engineering Time means that you block off a few hours to organize your work flow, and to take care of mundane computer tasks. By taking time to organize files, build "House sound Drum Racks" and "crazy FX sound Drum Racks" you will keep your work flow clean. That way when its Composing Time you won't be bogged down hunting for random sounds in far flung libraries.
Composing Time
Composing time is when you have the creative hat on, and are writing the next great tune. The creative juices are flowing, you're bobbing your head, whistling the hook, and as quickly as possible are capturing the sounds in your head with your computer. The last thing you want when you're composing is to be suddenly taken out of the flow by lost drum sounds, nested libraries, and hard to browse sounds.
Spend Time Engineering, to Free up your Writing
Take a few hours, and organize all of your favorite drum sounds into Drum Rack presets. Many producers find searching through Drum Rack sounds much easier than using the library.
When you use Drum Rack to search for sounds, you can easily play a hi hat with a drum kick, and hear them together, and play out a rhythm. You cannot do that with the library.
Half the battle with libraries is organizing them into something that is searchable, and useable.
Device Browser > Drum Rack > drag to a Midi Track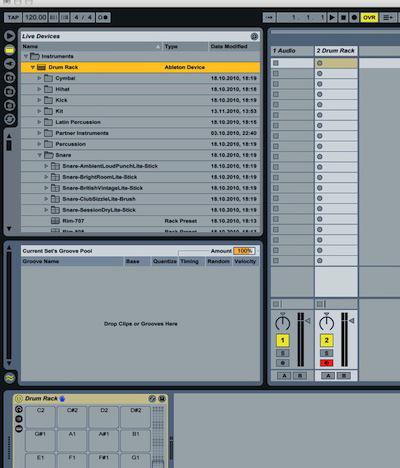 Now search your library, find sounds you like, and populate the Drum Rack by dragging and dropping sounds onto the rack.
You can even take individual hits out of other Drum Rack presets, and drag and drop them into your master Drum Rack.
Create > Insert midi track > live browser > drag Drum Rack preset onto new midi track.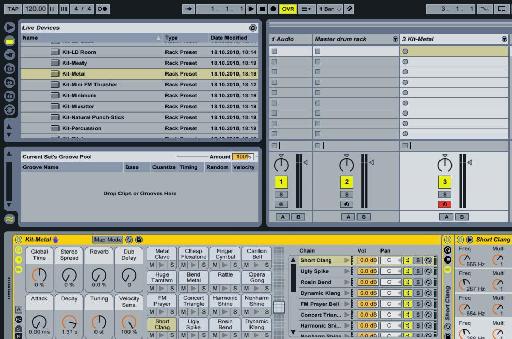 Finally, you can save this Drum Rack as a preset by clicking on the little yellow disk icon.
Drum Rack bar > Save button > type in name of Drum Rack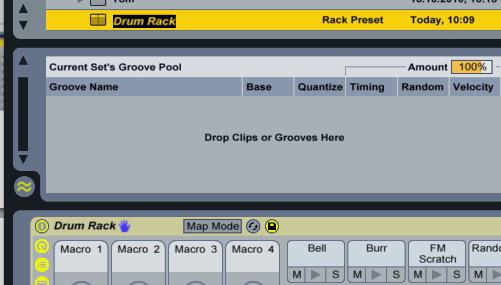 Simply type in the name of the Drum Rack, such as "House kit" and hit return. This rack is now a preset in your library, available to any project that you create.
Wanna learn more tips and tricks for Ableton Live? Check out out the Ableton Live 8 TNT1.