Dreadbox Releases Typhon - NOT Just Another Mono Synth
It's portable, analog, affordable, sounds great. Dreadbox Typhon has a complex modulation routing, 256 preset memory, a 32 note sequencer, and powerful stereo effects developed by Sinevibes.
Dreadbox synthesizers come with a reputation. It's a good one, in case you weren't aware, and if you are familiar with their machines of late you'll note they've been open to collabs, for example with Polyend on the Medusa.
Their latest portable synthesizer, Typhon, is a collaboration with Sinevibes who provide 12 DSP effects. This machine is interestingly set at an affordable price point, perhaps to rival some of the recent Behringer clones and re-imagined synths of old.
At 355€, Dreadbox Typhon is a steal for what it includes and when you consider just how well-made and well-sounding Dreadbox synths are. Pre-orders via the Dreadbox webstore are listed as sold out, just hours after announcement... so, you may need to wait until July 2020 in order to get your hands on one via Dreadbox or your local music gear retailer.
Typhon is capable of a lot more than you might think. Check out the "3 preset" video below to experience a pad sound being passed through a heavy reverb (thank you Sinebvibes!), drum patterns and rhythmic elements, and a smooth and unpredicatble musical sequence.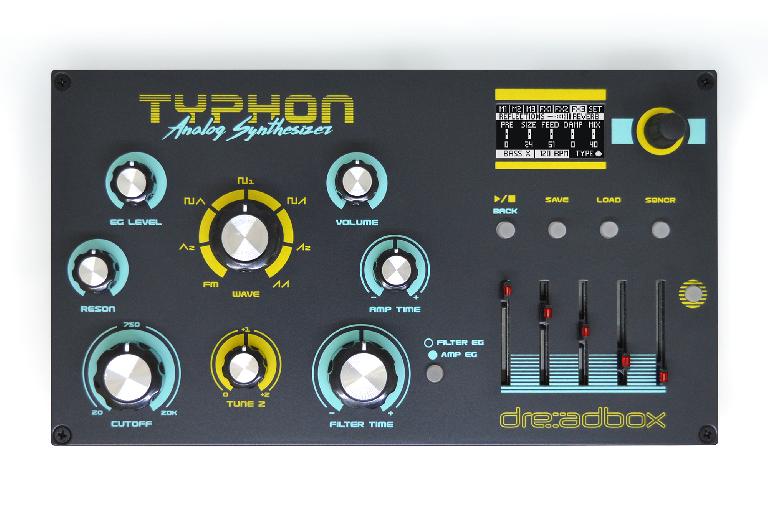 Dreadbox Typhon Features
Analog Circuit including 2 Classic Dreadbox Oscillators, a 4-pole Low Pass Filter, and Multiple Analog VCAs
2 Envelope Generators for the Filter and the Amp
3 Modulators with 4 Different Modes
(LFO, EG, Random, Parameter Step Sequencer)
and Multiple Active Targets
All analog parts feature a dedicated direct control on the left front panel.
With the sliders, buttons, and encoder on the right side of the front panel you can control the Amp and the Filter envelopes, the sequencer, the modulators, and the stereo effects, in order to create and save your desired sounds
12 DSP stereo effects (32bit @96kHz) developed by Sinevibes, including Distortion, Bit crusher, Chorus, Ensemble,Flanger, Delay and Reverb
32 Note Sequencer that can be used to sequence notes in the traditional way or used as a modulation source
254 preset memory, with import/export support
External audio input that can turn this box into the ultimate effects unit
Portable, Powered via USB with full MIDI and CC Implementation
WARNING: Watching this video may leave you wanting to buy this synthesizer. It's a naughtily effective promo video in our opinion!
Specifications & Connections
USB powered (at least 500mA)
60 Playing hours with 20,000mA portable power bank
MIDI Din IN and OUT
¼ in Stereo Out
? in Headphone Out
? in Mono Audio In (for routing via Typhon FX)
Dimensions: 23 x 13 x 6 cm
Weight: 1kg