Costa Mesa, Calif., '" With over 10 years' experience in creating high quality DJ software, DJMixerSoft has finally branched out to offer DJ Mixer Express in addition to their already popular Professional version.

DJ Mixer Express is a high performance music mixing software designed for beginners as well as professional DJs. The software runs on both Windows and Mac platforms and there's even an offer which allows you to run the same program on both platforms.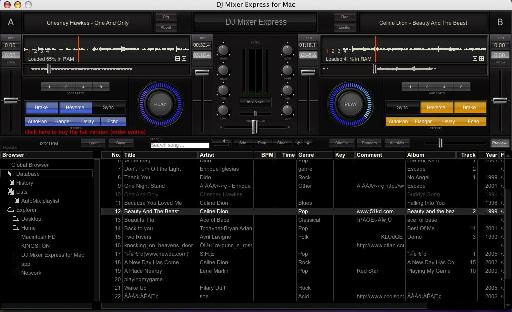 DJ Mixer Express GUI.
Whether you are an aspiring DJ or an experienced DJ, you will find that DJ Mixer Express, lets you do mixes in a way you never experienced before. Complete automatic mixing, seamless looping, automatic BPM counter, keylock, one click beat-matching, multiple effects and many other features are all possible with Express version.
Some Key Features that DJ Mixer Express Provides Include:
BPM and Beat Grid:'¨BPM is very accurate! Perhaps too accurate? Rounding up the whole numbers, we believe is the best option. Beat grid is perfect and we love how it is expandable. We tested multiple tracks and the beat grid aligned it perfectly.

Complete automatic mixing:'¨The automatic mixing feature which mixes the track into the other with just one button. Our state of the art auto mix function will beat-match and bring in the next song flawlessly.

Looping:'¨This function is easy to use, especially with the one tap feature of 1,2,4 and 8..

Perfectly Sync:'¨The '˜Sync' button provided will guarantees your transition is smooth and on beat!

The DJ Mixer Express software is currently available for a free 30 day trial, which will allow anyone out there that is interested in seeing just what this software can do, the opportunity to do so.

For more product information and a free evaluation version of DJ Mixer Express, simply visit:
http://www.macdjmixer.com/download.html