I recently produced an MPV Free Stuff pack continuing a number of ES2 patches. One of these was my take on a classic acid synth bass. Let's take a look at how you can construct a patch like this yourself and push the envelope with a heavy dose of distortion and some extra effects.

A Simple Oscillator Mix
So as with any other patch or sound I walk you through I'm starting from scratch. Instead of initializing the ES2 I'm actually going to start with one of the tutorial patches from Logic's stock preset library.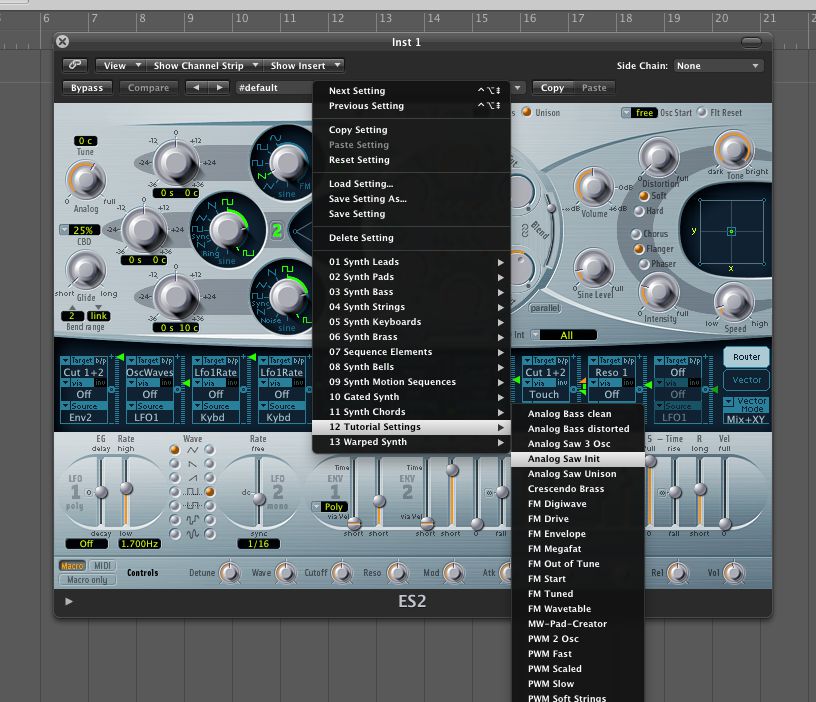 Loading the tutorial patch
These patches are actually incredibly useful for exactly this sort of thing. They give you a great starting point with some basic oscillators and even some simple routings in place. Usually they supply just enough to get you going without influencing your creative direction too much.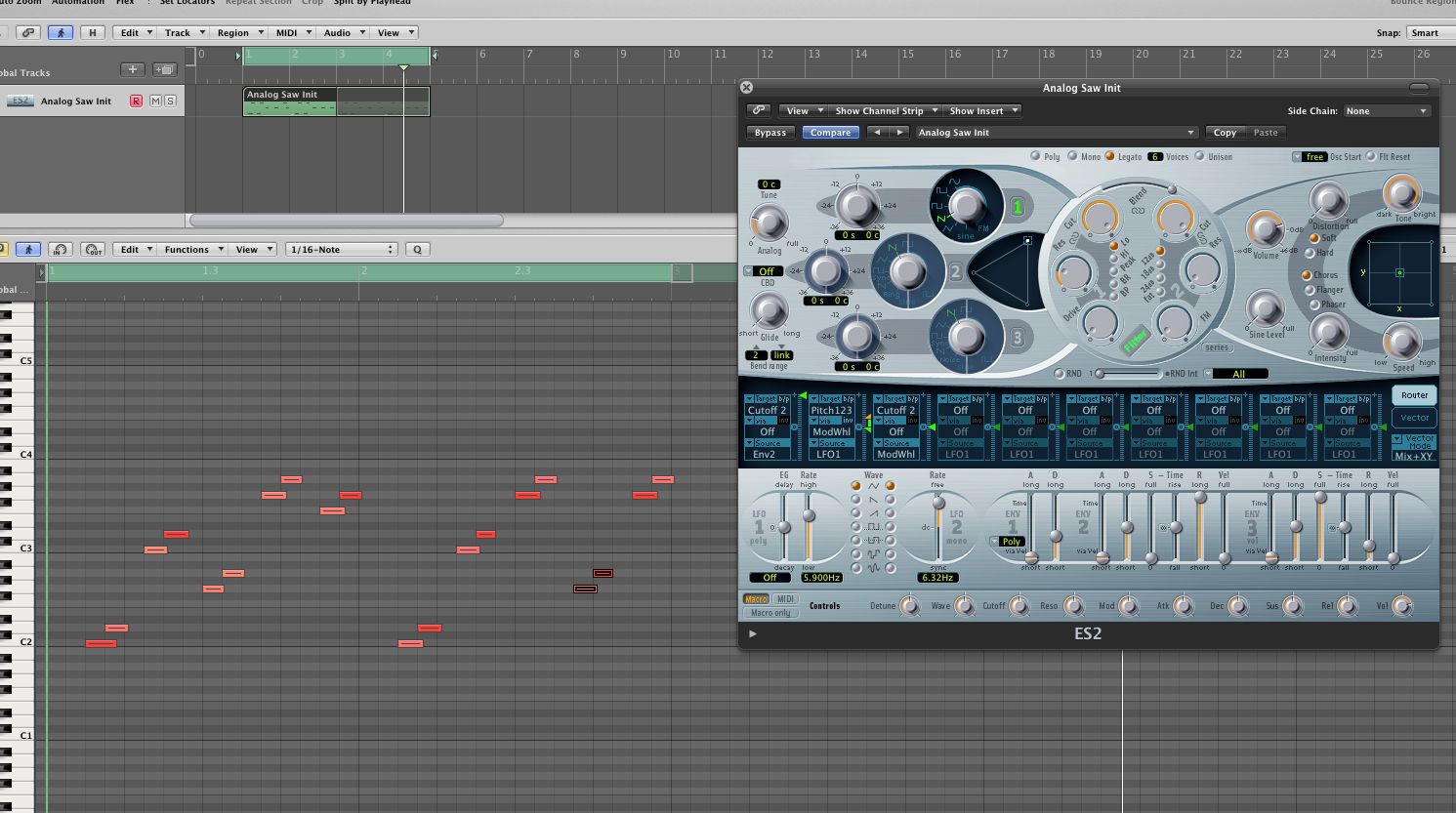 A nice pattern ready for the acid treatment!
The tutorial patch plays back in all its single oscillator glory:
I've used the most basic 'Saw init' patch. This gives us just one saw wave and a few rudimentary routings. The good news is that all we need for this patch is the single saw wave, so there is not a huge amount of work to be done in the oscillator section. This is a traditional acid bass patch so most of the action happens at the filter end!
Heavy Resonance, Heavy Drive
The real trick to getting this sound right is ensuring you have the correct filter settings. We need a really resonant low pass filter model but in the standard mode this higher resonance setting will rob us of volume. Make sure you have the Fat mode enabled, this will compensate for any level lost.
The LPF fat mode filter
The initial filter work:
Now dial in a decent amount of filter envelope. Any decay based setting should work nicely here. You want it to be pretty quick so you start to get that acid squelch. You can hear the result of my envelope tweaking below. Things are really starting to take shape!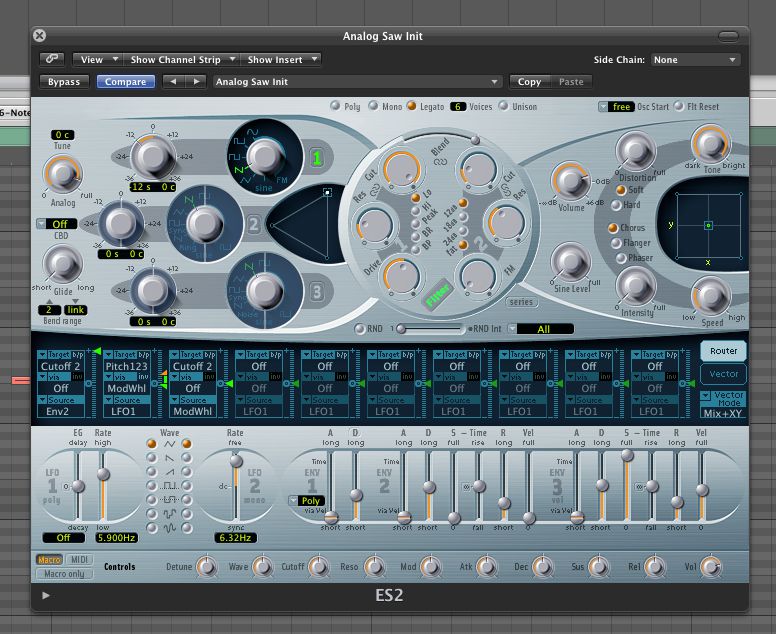 Drive added and envelopes tweaked.
The envelope and drive parameters are now tweaked:
The filter section was finished off with a nice big gulp of drive. This doesn't really add distortion as such but more of a warm saturation and plenty of perceived volume.
Glide And Voicing
Now this wouldn't really be an acid patch without glide and legato. To get this introduced I first added the glide and then ensured that the ES2 was in mono legato mode. This simply means that the patch will only glide when the notes overlap.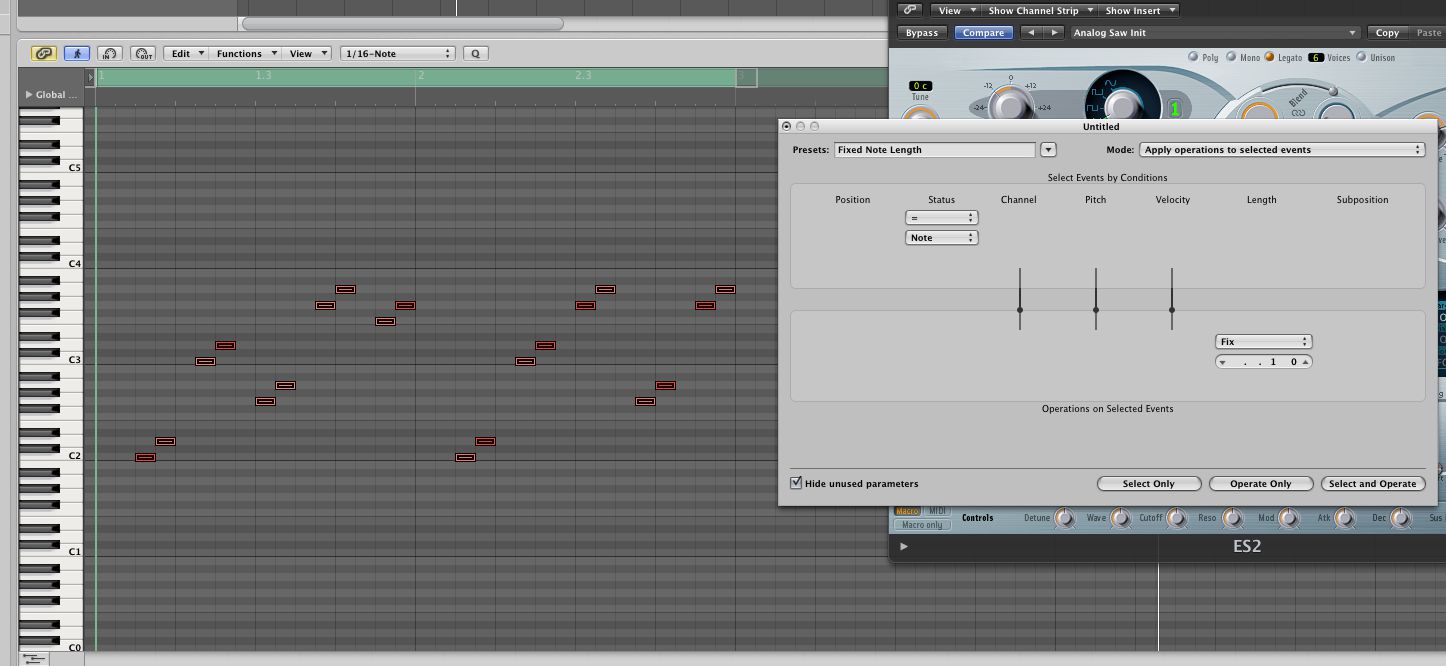 The note lengths are now uniform.
You can see that before I started to program my 'slides' I actually made all the notes a uniform length. This gave me a starting point with zero glide and made it much easier deciding on where I would put the effects.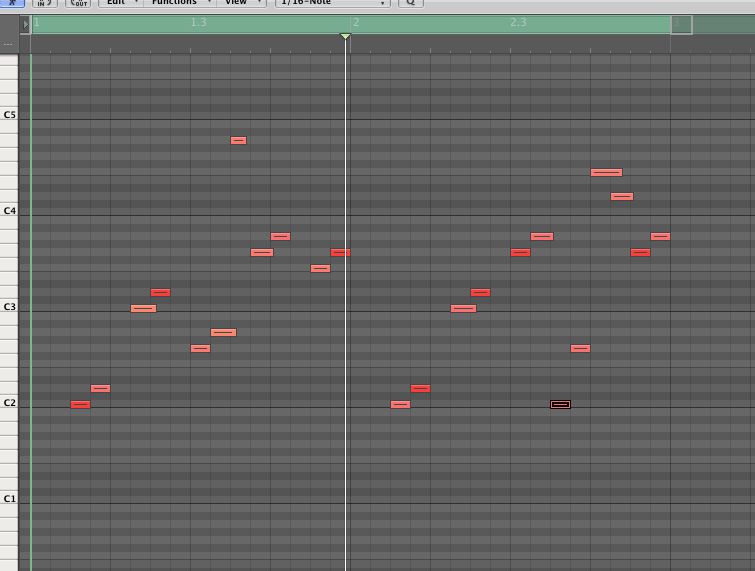 The sequence is tweaked to create glides.
Side chain routing is done:
I not only programmed a fair few in but also altered the pattern somewhat. The combination of the two processes really brought things on and made the whole thing a lot more energetic.
Distortion, Flangers And Delays
Finally if you want to really push things over the top you can try adding distortion to your bass patch. The ES2 actually has a pretty good distortion built right into its interface. I find the soft mode tends to work best but try your own settings.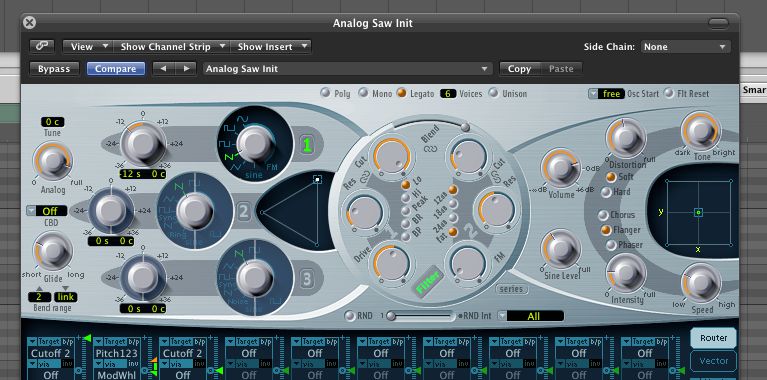 Distortion and other effects are thrown into the mix.
Distortion is added to our pattern:
On top of this I applied a very small amount of the built-in flanger. You can hear the results of the processing below.
A step further with some unison: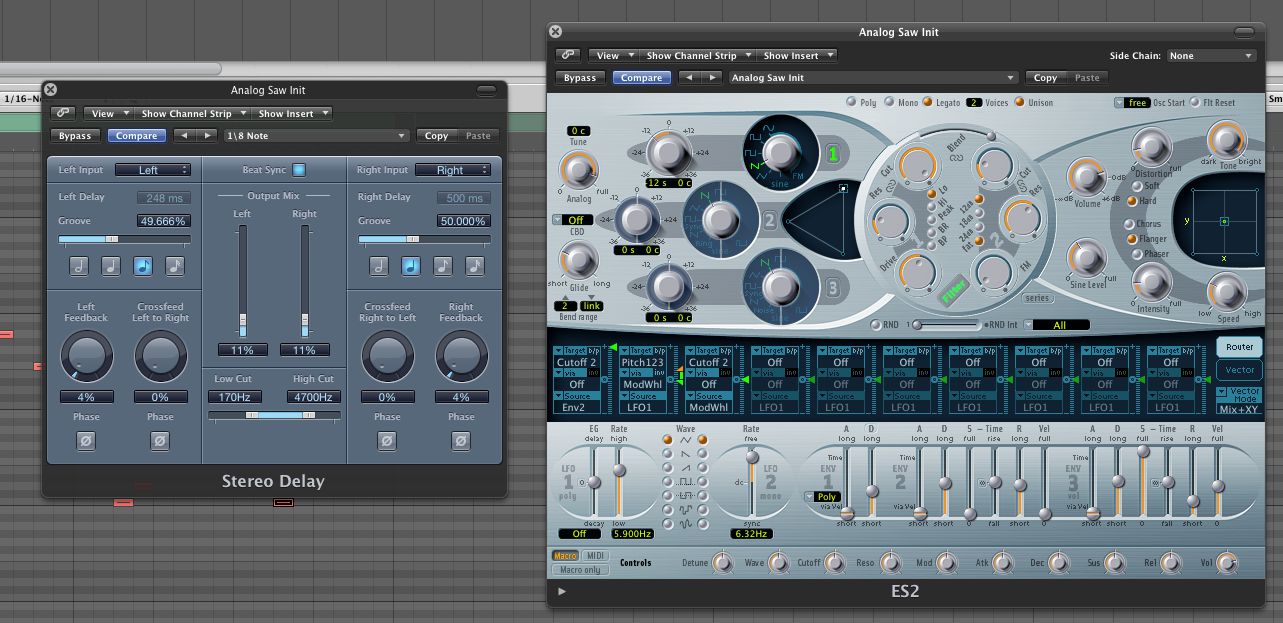 Some classic stereo delay.
And finally some stereo delay:
In an attempt to take things one step further I also experimented with unison and a classic stereo delay patch. These both worked well and gave me a useable alternative to the more classic acid patch. Try some tweaks yourself and see what you can achieve.