I often forget that before I was a maker of music, I was simply a lover of music. I remember when I was in my early teens, I used to love reading Musician magazine, Star Hits, and other colorful reading rags that would give you the deep insights of great musical minds of that time and era. Well, actually, this was the 80s I'm referring to, so in actuality, most likely any artist that would've been mentioned then is probably being played now, again, on mainstream radio. Well, that's a different story right there. Moving on.
Anyway, it was the recent discovery of Mymusic.com that made me remember how much fun it was to read about artists, bands, songwriters, rappers, and more. But, MyMusic takes things beyond the ugly, garish decor of websites like myspace and does something the magazines I mentioned earlier did. MyMusic actually does an amazing job of keeping the web based articles looking like magazine articles.

The end result is an amazing combination of what the printed media has always excelled at- Beautiful layouts, combined with something the Internet truly excels at- Anything you ever wanted to know about an artist at the tip of your fingers.
How does MyMusic work?
Let me be clear, up front- This is a very simple idea. The main solution offered by MyMusic is a way to keep up with artists in an elegant manner that seems geared more towards fans, than actual musicians. When you sign up, you gain the ability to use the 'Pin It' function within your browser. 'Pin It' allows you to, while web browsing, mark specific articles, videos, song, etc. to be placed in an online magazine of your creation. This is neat, novel, and fun to do. But, what really impressed me was actually using MyMusic itself as a search engine.
When I did a search for my own band, Soil & Eclipse, I was instantly greeted with a collage of neatly repackaged articles, videos and pictures that looked like they were within a magazine. And, when I began to scroll down, more articles were added in. Sometimes with an animated 'swooping effect', at other times just appearing.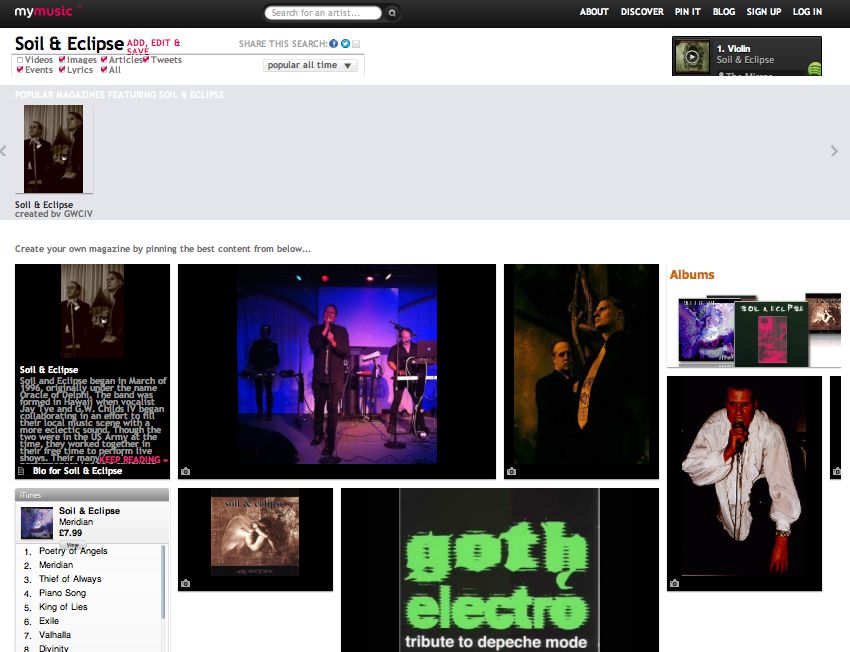 As I settled in to using MyMusic, I also began to get used to the idea of making my own magazines. I did a search for ABBA, just as an experiment, and started pinning different articles. When I went to the ABBA website, itself, and used the 'Pin It' bookmark in my browser, I was given a chance to choose which sections of the ABBA main page, I'd like to add to my newly created ABBA magazine. It became fun very quickly.
How could MyMusic benefit you?
While MyMusic isn't necessarily doing anything that would instantly boost the popularity of your band, if that's your ultimate goal in investigating MyMusic, it also wouldn't hurt. Keep in mind, you can share links to your 'magazines' on Facebook and Twitter. This, in turn, could become a lovely way to keep your following up to date on any articles, photos and videos that become available.
What's my Opinion?
Now, where do I think MyMusic could grow? Many places.
I'd love to see them make profiles for artists that would allow quickly created, beautiful pages with calendars that follow the same vibe of the already pretty MyMusic site. I'd also love to see a more elegant Facebook and Twitter integration. Maybe something akin to how SoundCloud used to integrate. When you share a magazine, a snapshot of the page you've created would appear inside the Facebook link.
This is just a musician throwing some things out there though. Bottom line is this: If you're a lover of music, and would like to read about your artists and share info about your favorite artists in style, check out MyMusic. I have a feeling it's going to evolve in to something much bigger.
Check out MyMusic.com.