Creating good music and finding that moment of inspiration is what makes being a musician fun and rewarding. Getting your musical ideas into a form requires patience and a workflow that doesn't inhibit the process. Your DAW is your canvas. Your keyboard is your brush. Your audio, MIDI and plugins are the colors. The DAW should make the music creation process easy and inspire you to do more than you ever expected.
MOTU has been in the business of DAW's for a long time. Performer, as it was initially known, ran on the Apple Macintosh and was one of the first programs to do so. It was the MIDI sequencing program that would run externally connected MIDI devices. Performer evolved into Digital Performer which added the ability to record audio. A series of enhancements and additions over the years has created the latest incarnation - Digital Performer 8.
In DP 8, the guys at MOTU have brought some great new features to their already powerful music creation platform. Let's take a look at three of these.
Punch Guard™
Recording and creating a musical part from pure inspiration can be difficult. Sometimes, you may spend precious time trying different workflows to help you get your ideas down. I, personally, like to loop record and see what I can come up with on the spot. This way, I can filter my choices once I have done all the work and I am ready for playback.
But, what if you had the perfect performance except that your last note got cut? This can lead to frustration, and that can obviously interfere with your creativity.
Punch Guard™ captures a little extra before and after you record your take thereby eliminating the frustration and keeping you creative and happy!
New Plug-Ins
The DSP genius' at MOTU didn't stop with that. All of us love to craft our audio with intuitive and efficient plug-ins. This time around, DP 8 has 17 new ones. They all sound pretty good. Two that stick out for their utility and great sonic characteristics are the Springamabob (Spring Reverb) and the Dynamic Equalizer.
The Springamabob, a great model for guitar amp reverb is also great as a Vocal Reverb. Just create a new aux track (Command-Control-A) and throw on the Springamabob in one of the inserts. Make the input a bus and send your dry vocal tracks to this shinny and warm reverb channel.
The Dynamic Equalizer has a great Fast Fourier Transform view mode that lets you see your audio as it plays through the plug-in. This is great for sharpening up stereo drum loops. Since it is dynamic, you can select a bandwidth that needs attention and apply compression to soften out those peaks only. All of this in an easy to operate user interface.
New Themes
DP 8 has added a whole bunch of new themes. If you find yourself producing music for long hours, tired of the way your DAW looks, Digital Performer has some really great looking options from which you can choose. Just go to the Preference folder and select from a whole list of themes.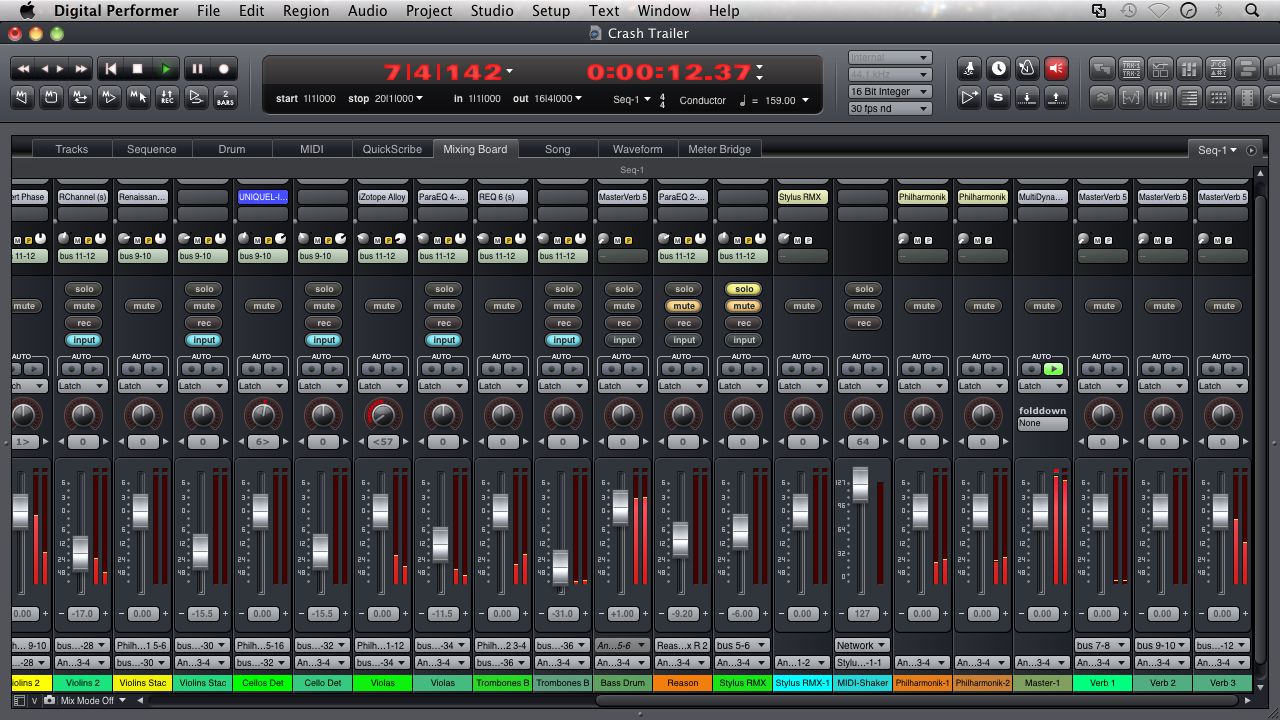 There's More in DP 8
With great new features like 64-bit mode, VST plugin support and the soon to be released Windows version, DP 8 stands to be the DAW of choice no matter what kind of music production you find yourself doing.
Take a look at my FREE What's New in DP8 course to get a sense of how the guys at MOTU have reinvented the DAW.