Texture​ was already a sound design powerhouse, able to enhance or transform your audio with more than 340 built-in sounds. You can read our review of it here: https://ask.audio/articles/review-devious-machines-texture
Now in version 1.5, you can import ​any ​sound, with full access to Texture's extensive resynthesis capabilities. Texture 1.5 can​ import samples via drag and drop​, and introduces ​Granular​, ​Random​, ​Loop and ​Trigger​ modes to get the most out of any source. You can now use Texture to ​replace individual drums​ completely, ​trigger risers, impacts and other ear candy​, and b​ring more character ​to lifeless sounds.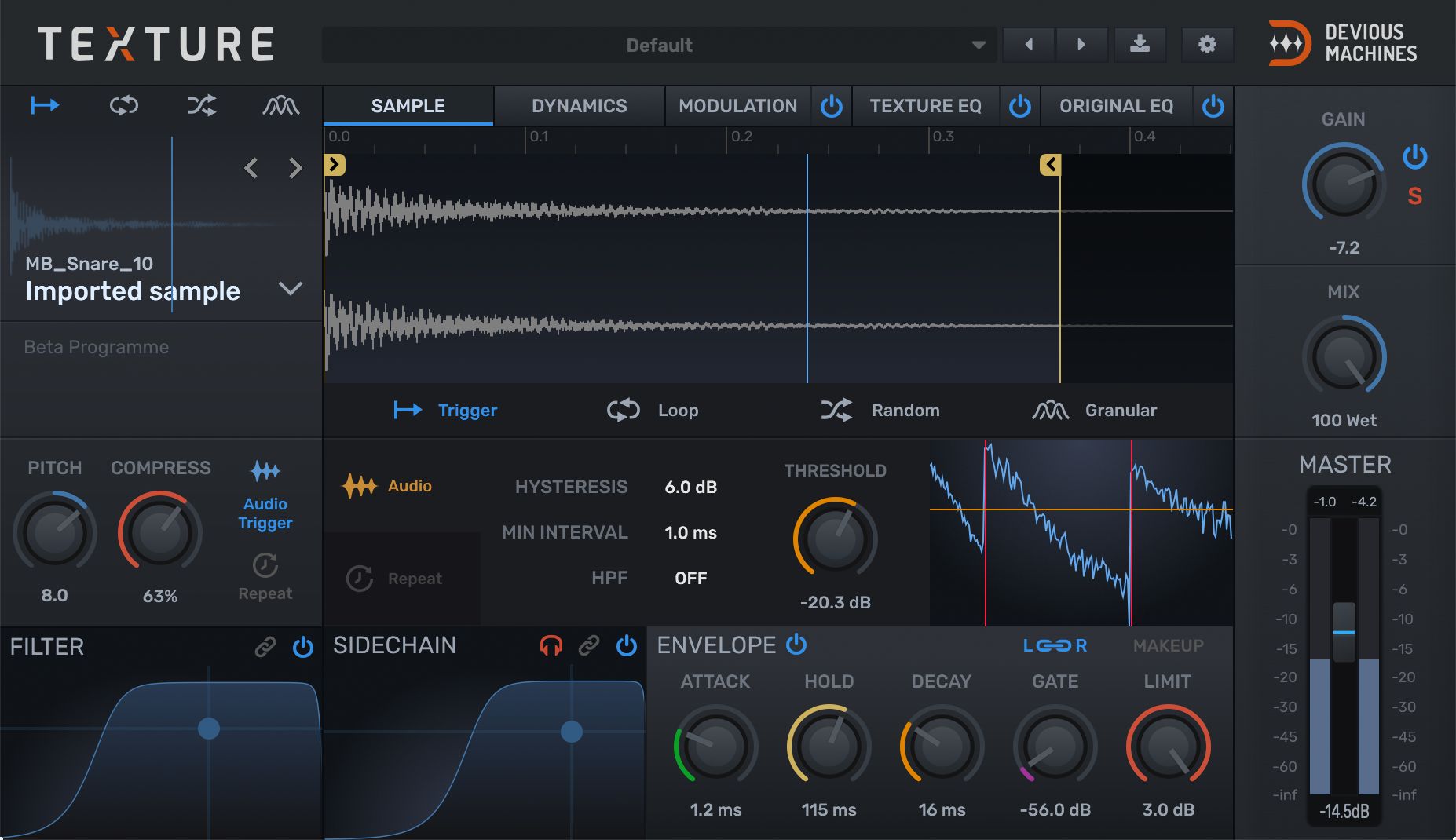 NEW IN TEXTURE 1.5
Import your own samples​ and manipulate with four sampling types
Use your existing audio to ​trigger and control sample playback
Familiar sampler controls​ including Start Time, End Time, Looping
Transform your sounds with ​granular synthesis​, including random mode
Repitch, Compress and Resynthesise​ your imported audio
Drag and Drop​ from your Browser, DAW or anywhere else
Define playback behaviour of your own samples with trigger parameters
Expanded control set for easy tweaking of sampling and triggering
More detailed audio analysis from within the onboard EQs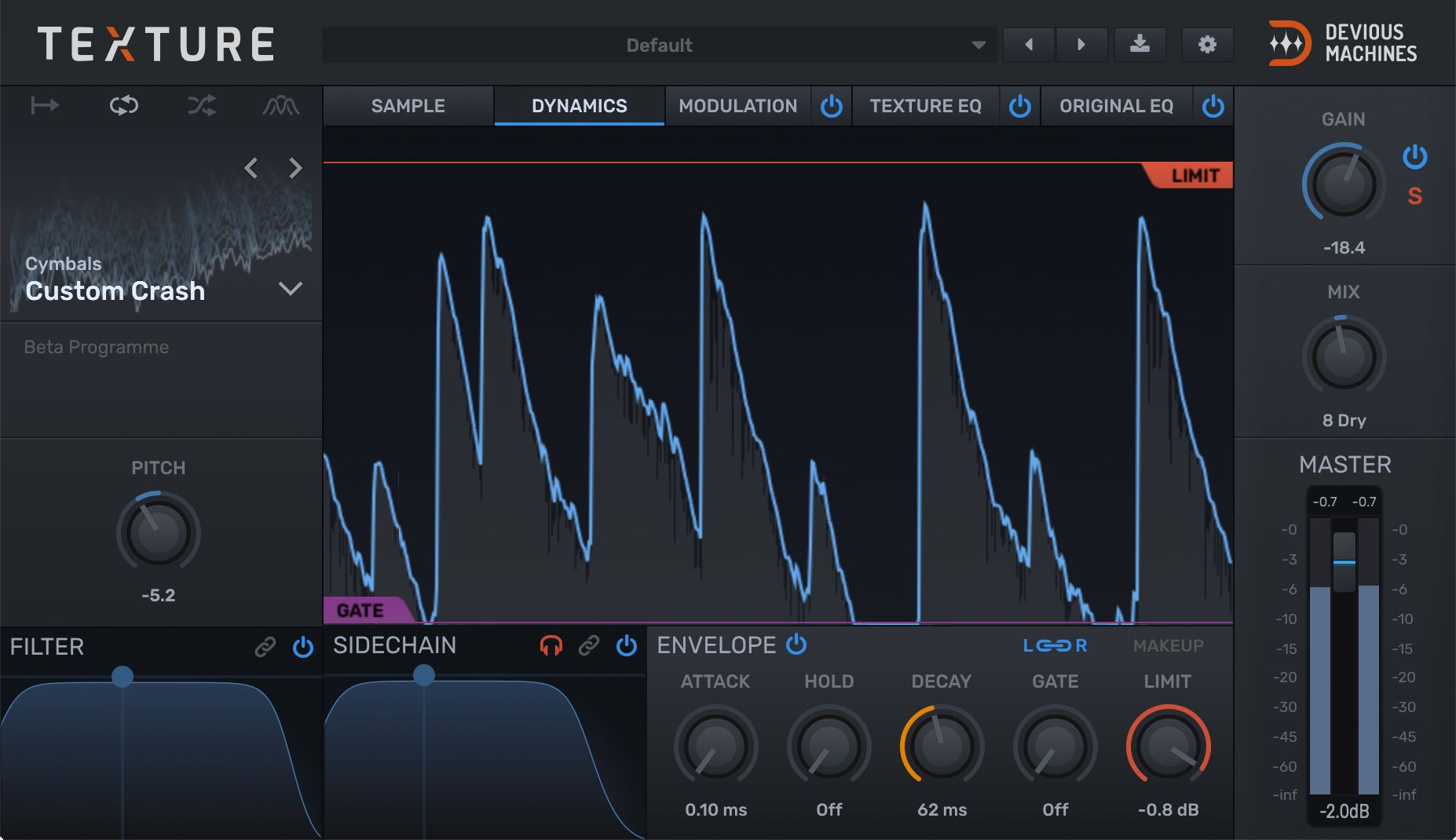 We've been using Texture 1.5 to do all manner of useful things we couldn't do before. With the ability to trigger samples that are a different length from your channel's audio envelope, Texture can now ​add twang to bass tones​, separately e​ mphasize transients,​ trigger ​replacement drum sounds,​ use audio channels to ​kick off modulating risers​, add space by s​ parking off an isolated reverb tail​, bulk up a sound by ​triggering isolated hits ​from a loop, and much more.
SAME GREAT TEXTURE 1.0 FEATURES
Over 340 inspirational sampled, granular and generative sources to trigger
Dial in the perfect response with ​Gate Threshold, Attack, Hold and Decay c​ontrols
Sculpt the original sound and Texture with ​EQ and Filtering​, and blend the two together
Customise your chosen Texture with further controls (C​ olour, Pitch, Octave, Density...​)
Modulate a Texture's controls and filter cutoff using L​ FO and Envelope s​ignals
Filter the response of the source signal with the ​Sidechain Filter
Squash the Texture sound using ​Limiting and MakeUp Gain
Global control of Texture level, Mix and Master level
Samples provided at 96kHz where required for pristine repitching
VST/AU/AAX effects plugin for PC (32/64-bit) and Mac (64-bit)
Texture 1.5 is a free upgrade for existing users. Until April 21st, to celebrate version 1.5, we're offering Texture for £49 (€57/$65). The usual price is £80 (€94/$106), and a free demo is available from http://
www.deviousmachines.com