The push-pull technology is inspired by the legendary analog Pultec EQ, a passive tube eq from the 50s, widely used in the 70s/80s for both broadcasting and mixing. The Pultec EQ would 'push' the gain for a certain frequency range into its tube circuit, and would then 'pull' it back again, to smooth out the frequency response. This creates a sound close to the original but with a nice warmth added to the boosted frequency ranges. The God Mode introduces a modern version of this technique.

"I use saturation in almost every sound I create, so I'm always looking for the best saturation tool for my music. This is not only the best sounding one, it's also the most complete and practical plugin ever." – Nico Astegiano,YouTuber/Producer
The first step to using the God Mode is to boost or 'push' certain frequencies in your track that you like to be more saturated or distorted. You can for example use one shelf to boost the highs and one peak to boost a certain color or resonance. Because you push these frequencies harder into the saturation algorithm, they will be naturally more affected by it. The second step is to decide if and how much 'pull' to apply to the boosted frequencies. This gives you creative control over the amount of coloration and the option to create a perfectly balanced frequency response for your track.
The God Mode's push-pull technology allows you to create perfectly balanced saturation no matter how dynamic your track is. In addition, how sweet would it be to use multi band distortion in parallel or to create a proper dry/wet mix without phase issues? Because the God Mode uses linear phase filters, you can now blend in the effect as you please, either in a very extreme way for creative purposes or subtle additions during mastering. The God Mode gives you ultimate control and creativity.
The plugin doesn't stop there though. It has a 'live' mode for recording, that uses regular filters without latency instead of linear phase filters. It has a side-chain to create rhythmic distortion effects, and you can pan the wet and dry sound individually. In addition, one of the three drive effects uses a 'on steroids' version of the Tape Analog VM™ algorithm we know from the Bad Tape. It allows for subtle saturation on the master as well as crazy over the top distortion effects on bass, vocals and synths.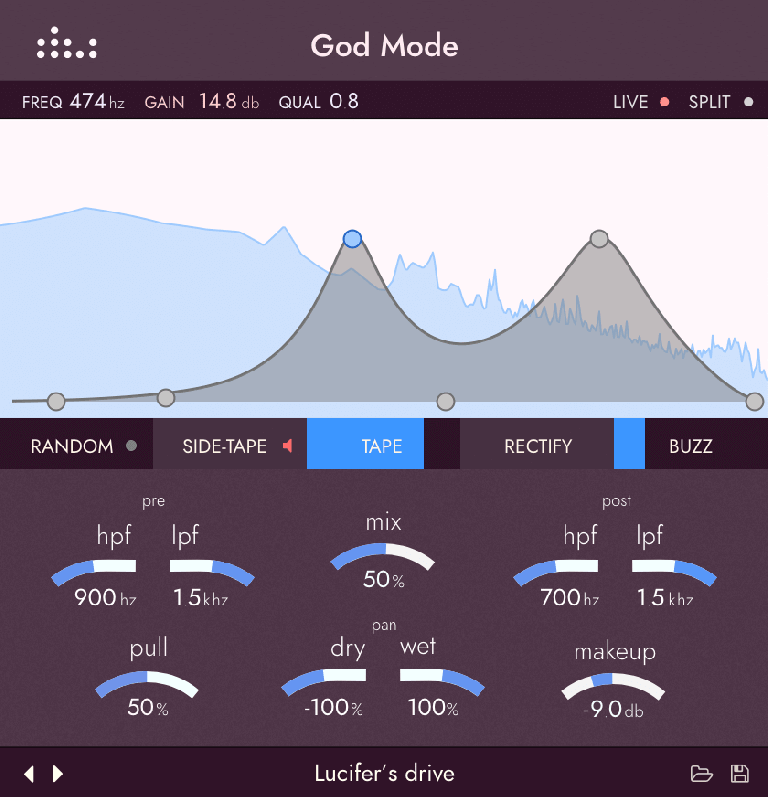 Super easy-to-use Graph
Unique Push & Pull technology
Tape Analog VM™ algorithm on steroids that we're known from the Bad Tape
Linear Phase Filters: Pristine sound quality and in-phase dry/wet mixing.
Individual dry/wet panning
Live recording mode with with zero latency.
Create rhythmical drive with the 'side-tape' side chain
Subtle to extreme use on single track instruments, busses & mastering
Grab your copy of God Mode from the denise store for a limited introductory price of €39 ($42/£34/¥4,525), and get an extra 20% off in the spring sale. Happy producing!