Delicious Sounding Semi-Modular Analog Synth, ANTS, Now Available To Pre-Order
You could have ANTS! in your studio soon. This 4-oscillator semi-modular analog synth in desktop format is now available to pre-order after a successful Kickstarter and is shipping in 2 weeks.
We were blown away by sound of the Plankton Electronics ANTS! 4-oscillator semi-modular analog desktop synthesizer when it launched on Kickstarter back in December 2016. It was obviously oozing character. And not surprisingly, easily surpassed its Kickstarter goal!
Today, the maker of ANTS!, Alex Ballester, has told us ANTS! is now available to pre-order. Anyone who didn't have the opportunity to back this wonderful-sounding synth on Kickstarter can get a unit now!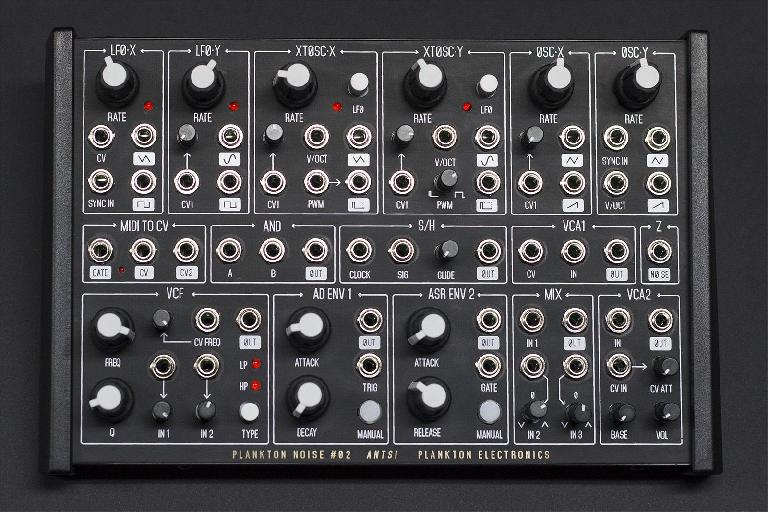 ANTS! will begin shipping in 2 weeks. The manual will be ready within a week and you can expect more videos coming soon. And what about the price? €490 EUR excluding tax.
AND... Skye Klein has created a web browser-based online patching tool where you can save, browse and recall Ants patches called Meta Patch // Ants. You can check out the BETA version here: http://ants.constructingtowers.com/#/patch
Skye has previously created an online patching librarian system for the Korg MS-20, you can find it here.
Ants is Eurorack friendly, features MIDI to CV, has more than 50 patch points, 19 knobs, thousands of combinations and infinite possibilities of modulation. And did we mention that it sounds excellent, especially for the price.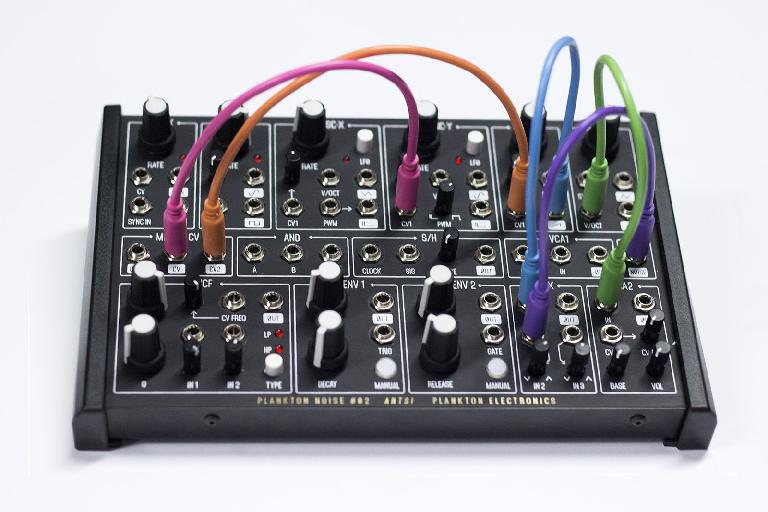 Ants Spec / Details
MAIN
27 INPUTS, 24 OUTPUTS
ANALOG CIRCUITRY
EURORACK FRIENDLY (VOLTAGE)
MODULES
2 LFOs
4 OSCs (2 Switchable To LFO)
MIDI TO CV
AND LOGIC GATE
SAMPLE AND HOLD
2 VCAs
WHITE NOISE GENERATOR
LP/HP VOLTAGE CONTROLLED FILTER
1 TRIGGERED A/D ENVELOPE
1 GATED A/S/R ENVELOPE
1 MIXER WITH ATTENUVERTERS
POWER
12Vac 1A
INCLUDED POWER SUPPLY
MATERIALS
ROLLED STEEL CASE
PLASTIC SIDE COVERS
FR4 PANEL
SOFT-TOUCH KNOBS
LFOS
+/-4V OUTPUTS
TRIANGLE CORE
TRIANGLE, SINE AND SQUARE WAVES
RANGE: 19SEC – 30HZ
'SYNC IN' ON LFO·X
OSCILLATORS
V/OCT INPUTS
+/-4V OUTPUTS
TRIANGLE CORE
TRIANGLE, SINE, SQUARE, SAWTOOTH
AND PW WAVES
'SYNC IN' OSC·Y
2 SWITCHABLE TO LFO
PWM IN ON XTOSC·X
PWM KNOB ON XTOSC·Y
MIXER
AD ENV1
TRIGGERED ENVELOPE
MANUAL CONTROL
'TRIG IN'
ATTACK: 0.9msec – 1sec
DECAY: 3msec – 5ec
ASR ENV2
GATED ENVELOPE
MANUAL CONTROL
'GATE IN'
ATTACK: 5msec – 10sec
RELEASE: 1msec – 4Sec
MIDI TO CV
1-8 CHANNEL SELECT
GATE OUT (NOTE ON)
CV (NOTE) OUT
CV2 OUT (2nd NOTE OR VELOCITY)
VCF
RESONANT ANALOG FILTER
HIGH PASS / LOW PASS
2 INPUT MIXER WITH DISTORTION
VOLTAGE CONTROLLED FREQUENCY
VCAS
2 Voltage Controlled Amplifiers
'BASE' And 'VOLUME' ON VCA1
AND GATE
2 INPUT LOGIC GATE
0 TO 5V