Dave Smith Instruments Officially Announces Prophet X Synthesizer
Imagine a polyphonic, 16-voice analog/digital synthesizer that plays samples back through analog filters. You've just imagined the DSI Prophet X. Here's the official details, images and videos.
It's official. It's here. It's what's been on many people's synth wishlists for many years. The Prophet X is a Dave Smith Instruments synthesizer which gives you the ability to play samples through analog filters.
Here's all the official details, photos and videos for the Prophet X via Dave Smith Instruments.
Dave Smith Instruments today announced the Sequential Prophet X, a new, bi-timbral, 8-voice-stereo (16-voice mono) synthesizer that combines samples and synthesis. At the heart of its sound is a newly developed engine that powers two simultaneous 16-bit, 48kHz sample-based instruments plus two high-resolution digital oscillators with waveshape modulation — all processed through analog filters.
Dave Smith commented: "The Prophet X is a powerful evolution of the Prophet series. Musicians have been asking for samples through real analog flters for a long time. We've given them not only that, but also all of the synthesis capabilites and awesome sound you'd expect from a Prophet."
For sample content, Dave Smith turned to acclaimed sound developers 8Dio, known for pioneering "deep sampling," a detailed approach to sampling that aims to capture all of the nuances and idiosyncracies of a particular sound or instrument. 8Dio co-founder Troels Folmann put it this way: "We're known for going anywhere and everywhere with sounds. We embrace all sounds as music and feel that if you can capture the musical soul of a sound, you can make it into an instrument. The Prophet X gives musicians a very immediate and responsive way to access this expressiveness."
The 150 GB sample library in the Prophet X includes numerous acoustic and electronic instruments as well as an extensive collection of ambient and cinematic effects. Users can shape the samples through loop manipulation, sample stretching, and the synthesizer's many sound-sculpting functions which include 4 envelope generators, 4 LFOs, a deep modulation matrix, and other tools. The Prophet X also provides 50 gigabytes of internal storage for importing additional samples. Several sample libraries will be available from 8Dio at launch. Support for user-created sample content is planned for December, 2018.

A dual-effects engine provides multiple reverbs, two delays (standard and BBD), a chorus, flanger, phase shifter, rotating speaker, high-pass filter, and distortion. In stacked or split voice mode, you can apply two different effects to each layer. Effects parameters can be modulated through the mod matrix as can the samples themselves. A polyphonic step sequencer allows up to 64 steps and up to 6 notes per step, per layer. The Prophet X features a premium-quality, five-octave, semi-weighted keyboard with velocity and channel aftertouch, an integrated power supply, USB support, and three OLED displays.
Dave Smith summed up the new instrument: "Composers will love the Prophet X for soundtracks and synth geeks will love it for its sound mangling potential. But it's really for everyone because it covers such a wide range of sounds. The new analog filter design we're using is not only fantastic for synth sounds, but also does something special for the samples." Added 8Dio co-founder Tawnia Knox: "The Prophet X has almost infinite posibilites. But more importantly, it has a soul. It's alive. You can touch your sounds in a different way than you ever could."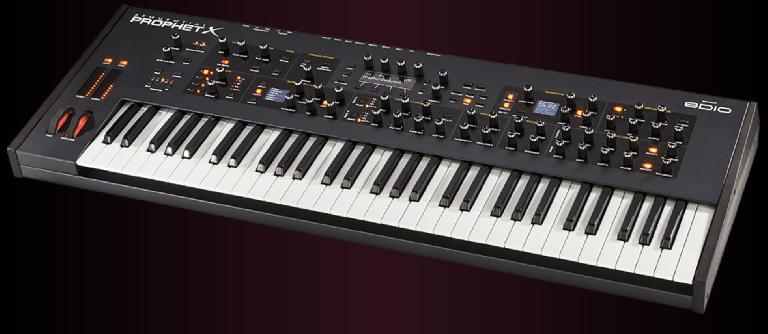 Prophet X Specifications
SAMPLE PLAYBACK
2 multi-sampled stereo instruments per voice with editable sample start, sample end, loop size, and loop center, loop on/off, sample reverse, sample stretch, bit-rate reduction, and sample rate reduction
150 GB of factory-installed 16-bit, 48 kHz sampled instruments created by 8Dio. An additional 50 GB of samples can be added by purchasing additional sound libraries. User-sample import is planned for December, 2018.
OSCILLATORS
2 digital oscillators per voice with selectable sine, sawtooth, pulse, and supersaw waves. You can vary the shape of any of the waveshapes.
Glide (portamento): separate rates per oscillator; (samples can glide in Sample Stretch mode)
Hard sync
FILTERS
2 x analog 4-pole resonant low-pass filter per voice
Digital high-pass filter in Effects section
ENVELOPES
4 loopable, five-stage (ADSR plus delay) envelope generators: Filter, VCA, and two assignable
SEQUENCER
Polyphonic step sequencer with up to 64 steps (6 notes per step), and ties and rests.
AMPLIFIER ENVELOPE
Four-stage (ADSR) envelope generator
Velocity modulation of envelope amount
LOW FREQUENCY OSCILLATORS
4 LFO's with key sync, phase offset, and slewing per LFO
Five wave shapes: triangle, sawtooth, reverse sawtooth, square, and random (sample and hold)
MODULATION
16-slot modulation matrix
28 sources
88 destinations
11 additional dedicated sources: mod wheel, pressure, velocity, breath controller, footswitch, LFO 1, LFO 2, LFO 3, LFO 4, Env 3, Env 4
ARPEGGIATOR
Fully-featured arpeggiator with up, down, up+down, random, assign modes
Selectable note value: 16th note, 8th note triplet, 8th note, dotted 8th note, quarter note
One, two, or three octave range
Re-latching arpeggiation
Note repeat
DIGITAL EFFECTS
2 digital effects on each layer
Stereo delay, BBD delay, chorus, flanger, phaser, vintage rotating speaker, distortion, high-pass filter, spring reverb, plate reverb
CLOCK
Master clock with tap tempo
BPM control and display
MIDI clock sync
PERFORMANCE CONTROLS
Full-sized, semi-weighted, 5-octave keyboard with velocity and channel (mono) aftertouch
Backlit pitch and mod wheels
Spring-loaded pitch wheel with selectable range per program (1 to 12 semitones up and down)
Transpose controls for an 8-octave range
Hold switch latches held notes on
Polyphonic glide (portamento)
Unison (monophonic) mode with configurable voice count
PATCH MEMORY
512 Factory Programs (4 banks of 128) and 512 fully editable User Programs with 2 layers (2 separate sounds) in each Program
IN/OUT
MIDI In, Out, Thru
USB MIDI
Sample import jack for USB Stick
Main stereo audio output: 2 x 1/4″ phone (TS, unbalanced)
Output B stereo audio output: 2 x 1/4″ phone (TS, unbalanced)
Pedal/CV: responds to expression pedals or control voltages ranging from 0 to 5 VDC (protected against higher or negative voltages.
Volume: responds to expression pedals or control voltages ranging from 0 to 5 VDC (protected against higher or negative voltages.
Sustain pedal input: accepts normally on or normally off momentary footswitch.
Sequencer: accepts normally on or normally off momentary footswitch to trigger sequencer playback.
Headphone output: 1/4″ stereo phone jack.
POWER
IEC AC power inlet for internal power supply
Operates worldwide on voltages between 100 and 240 volts at 50 to 60 Hz
Power consumption: 25 watts maximum
PHYSICAL SPECS
Dimensions: 38.44″ L x 13.53″ W x 4.13″ H (97.6 cm L x 34.3 cm W x 10.9 cm H)
Weight: 24 lbs