It appears that Looper pedals are much like London busses. Nothing for what seems like forever, and then two come along at once. We'd barely finished typing about State of The Loop when Vince Cimo, the maker of DataLooper, contacted us with some awesome news about his own hardware looper for Ableton Live users which he'd been working on in secret and has now been launched! It's now on IndieGoGo.
The inventor, Vince Cimo, is looking to produce a minimum of 50 units and has a goal of $10,000 to help with manufacturing costs. If you act quickly, you can pick up a Datalooper for the early bird price of $179, otherwise the pedal will cost you a (still cool) $199 USD.
Before we get into the nitty gritty spec and details... check out this demo of DataLooper in action. You won't be disappointed!!
Here's what Vince tells us about DataLooper:
Overview
Datalooper is a USB powered MIDI controller built to give you control and visual feedback while using the Ableton Live looper device and session view. It links up to Ableton via a custom remote script, which you can select from the MIDI devices drop down menu. No Max4Live needed. Simply select the script, link it to the DataLooper pedal, and you're up and running. The RGB LEDs will blink in time with the metronome and change colors to indicate the state of your linked loopers or clip slots.
Seamless control of Ableton Looper and Clip Creation
Instant visual feedback with RGB LEDs
USB Powered
Visual Metronome, LEDs blink in time with the beat
Complete control over 3 tracks or loopers
Hands-Free MIDI Overdub on Ableton Clips
No Max4Live or additional software needed
Traditional Looper Mode
One of the ways you can use Datalooper is to emulate the experience of a three track hardware loop pedal. In this configuration, the first three buttons in every row address individual tracks, while the last column of controls allow you to stop, mute or clear all three tracks at once.
Datalooper also features a 'new session' mode. If you long press on the clear button, the metronome will turn off, and the tempo will re-calculate based on the next loop you record, so you can fluidly move between pieces without having to listen to a click track. Throughout this process, the transport never stops, meaning you can linearly record your whole set and capture every loop and overdub in pristine quality.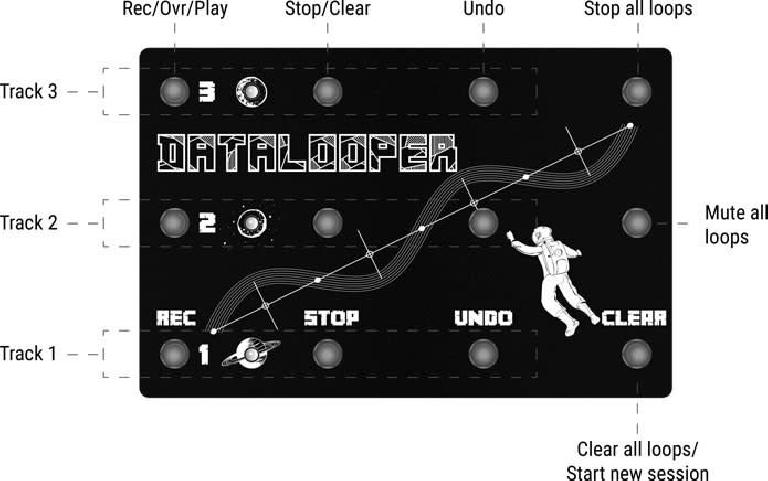 Session Control Mode
For users that are more familiar with the clip system, the Datalooper also features a 'session control' mode, built to allow users to quickly record clips. In this mode, the Datalooper script will link up with a track, then 'auto-scan' and latch on to the first unused clip slot. You can then use the first the buttons in a row to control the recording, deletion and playback of the clip. Best of all, when you want to record another clip, you can simply press record again and the script will find you another unused clip slot. This is a game-changer if you're trying to quickly record ideas and want your hands free.
How does it work?
The Datalooper script links up with tracks by using a naming convention. For tracks using traditional looper mode, you simply need to make sure DL#x (with 'x' being the track number) is somewhere in your Ableton track name. Similarly, for Session Control mode, tracks require CL#x. One really cool feature is the ability to have multiple Ableton tracks linked to a single Datalooper track. For example, you can have a looper track named, say "Guitar - DL#1", then a clip track named "Guitar Overdubs - CL#1" and every time you record a new overdub on your looper, it will also create another clip; allowing you to DJ and re-imagine the overdubs you've just laid down.
Highly Configurable
Datalooper will also be shipping with a config software that will allow you to fully customize your pedal as you see fit. The software will allow you to select each button and drag in various Ableton commands or MIDI messages on 'press', 'release' or 'long press' events. In addition, if you'd like to use more that 3 looper tracks, you can send the Datalooper program change messages to internally switch banks and the LEDs will update with the current bank's status.
Specifications
Weight: 3 lbs
8.74 in L x 9 in W x 2 in H
Enclosure: Die-cast aluminum
Connection type: Micro USB connection
Price: From $179 USD
Available: Datalooper will be available to pre-order on November 15th via an Indiegogo campaign