Stockholm, Sweden (May 24, 2017) – Swedish music duo Dada Life brings the same high-energy personalities that have propelled them to the top of the EDM scene to the development of Endless Smile, a new plug-in that creates build-ups with the turn of a single knob.
"It's finally here," said Stefan of Dada Life. "We know it took a long time, but creating a plug-in while juggling bananas and double-spraying champagne in front of thousands of people all over the world isn't easy!"
"This plugin is bananas! In a great way," said award-winning DJ/Producers Above and Beyond. "The Dada boys have done it again - spotted yet another niche and dealt with fantastically. There's nothing else out there like it - a fun but at the same time seriously effective plugin that will get heavily used by us!"
Endless Smile follows the wild success of their first plugin, Sausage Fattener, which gives producers a simple way of getting Dada Life's signature "fat" sound. "Sausage Fattener makes the tracks huge, but it's not all about the drop - you need buildups too," said Olof of Dada Life "With Endless Smile it's easier than ever to create music that lifts you to space with a smile that just gets bigger and bigger and bigger!"
Influential artists such as Axwell, Merk and Kremont, Bassjackers, Chris Lake, Blasterjaxx, Tritonal and more are already raving about Endless Smile. DJ/Producer Steve Angello says, "I use it on both buses and the master in some occasions. Saves a lot of time and sounds amazing. Love it!" While Grammy-winning dance music producer Zedd adds, ""LOVE it!!!! Sooo helpful and useful!!"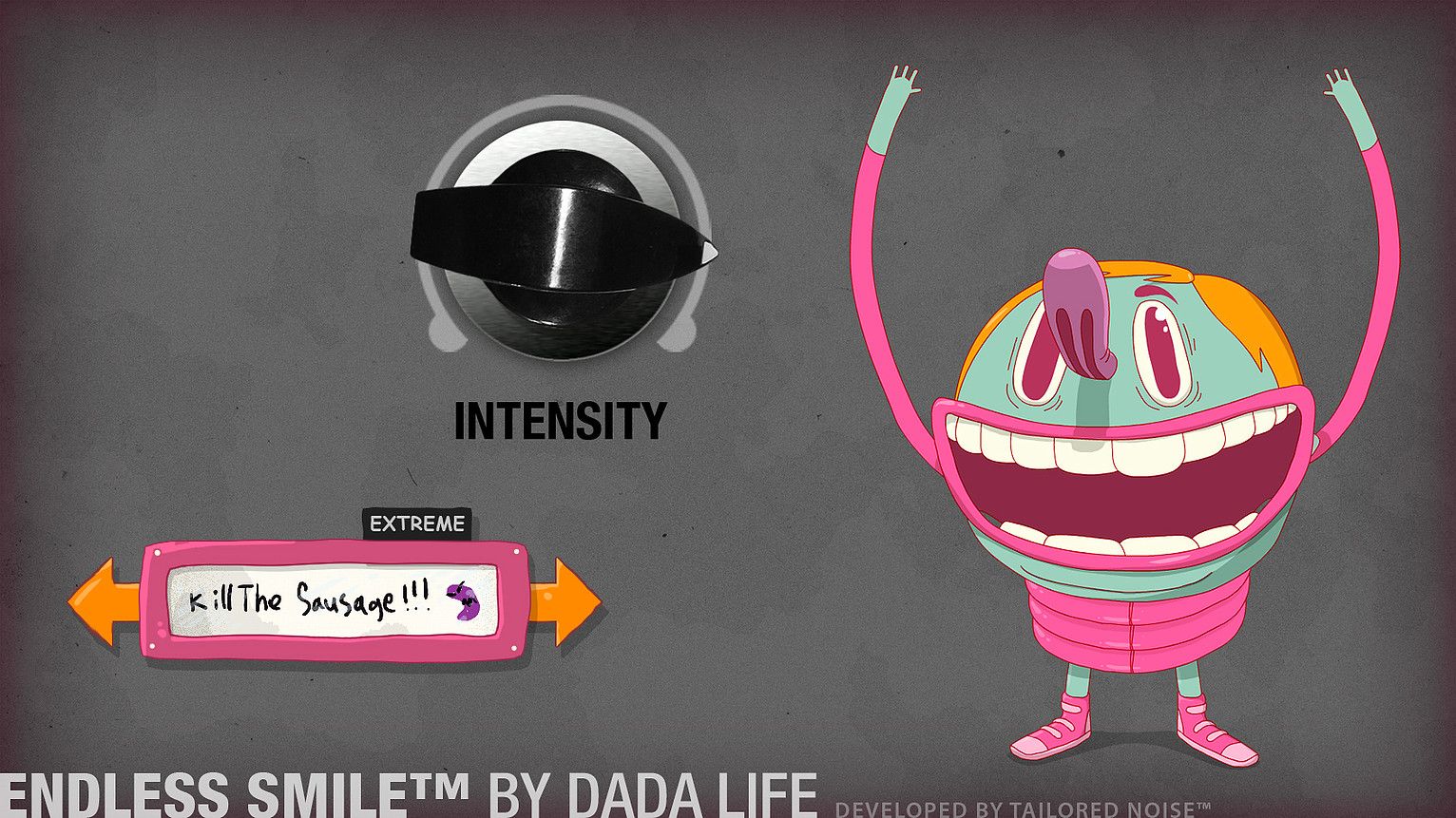 While the Endless Smile couldn't be simpler to use, there is some serious processing technology under the hood. Carefully selected and programmed filters, delays, reverbs, EQ's, phasers, barber poles, LFO's, different distortions and more create rich and complex musical build-ups – all wrapped up in a silly interface in true Dada Life style.
Great for use on the master channel, the drum buss or single instrument channels, Endless Smile comes with eight presets from "soft" to "extreme" and were personally programmed by Dada Life.
Price & Availability
Endless Smile is available now for $39 USD or bundled together with Sausage Fattener for $59 USD. To order, visit: http://tailorednoise-downloads.com/DadaLifePurchase.php