Plugin developer D16 Group has released its latest creation, Redoptor 2 - a Vintage Tube Distortion, and the second generation of D16's first FX Plugin from
the SilverLine Collection series. It's available now for $59.
Overview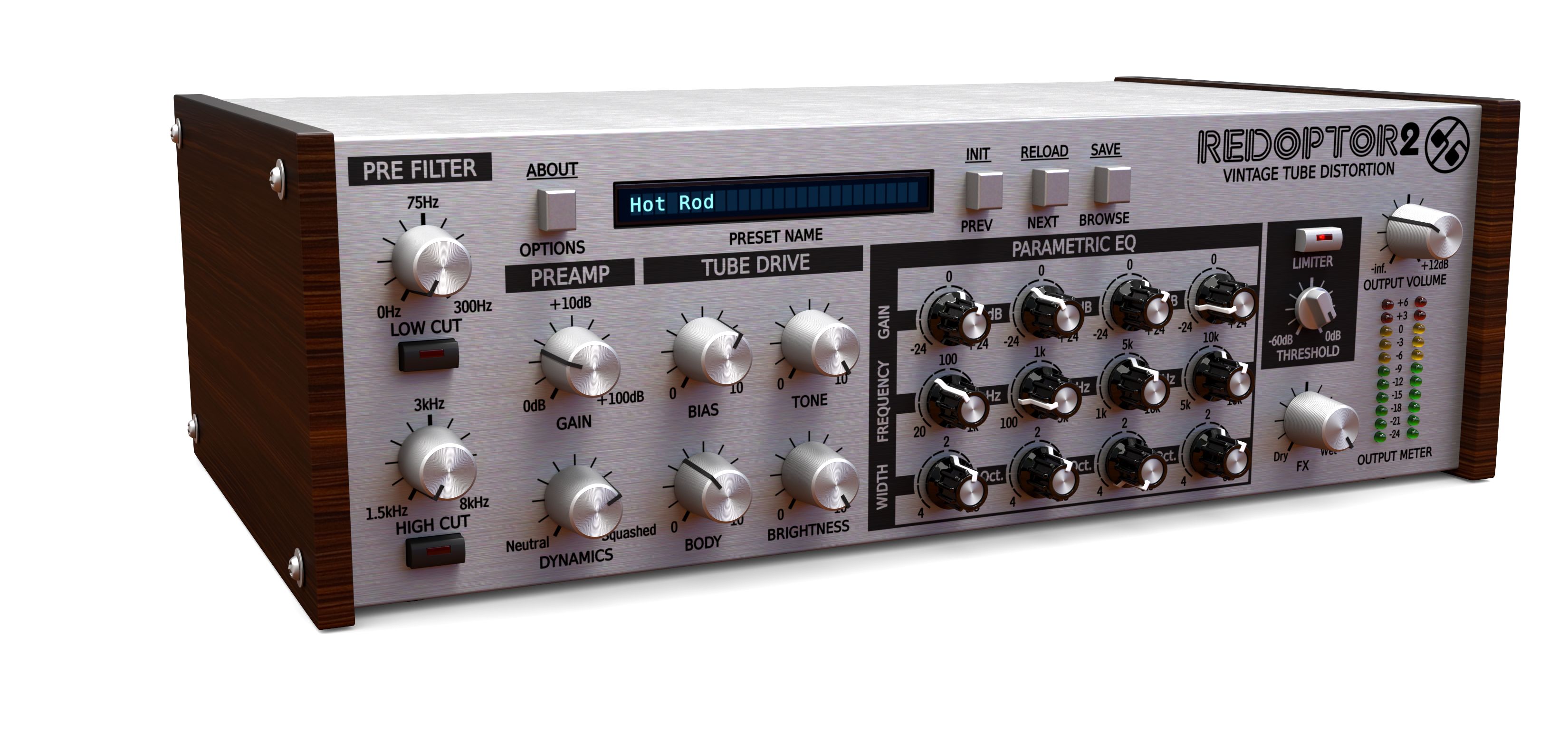 Redoptor is a high quality Vintage Tube Distortion emulator. The organic sound of a tube amplifier being pushed into breakup has been the gold standard for overdriven and distorted tones for as long as musicians have been intentionally distorting their signals. The gentle natural compression and rich blend of even and odd harmonics produced by analog tube circuitry make any effected signal feel more powerful, punchy, and alive.
Unlike solid-state transistor and fuzz circuits which only produce odd harmonics and limit the incoming signal in an unnatural and unresponsive way, Redoptor smoothly and dynamically responds to the changes in volume of incoming audio, just like a real tube amplifier. This means that louder sounds are saturated with more crunch and delicious harmonics, while softer and naturally decaying sounds clean up gradually. This creates a very sonically pleasing distortion.
Exact circuit emulation
In addition to its spot-on modeling of hot vacuum tubes being pushed into glorious, creamy distortion, Redoptor packs several features that allow it to accurately mimic the behavior of a complex analog circuit with all its interactive and complementary components.

Redoptor's adjustable tube bias parameter creates subtle amplification of even harmonics and gentle transient reshaping in the signal. Every individual element of the plugin's signal chain has similarly been designed to capture the subtleties and dynamics of proper high-quality analog tube distortion.


Redoptor perfectly emulates the behavior of classic hot-rodded tube guitar amplifier circuits, allowing it to sound just as good as its real-world analog ancestors. Guitarists working in the digital realm will feel perfectly at home with Redoptor. Those who have played through an excellent high-gain tube amp will find the plug-in's warmth, crunch, responsiveness, and singing overtones immediately familiar. Producers and electronic musicians will also find Redoptor indispensable for the high-quality distortion, rich harmonics, and attitude it brings to their sounds.

Use it to reamp guitar parts, fatten drum loops, sweeten arpeggiated synths, beef up bass lines, or heat up any sterile audio and you'll feel the difference its warm, rich, and truly unique character brings to your music.
Key Features
Exact tube and tube's coupled circuits emulation 

Preliminary filters 

Preamp with built-in compressor 

Output limiter 

Fully equipped parametric equaliser 

64bit internal processing 

Tag based preset browser 

Two alternative GUI sizes 

MIDI-learn functionality throughout 

Formats: VST, AU, AAX - 32/64-bit
Price: Retail prices: €59 / $59 / £49 (incl. all taxes - if applicable)