Overview
Four independent delay lines
Sigmund is far from just another delay: it consists of four discrete delay units, each with its own, independent set of parameters offering an incredible degree of sound-shaping freedom. There's an ancient saying, often attributed to Aristotle: The whole is greater than the sum of its parts. With Sigmund, this is especially true: each of the delay lines has complementary modules built in, independent from the feedback loop:
Multi-mode Filter (can work either in or outside of the feedback loop)

Overdrive module

Amplitude modulator (for tremolo effects)

But that's not all: Sigmund has two general-purpose LFOs which can be used to auto-modulate some of the delay lines' internal parameters. Used subtly, these LFOs can be used to delicately bring a sound to life, to add gently flowing, modulated warmth reminiscent of the analog delays of yesteryear. At extreme settings, these LFOs are capable of twisting the input signal utterly beyond recognition and into what you might expect transmissions from an alien civilization to sound like!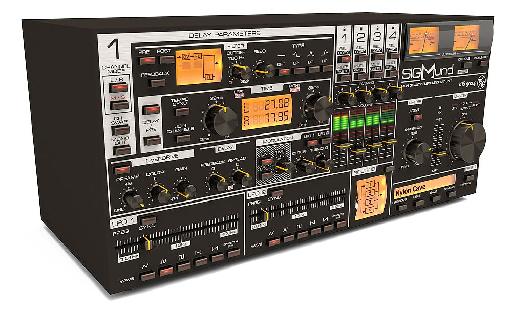 Full Features
4 independent delay lines, each with:

Multimode filter

Overdrive unit

Separately configured pre and delay times with optional Tempo sync.

Delay times down to 0.1ms

Selectable channel mode (L+R or M+S)

Stereo spread

High quality delay line alghorithm (no aliasing, no artifacts)

Two multipurpose LFOs:

LFO phase retrigg option via MIDI

6 waveforms

Tempo synchronization as an option

Flexible Routing (9 possible topologies)

Convenient mixer

Master Limiter

Presets

Over 200 factory presets

Advanced, file-based preset browser

Miscellaneous

Advanced MIDI learn

Parameter mapping for VST / AU automation
System requirements
PC
OS: Windows XP, Windows Vista, Windows 7

CPU: 1.8 Ghz with SSE (Multicore system 2.1 Ghz recommended)

RAM: 2 GB (4 GB recommended)

Software: VST compatible host application (32bit or 64bit)

Mac
OS: 10.6.x or 10.7.x or 10.8.x

CPU: Intel based 1.8 Ghz (2.1 Ghz recommended)

RAM: 2 GB (4 GB recommended)

Software: AU / VST compatible host application (32bit or 64bit)

It's not a standalone program so you need a host application to use it.
Pricing is 69 Eur / 89 USD / 59 GBP