In past articles we've explored quite a few MPC lookalikes. Instruments like Kong and Maschine are able to map sliced samples and playback drum hits from their 16 pads but few DAWs include an instrument like this as standard.
Cubase 6 however comes with an instrument called Groove Agent. This is a really great virtual device and if you are a Cubase owner its existence may mean that you don't need any third party products to get MPC like results.
Loading Samples Into The Groove Agent
Just about any sound or sample can be loaded into the Groove Agents pads. Samples, drum hits, loops and even vocals can be used here and they can be loaded by simply using Cubase's drag-and-drop system. Samples can be dragged and dropped from just about anywhere in the application.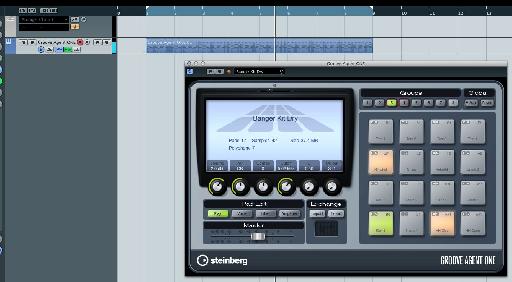 A kit loaded into Groove Agent.
Groove Agent will accept samples from the Media Bay, audio tracks and even from your desktop or folders within your operating system. Although it performs really well as a one-shot drum machine or sample playback unit, I'd like to focus on its ability to map and playback multipart loops.
A simple programmed beat using Groove Agent as a drum module:
Much like an MPC, Groove Agent is able to map each part of a sliced loop to individual pads and play them back in their original form. This is a great trick for remixers and DJs but is equally useful to anyone that loves working with grooves and loops.
Simply drag any multipart loop, (i.e. A loop that has been sliced into transients) to a pad in the Groove Agent and the loop will automatically be spanned across the 16 pads. Each slice of the loop can then be played back in the same way that single shot drum samples would be.
Generating Midi From The Groove Agent
Having the slices of your loop spanned across Groove Agent's pads is great but ideally we want to be able to playback the loop in its original form. To do this we need a MIDI file that triggers each part at exactly the right time.
Creating such a MIDI file in Groove Agent is really straightforward. With your multipart loop loaded move to the 'Exchange' area, in the lower left-hand section of Groove Agent's interface. Now grab the small rectangle and drag it to an available MIDI track. The part that this will produce is capable of playing back your sliced groove in its original form.
Midi is dragged from Groove Agent in one of Cubase's MIDI tracks.
A groove loop plays back from Groove Agent triggered by the MIDI generated:
Of course, not only will this MIDI part playback your loop in its own edited form but you can also use the data to transform the way your groove plays back. Anything from simple edits to complete transformation can be achieved here, so take a little time to see what you can achieve by moving parts around.
Using The Groove Agents Internal Synth Engine
Groove Agent isn't just a playback device but also features a basic synth engine for each part. This is the perfect tool for creating finely tuned custom kits. Each hit can be filtered and treated with envelopes, this can also allow you to transform simple drum sounds into synth like effects.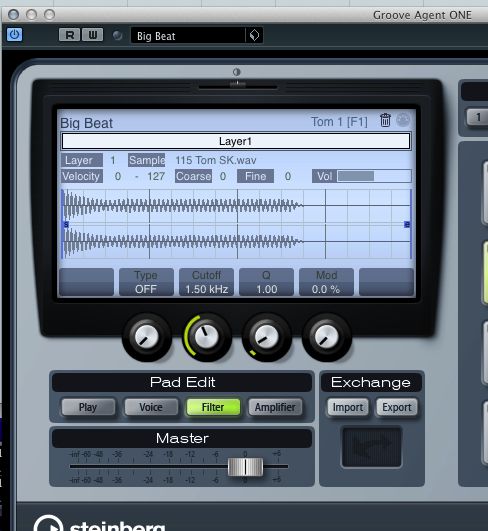 The Groove Agent's internal synth parameters in action.
To use the internal synth parameters simply select a pad and choose the area you want to edit using the tabs under the large display area. These settings are saved with your kit and will be displayed every time you hit a specific pad.