Autofilter do Ableton Live é uma ferramenta fantástica para filtração fins utilitários, embora as opções de modulação pode deixar algo a desejar. Para aqueles que procuram uma opção de filtro mais full-featured, Metafilter Waves fornece um filtro rico pente, nivelamento dinâmico, construído em linha de atraso, e 16-passo sequenciador, juntamente com LFO e envelope moduladores padrão, aparelho de som se espalhando, mordeu esmagamento, e paralela processamento
Configuring Metafilter
Em vista do dispositivo ao vivo, clique no alternar revelar para mostrar o botão Configurar
Agora que todos os parâmetros foram adicionados, vou clique em Configurar novamente para sair do modo de configuração, e os controles deslizantes estão agora disponíveis para a automação. A coisa é, Metafilter fornece uma gama tão extrema de caráter que usando toda a gama destes parâmetros pode revelar-se problemático
Para resolver isso, eu vou selecionar o dispositivo Metafilter e usar Comando-G
Neste caso, eu vou atribuir o Cutoff e conduza a Macro 1, Delay Taxa e montante Stereo Espalhe a Macro 2, LFO e Sequencer Taxa para Macro 3, e Delay comentários e Mix para Macro 4. Antes de ir adiante, pode ser inteligente para renomeá-los com algum sentido de o que eu estou pensando, o que irá tornar-se evidente em breve.
Mapping the Territory
Agora eu vou clique no botão Mapa para entrar no modo Macro Mapa, onde posso definir os intervalos para cada parâmetro
Com um mostrador Macro em seu valor mínimo, você pode ajustar o controle deslizante esquerdo de seus parâmetros correlatos no Mapeamento Browser para configurá-los para o menor valor que você quer que eles para ir para; com o botão de Macro torcido todo o caminho para a direita, você pode atenuar o controle deslizante para a direita para o valor mais alto que você quer que ele chegar.
PRO-TIP: In a long list of Macro assignments, you can click the Macro, Path, or Name title bars to re-order them for easier location.
Neste caso, eu constrangido o filtro a um intervalo ideal, que fixa o montante Unidade de nunca ir mais longe do que apenas abaixo de 50%, em seguida, clicou o parâmetro Drive em Mapeamento Browser e clicado Inverter Faixa de modo que a unidade é aplicada mais quando o filtro é mais baixo, aquecendo-se em valores de corte mais baixas.
Atraso Taxa e Taxa são ambos aumentou quando eu torça o Macro espaço, mas com o atraso Taxa constrangido a pouco menos de 400 milissegundos, de modo a evitar ecos mais rítmicas. As taxas LFO Sequencer e são invertidas, para que acelera um, enquanto o outro passa mais lentamente, enquanto ajustando a taxa de macro; Eu não quero que seja para ir mais rápido que 1/16 taxa nota, por isso eles foram restringidos em conformidade, ajustando o valor Mapeamento slider com o botão de Macro na posição correta para ver na GUI em que ponto eles batem 16/01 notas
Ready for Action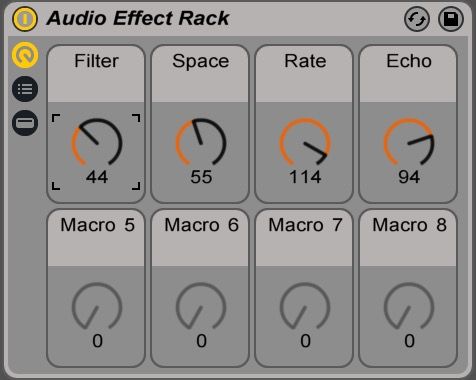 PIC 4: All acumulou.
Agora que eu tenho os parâmetros mapeados e constrangido, eu tenho aproveitado Metafilter com a capacidade de ajustar vários parâmetros de cada um dos quatro mostradores Macro, permitindo uma riqueza de controle de modulação intrincado para automação no estúdio, ou improvisação no palco. Crie o seu próprio efeito de áudio cremalheira mapeamentos de macro e começar Metafiltering.