변조 옵션을 원하는 될 뭔가를 떠날 수 있지만 ABLETON 라이브의 자동 필터는 실용적인 목적을 위해 환상적인 여과 도구입니다. 보다 완벽한 기능을 갖춘 필터 옵션을 추구하는 사람들을 위해, 파도 'Metafilter 스테레오 확산 표준 LFO와 봉투 변조기와 함께 풍부한 콤 필터, 동적 수평, 내장 지연 라인, 및 16 단계 시퀀서를 제공, 분쇄 비트 및 병렬 처리
Configuring Metafilter
라이브의 장치보기에서 구성 버튼을 표시 토글을 공개 클릭
이제 모든 매개 변수가 추가 된 것을, 나는 구성 모드를 종료하려면 다시 구성을 클릭합니다, 그리고 슬라이더는 이제 자동화 사용할 수 있습니다. 문제는, Metafilter 이러한 매개 변수의 전체 범위를 사용하는 것은 문제가 될 수 있다는 문자의 이러한 극단적 인 범위를 제공합니다
이 문제를 해결하기 위해, 나는 명령 G Metafilter 장치를 선택하고 사용합니다
이 경우, 나는 컷오프를 지정거야, 그리고에 드라이브 매크로 1, 지연 속도와 더 가기 전에 매크로 4. 매크로 3 매크로 2, LFO 및 시퀀서 속도로 스테레오 확산 금액 및 지연 피드백과 믹스, 그것은 수 있습니다 곧 분명해질 것이다 내가 계획입니다 무엇을 어떤 의미로 그 이름을 바꿀 스마트.
Mapping the Territory
지금은 내가 각 매개 변수에 대한 범위를 정의 할 수있는 매크로지도 모드로 들어갑니다지도 버튼을 클릭합니다
최소값에서 매크로 다이얼로, 당신은 당신이 그들에 가고 싶은 가장 낮은 값을 설정하는 매핑 브라우저에서의 상관 관계 매개 변수의 왼쪽 슬라이더를 조정할 수 있습니다; 매크로 노브를 오른쪽으로 모든 방법을 트위스트와 함께, 당신은 당신이 그것을 도달 할 것입니다 가장 높은 값을받을 권리 슬라이더를 감쇄 할 수 있습니다.
PRO-TIP: In a long list of Macro assignments, you can click the Macro, Path, or Name title bars to re-order them for easier location.
이 경우에, 난 그냥 50 % 이하보다 높은 이동 결코 드라이브 양을 설정, 최적의 범위에 필터를 제한 한 다음 매핑 브라우저에서 드라이브 매개 변수를 마우스 오른쪽 버튼으로 클릭하고 드라이브가 적용되도록 반전 범위를 클릭 필터가 낮은 경우 더 낮은 컷오프 값에 그것을 워밍업.
지연 속도와 확산은 모두 내가 공간 매크로를 비틀 때 증가하지만, 지연 속도와 단지 400 밀리 초에서 더 이상 리듬 에코를 방지 할 수 있도록 제한됩니다. 속도 매크로를 조정하는 동안 다른 하나는 느리게 진행 중에 하나가 가속화 있도록 LFO 및 시퀀서 비율은 반전; 나도 1/16 노트 속도보다 더 빨리 가고 싶지 않아, 그래서 그들은 1/16 충돌 어떤 시점에서 GUI에서 볼 수있는 정확한 위치에 매크로 다이얼로 매핑 값 슬라이더를 조정하여 그에 따라 제한했습니다 노트
Ready for Action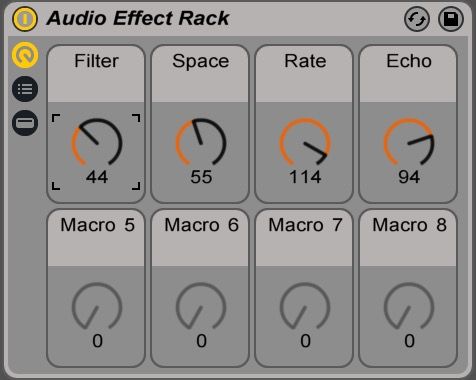 PIC 4 : 모든 깨졌어.
지금은 매핑 된 매개 변수를 얻었고, 제약으니, 내가 무대에 스튜디오에서 자동화, 또는 즉흥에 대한 복잡한 변조 제어의 재산을 허용, 네 개의 매크로 다이얼의 각에서 여러 매개 변수를 조정할 수있는 기능 Metafilter을 무력화했다. 자신 만의 오디오 효과 랙 매크로 매핑을 만들고 Metafiltering를 시작합니다.