Filtro automatico di Ableton Live è un fantastico strumento di filtraggio per scopi utilitaristici, anche se le opzioni di modulazione possono lasciare a desiderare. Per chi cerca una soluzione più completo filtro, Metafilter Waves 'fornisce un filtro ricco pettine, livellamento dinamico, built-in linea di ritardo, e 16-step sequencer con LFO e inviluppo modulatori standard, impianto stereo diffusione, bit frantumazione, e in parallelo lavorazione
Configuring Metafilter
In considerazione del dispositivo dal vivo, fare clic sulla levetta rivelano per visualizzare il pulsante Configure
Ora che sono stati aggiunti tutti i parametri, farò fare clic su Configura di nuovo per uscire dalla modalità di configurazione, e cursori sono ora disponibili per l'automazione. Il fatto è, Metafilter offre una tale gamma estrema di carattere che utilizzando l'intera gamma di questi parametri potrebbe risultare problematico
Per far fronte a questo, io seleziono il dispositivo Metafilter e utilizzare Comando-G
In questo caso, io assegno il Cutoff e Drive per Macro 1, Delay Vota e quantità Stereo Spread Macro 2, LFO e Sequencer Vota Macro 3, e Delay Feedback e Mix Macro 4. Prima di andare avanti, potrebbe essere intelligente per rinominare con un certo senso di quello che sto progettando, che diventerà evidente abbastanza presto.
Mapping the Territory
Ora farò clic sul pulsante Mappa per entrare in modalità Mappa Macro, dove posso definire gli intervalli per ogni parametro
Con un quadrante Macro al suo valore minimo, è possibile regolare il cursore a sinistra dei suoi parametri correlare nel Browser delle Mappature per impostarli al valore più basso che si desidera loro di andare a; con la manopola Macro girò tutta la strada a destra, è possibile attenuare il cursore a destra per il valore più alto che ci si vuole di raggiungere.
PRO-TIP: In a long list of Macro assignments, you can click the Macro, Path, or Name title bars to re-order them for easier location.
In questo caso, ho costretto il filtro di un range ottimale, fissare l'importo Drive per non andare più in alto di poco inferiore al 50%, poi fa click destro del parametro Drive nel Browser delle Mappature e cliccato Inverti intervallo in modo che l'applicazione del drive di più quando il filtro è più bassa, il riscaldamento fino a valori di cutoff più bassi.
Ritardo Rate e diffusione sono entrambi aumentati quando ho torsione Space Macro, ma con il ritardo Tasso costretti a poco meno di 400 millisecondi in modo da evitare echi più ritmici. Gli LFO e Sequencer tassi sono invertiti, in modo che uno accelera, mentre l'altro va più lento durante la regolazione del Tasso Macro; Non voglio neanche per andare più veloce di 1/16 tasso nota, quindi sono stato costretto di conseguenza regolando il cursore valore di mappatura con la manopola Macro nella posizione corretta per vedere nella GUI a che punto hanno colpito 1/16 note
Ready for Action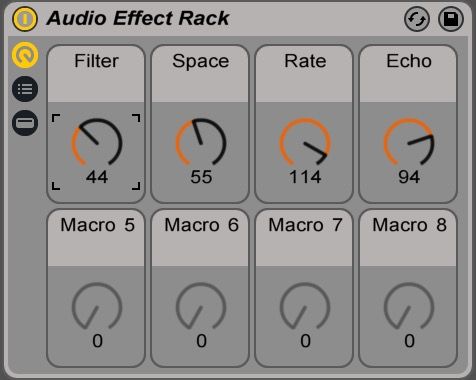 PIC 4: Tutto collezionato.
Ora che ho i parametri mappati e costretto, ho sfruttato Metafilter con la possibilità di modificare i parametri multipli da ciascuno dei quattro quadranti Macro, consentendo una vasta gamma di controllo della modulazione intricato per l'automazione in studio, o l'improvvisazione sul palco. Crea i tuoi Audio Effect Rack mappature Macro e iniziare Metafiltering.