Autofilter de Ableton Live est un outil fantastique de filtration à des fins utilitaires, mais les options de modulation peuvent laisser à désirer. Pour ceux qui recherchent une option plus complet filtre, Metafilter Waves fournit une riche filtre en peigne, nivellement dynamique, ligne de retard intégré, et 16-step séquenceur avec des modulateurs LFO et enveloppe standard, stéréo étalement, mordit concassage, et parallèle traitement
Configuring Metafilter
Dans le dispositif de vue en direct, cliquez sur le révèlent bascule pour afficher le bouton Configurer
Maintenant que tous les paramètres ont été ajoutés, cliquez sur Configurer je vais à nouveau pour quitter le mode de configuration, et les curseurs sont maintenant disponibles pour l'automatisation. La chose est, Metafilter offre une telle gamme extrême de caractère que l'utilisation de la gamme complète de ces paramètres pourrait se révéler problématique
Pour remédier à cela, je vais choisir le dispositif Metafilter et utiliser la commande-G
Dans ce cas, je vais assigner le Cutoff et conduire à Macro 1, Delay Taux et montant Stereo Spread sur Macro 2 LFO et Sequencer Taux de Macro 3, et Delay Feedback et Mix sur Macro 4. Avant d'aller plus loin, il pourrait être intelligent pour les renommer avec un certain sens de ce que je prévois, qui deviendra assez vite évident.
Mapping the Territory
Maintenant, je vais cliquer sur le bouton de la carte pour entrer en mode Plan Macro, où je peux définir les plages pour chaque paramètre
Avec un cadran Macro à sa valeur minimale, vous pouvez ajuster le curseur à gauche de ses paramètres corréler dans le navigateur de cartographie pour les mettre à la plus faible valeur que vous voulez qu'ils aillent à; avec le bouton Macro tordu tout le chemin vers la droite, vous pouvez atténuer le curseur de droite à la valeur la plus élevée que vous voudriez qu'il atteigne.
PRO-TIP: In a long list of Macro assignments, you can click the Macro, Path, or Name title bars to re-order them for easier location.
Dans ce cas, je suis contraint le filtre à une gamme optimale, fixant le montant de la promenade de ne jamais aller plus haut que juste en dessous de 50%, puis clic droit sur le paramètre Drive dans l'Explorateur de cartographie et cliqué Inverser Gamme de sorte que le lecteur est appliquée plus lorsque le filtre est inférieure, son réchauffement à des valeurs de coupure inférieure.
Retard Taux et la propagation sont tous deux augmenté quand je tords de la macro de l'espace, mais avec la Rate Delay contraints à un peu moins de 400 millisecondes afin d'éviter les échos plus rythmiques. Les taux de LFO et Sequencer sont inversées, de sorte que l'on accélère tandis que l'autre va plus lentement tout en ajustant le taux Macro; Je ne veux pas non plus aller plus vite que le taux de 1/16 de note, de sorte qu'ils ont été contraint en conséquence en ajustant le curseur de la valeur de la cartographie avec la molette Macro à la bonne position pour voir dans l'interface graphique à quel moment ils ont frappé 1/16 notes
Ready for Action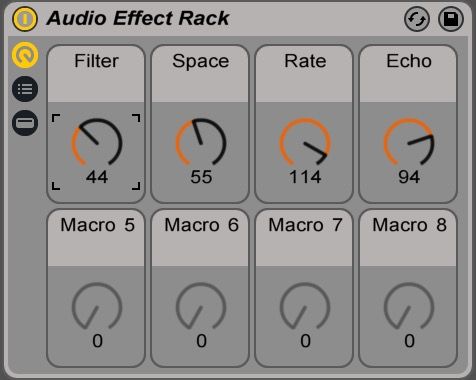 PIC 4: Tout accumulé.
Maintenant que je dois les paramètres mappés et contraint, je me suis attelé Metafilter avec la possibilité de modifier plusieurs paramètres de chacun des quatre cadrans macro, permettant une richesse de commande de modulation complexes pour l'automatisation dans le studio, ou l'improvisation sur scène. Créez vos propres effets audio rack mappings Macro et commencer Metafiltering.