Autofilter de Ableton Live es una fantástica herramienta de filtración para fines utilitarios, aunque las opciones de modulación pueden dejar algo que desear. Para aquellos que buscan una opción de filtro más con todas las funciones, Metafilter Waves 'ofrece un filtro rica peine, nivelación dinámica, una función de línea de retardo y de 16 pasos secuenciador junto con moduladores estándar LFO y envolvente, estéreo de extensión, se mordió la trituración, y en paralelo procesamiento
Configuring Metafilter
En vista de dispositivos de Live, haga clic en la palanca revelan para mostrar el botón Configurar
Ahora que se han añadido todos los parámetros, voy a hacer clic en Configurar de nuevo para salir del modo de configuración y los reguladores están ahora disponibles para la automatización. La cosa es, Metafilter proporciona una gama tan extrema de carácter que utilizar toda la gama de estos parámetros podría ser problemático
Para solucionar esto, voy a seleccionar el dispositivo Metafilter y utilizar Comando-G
En este caso, voy a asignar el corte y conducir a Macro 1, Delay tarifas y cantidad Stereo Spread Macro 2, LFO y secuenciador Tasa Macro 3, y Delay Feedback y Mix Macro 4. Antes de seguir adelante, podría ser inteligente para cambiar el nombre de ellos con algún sentido de lo que estoy planeando, lo que se hará evidente muy pronto.
Mapping the Territory
Ahora voy a hacer clic en el botón Mapa para acceder al modo Mapa Macro, donde puedo definir los rangos para cada parámetro
Con una línea de macro en su valor mínimo, se puede ajustar el control deslizante izquierdo de sus parámetros correlativos en el Navegador Mapping para ponerlos al valor más bajo que queremos que se vayan a; con el botón Macro torció todo el camino a la derecha, se puede atenuar el deslizador derecho al valor más alto que te gustaría que alcance.
PRO-TIP: In a long list of Macro assignments, you can click the Macro, Path, or Name title bars to re-order them for easier location.
En este caso, he obligado el filtro a un rango óptimo, la determinación del importe de unidad de nunca ir más alto que justo por debajo de 50%, a continuación, haga clic en el parámetro Drive en el Navegador Mapping clic Rango Invertir de manera que se aplica la unidad más cuando el filtro es menor, calentándolo hasta en valores de corte más bajas.
Retraso tarifas y propagación son a la vez aumentan cuando me toque la Macro espacio, pero con la Tasa de retardo obligados a poco menos de 400 milisegundos para evitar ecos ya rítmicos. Las tarifas de LFO y el secuenciador se invierten, de modo que uno se acelera mientras que el otro va más lento mientras se ajusta la Tasa Macro; No quiero que sea para ir más rápido que la tasa de 1.16 nota, por lo que he estado obligado en consecuencia mediante el ajuste del regulador de valor mapeo con el dial de macro en la posición correcta de ver en la interfaz gráfica de usuario en qué momento llegan a 1.16 notas
Ready for Action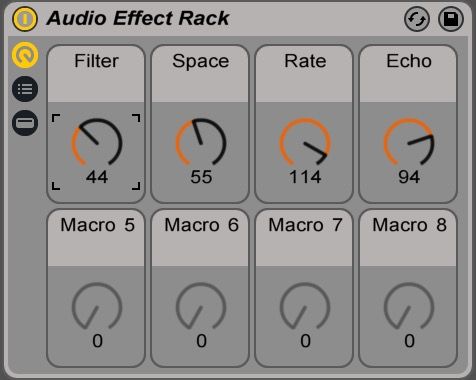 PIC 4: Todo el acumulado.
Ahora que tengo los parámetros asignados y constreñido, he aprovechado Metafilter con la capacidad de ajustar varios parámetros de cada uno de los cuatro cuadrantes de macro, lo que permite una gran cantidad de control de modulación compleja para la automatización en el estudio, o la improvisación en el escenario. Crea tus propios efectos de audio rack asignaciones de macro y empezar Metafiltering.