Ableton Lives Autofilter ist ein fantastisches Werkzeug für Filtration utilitaristischen Zwecke, obwohl die Modulationsoptionen kann etwas zu wünschen übrig lassen. Für diejenigen, die eine voll funktionsfähige Filteroption bietet Waves 'Metafilter eine reiche Kammfilter, Dynamic Nivellierung, integrierte Verzögerungsleitung, und 16-Step-Sequenzer zusammen mit Standard-LFO und Envelope-Modulatoren, Stereo verbreiten, Bit Crushing, und parallel Verarbeitung
Configuring Metafilter
In Gerätesicht Lives, klicken Sie auf die offenbaren Kippschalter, um die Schaltfläche Konfigurieren, zeigen
Nun, da alle Parameter hinzugefügt wurden, werde ich wieder konfigurieren klicken, um Konfigurationsmodus zu beenden, und die Schieber sind jetzt für die Automatisierung zur Verfügung. Die Sache ist, bietet Metafilter solchen Extrembereich des Charakters, dass mit der vollständigen Palette von diesen Parametern könnten problematisch erweisen
Um dieses Problem anzugehen, werde ich die Metafilter Gerät auswählen und mit Befehl-G
In diesem Fall werde ich die Cutoff zuweisen und Fahren auf Makro 1, Delay bewerten und Stereo Spread in Höhe von Makro 2, LFO und Sequencer-Rate auf Makro 3 und Delay Feedback und Mix auf Makro 4. Bevor Sie weitermachen, es könnte sein, klug, um sie mit einem gewissen Sinn für das, was ich plane, was sich schon bald werden wird umbenennen.
Mapping the Territory
Jetzt werde ich die Karte klicken, um Makro-Map-Modus zu gelangen, wo ich die Bereiche für jeden Parameter definieren
Mit einem Makro-Zifferblatt bei ihren Minimalwert, können Sie den linken Schieberegler von ihr Korrelat Parameter in der Mapping-Browser anpassen, um sie auf den niedrigsten Wert, den Sie sie hinwollen gesetzt; mit dem Makro-Regler verdreht den ganzen Weg auf der rechten Seite können Sie den rechten Schieberegler auf den höchsten Wert würden Sie wollen, dass es zu erreichen dämpfen.
PRO-TIP: In a long list of Macro assignments, you can click the Macro, Path, or Name title bars to re-order them for easier location.
In diesem Fall habe ich den Filter zu einem optimalen Bereich eingeschränkt, die Einstellung der Antriebs betragen nie höher als nur unter 50% zu gehen, dann Rechtsklick den Antriebsparameter, in der Mapping-Browser und angeklickt Invert Bereich, so dass der Antrieb angewendet wird mehr, wenn der Filter niedriger ist, erwärmt es sich bei niedrigeren Cutoff-Werte.
Delay bewerten und verbreiten Sie sind beide erhöht, wenn ich drehen Sie den Raum Makro, aber mit dem Delay Rate beschränkt auf knapp 400 Millisekunden, um so mehr rhythmische Echos zu vermeiden. Die LFO und Sequencer Raten werden invertiert, so dass man beschleunigt, während das andere geht langsamer während die Anpassung der Rate Makro; Ich will nicht, entweder, um schneller als 1/16 Note Rate zu gehen, so haben sie entsprechend durch Anpassung der Mapping Werteregler mit dem Macro Wahl an der richtigen Position gezwungen worden, um in der GUI an welchem ​​Punkt sie getroffen 1/16 sehen Notizen
Ready for Action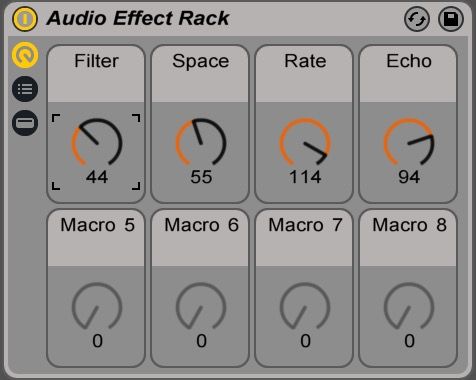 PIC 4: Alle zerbrach.
Nun habe ich die abgebildeten Parameter hat und gezwungen habe ich Metafilter nutzbar mit der Möglichkeit, mehrere Parameter von jedem der vier Makro wählt zwicken, was eine Fülle von komplizierten Modulationssteuerung für die Automatisierung im Studio, oder Improvisation auf der Bühne. Erstellen Sie Ihre eigenen Audio-Effekt-Rack Macro-Zuordnungen und starten Metafiltering.