I love the Logic Pro developers but sometimes the choices of what gets implemented and what does not bewilders me.

Case in point: For those of us who work with orchestral libraries, it is very common to automate volume using MIDI Draw for CC 11 (continuous controller) Expression instead of track-based or MIDI Draw automation with CC 7 Volume.
With many of the modern libraries, Expression not only affects volume but intensity and/or other musical properties that are realistic for the behavior of the actual instrument that has been sampled. Most of the libraries I use either do this by default or can easily be assigned to do this and then CC 1 Modulation for vibrato. MIDI Draw is simply better suited for this in my opinion than track-based automation as it is tied to an individual region and with a specific patch in a multitimbral instrument. Look if you will at Pic 1.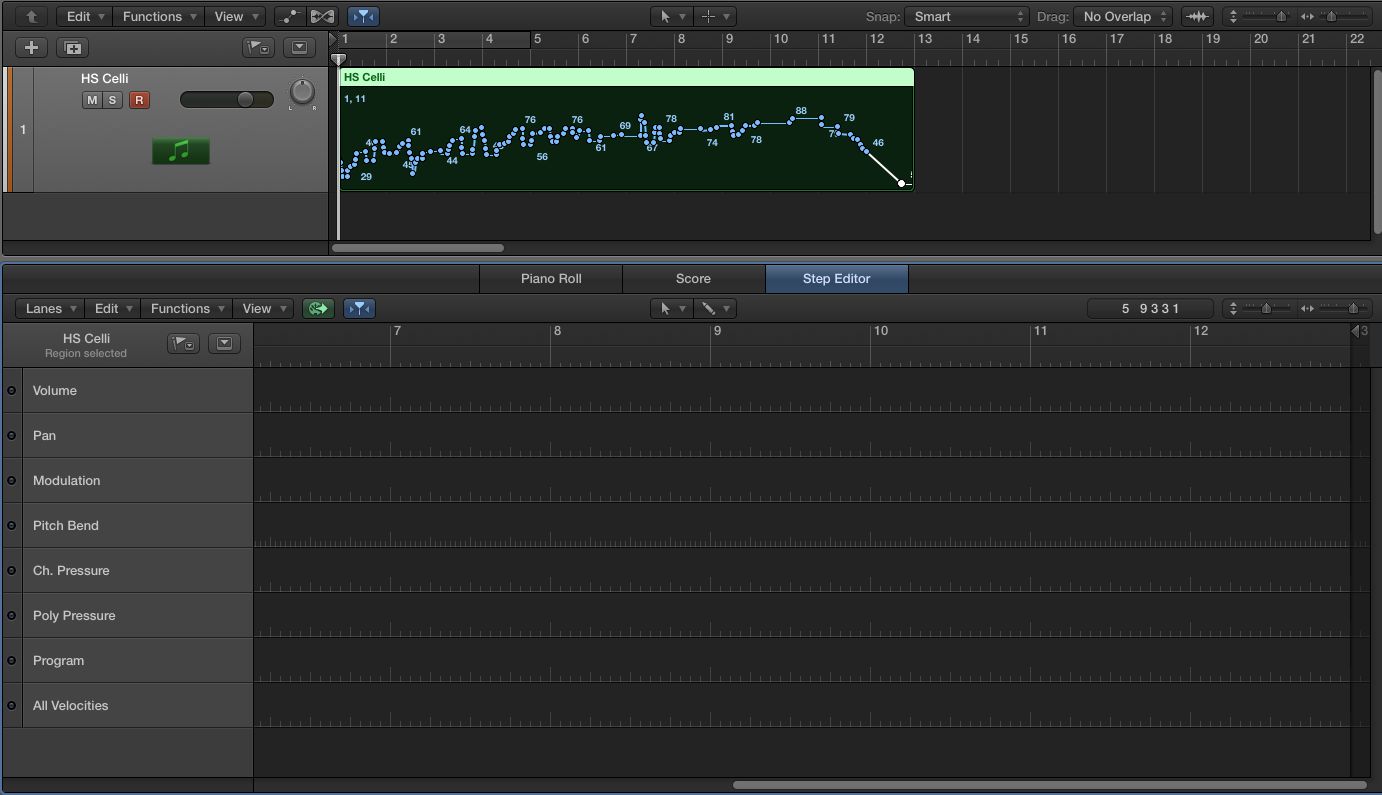 Pic 1
Here you see that I have played in a part with Hollywood Strings Cellos legato slur while simultaneously entering CC11 with an Expression pedal. I might like to smooth this out and the Step Editor's (called the Hyper Editor in earlier versions of Logic Pro) Line Tool is great for that purpose. However, in the Step Editor's default set, it is nowhere to be found while the seldom-used Poly Pressure is there. Go figure!
Fortunately, this is pretty easy to remedy and once you have done this in your templates, you always have it.
In Pic 2, I am holding the mouse down in the Inspector on the P-Press choice and then I am changing it to Control.
Pic 2
As you can see in Pic 3, by default it goes to CC 0, Bank MSB, although in fact I see my Expression data there.

Pic 3
No worries, by holding down the mouse on the Number selector, I can simply scroll to CC 11=Expression. See Pic 4.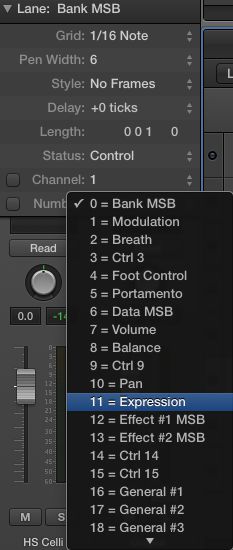 Pic 4
I suppose I could simply leave it as is because my CC11 data is all visible and editable, but that would not be me ☺
In Pic 5, you can see that I am renaming the lane in the Inspector.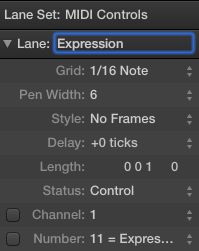 Pic 5
I am now free to change the grid and pen width of that lane to my taste.

NOTE: If you are not familiar with just how powerful these settings in the Step Editor can be, check out the manual beginning on page 422.
Now I want to create a Lane Set that I can import from project to project or just view discretely in my templates. In Pic 6, I am going under the Lanes menu and choosing New Lane Set for Current Events and in Pic 7, there it is.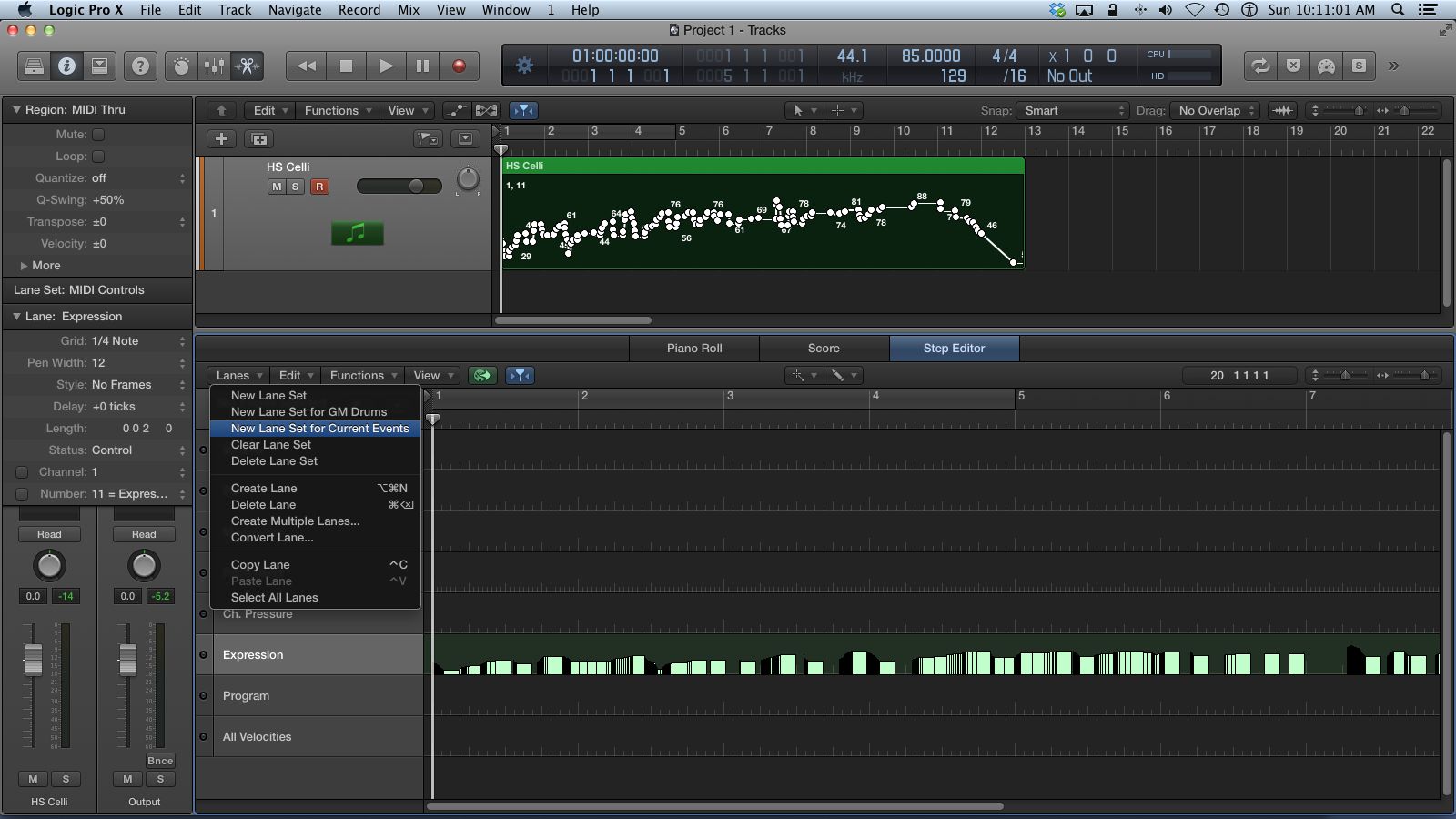 Pic 6

Pic 7
However Logic has named the Lane Set "HS Celli" while I want it to be named Expression. Again, I simply have to rename it in the Inspector and it is done. See Pic 8 and Pic 9.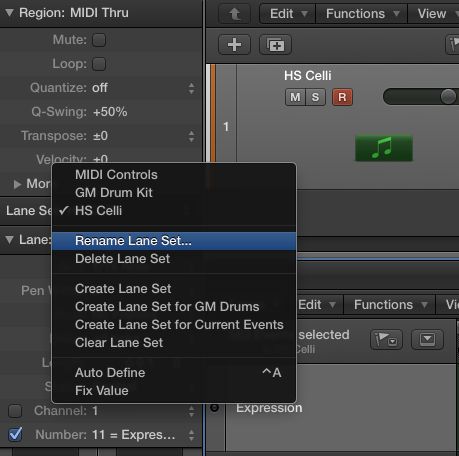 Pic 8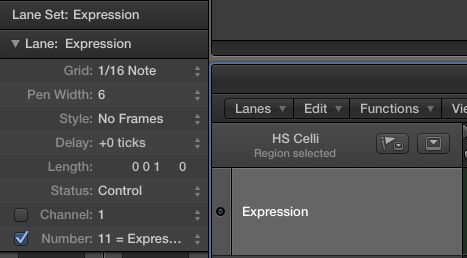 Pic 9
Now I can edit my already entered Expression or create new MIDI Draw Expression automation in the Step Editor with the Pen and Line tools in this lane as part of my template or I can import it from project to project.