Sugar Bytes Obscurium devient rapidement un aller-Synth pour moi. La première fois que je l'ai vu, je pensais qu'il a regardé et sonnait un peu mentale, mais une fois que vous obtenez le coup de lui, il se révèle être un moyen très intuitif et amusant à venir avec de nouvelles idées musicales.
Dans cette astuce, je
Step 1 - Initialize
La
Pour Obscurium être vraiment initialisée vous avez besoin d'en bas les paramètres suivants dans leur état actuel, ils ont tout à fait un grand impact sur votre patch. Ils sont les suivants:
Cela vous donnera une séquence de note unique qui isn
Step 2 - Basic Setup
Tout d'abord, mettre en place l'Amp Env être déclenchée par l'arpégiateur en poussant le curseur vers la gauche vers le haut. Cela garantit l'enveloppe est déclenchée à chaque étape.
Réglez l'échelle d'chromatique dans l'onglet de terrain de sorte que les notes aren
Vous êtes alors libre de choisir la voie de Pitch and commencer à dessiner dans une ligne mélodique. Les emplacements sont marqués dans la fenêtre principale et il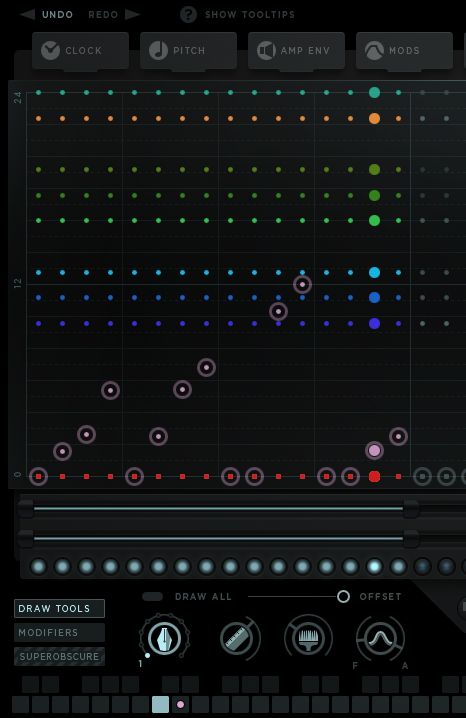 Sugar Bytes Obscurium tangage vers le haut.
je
[id audio = "36367"]
Step 3 - Go Crazy!!
Ceci est la meilleure partie de Obscurium. Une fois que vous avez une structure mélodique, vous pouvez ensuite aller dans les autres paramètres et juste commencer à peindre! Là
En utilisant la brosse aléatoire est une excellente façon de juste essayer un tas de choses et quand vous avez quelque chose de proche vous pouvez affiner avec l'outil plume.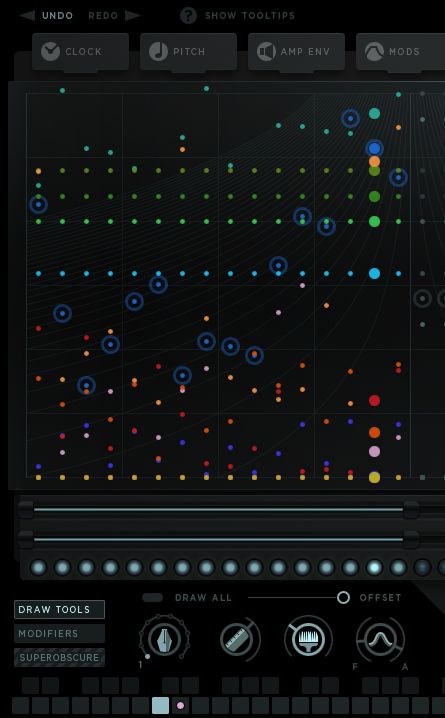 Peinture dans les étapes de Sugar Bytes Obscurium.
Ici
[id audio = "36369"]
Step 4 - Use the Mod Lane
La voie Mod peut être utilisé pour contrôler divers paramètres dans les onglets. L'un d'eux est l'enveloppe Amp. Ici je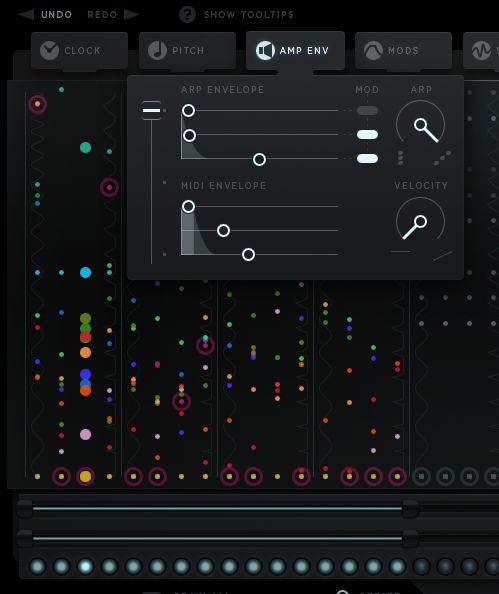 La voie Mod dans Sugar Bytes Obscurium.
Prenez une écouter.
[id audio = "36368"]
Step 5 - Offset the Lanes
Donc ici
[id audio = "36370"]
Maintenant, la chose cool avec Obscurium est que vous pouvez compenser toutes vos données de séquence de haut en bas entre les voies à l'aide du curseur sur la droite. Cela peut donner toutes sortes de résultats bizarres et merveilleuses en vous donnant plus de variation. Ici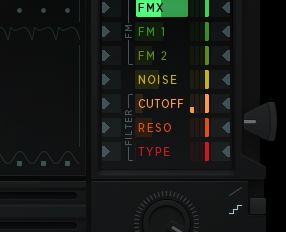 Voies de compensation peuvent entraîner des variations fantastiques.
[id audio = "36371"]
Ceci est littéralement la pointe de l'iceberg de ce que peut faire Obscurium. Une fois que vous obtenez en utilisant les accords et les longs choses Superobscurium deviennent très intéressant. Tu
Vérifiez-le!