Azúcar Bytes Obscurium se está convirtiendo rápidamente en una salida al synth para mí. Cuando vi por primera vez, pensé que se veía y sonaba un poco mental, pero una vez que el cuelgue de ella, se nota a sí misma como una forma muy intuitiva y divertida de llegar a nuevas ideas musicales.
En este consejo rápido I
Step 1 - Initialize
los
Para Obscurium a ser realmente inicializado es necesario tocar fondo los siguientes parámetros como en su estado actual que tienen bastante un gran impacto en su parche. Son los siguientes:
Esto le dará una única secuencia de notas que ISN
Step 2 - Basic Setup
En primer lugar, configure la Env Amp ser desencadenada por el arpegiador empujando el control deslizante hacia la izquierda a la parte superior. Esto asegura la envolvente se activa cada paso.
Ajuste la escala para Cromática en la pestaña de tono para las notas aren
Usted es entonces libre para seleccionar el carril de Pitch y empezar a dibujar en una línea melódica. Las parcelas están marcados en la ventana principal y hay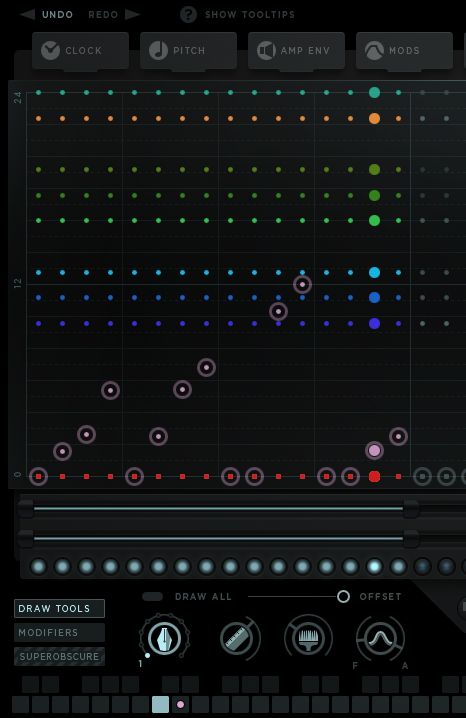 Azúcar Bytes Obscurium lanzar para arriba.
yo
[id de audio = "36367"]
Step 3 - Go Crazy!!
Esta es la mejor parte de Obscurium. Una vez que tenga una estructura melódica a continuación, puede entrar en los otros parámetros y simplemente empezar a pintar! Ya está
Usando el cepillo al azar es una gran manera de simplemente tratar un montón de cosas y cuando tenga algo parecido se puede ajustar con precisión con la herramienta Pluma.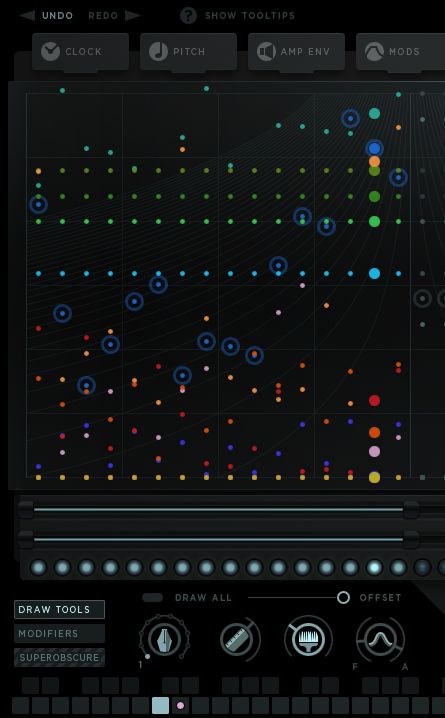 Pintura en los pasos en Sugar Bytes Obscurium.
Aquí
[id de audio = "36369"]
Step 4 - Use the Mod Lane
El carril Mod se puede utilizar para controlar varios parámetros en las pestañas. Una de ellas es la del sobre Amp. Aquí yo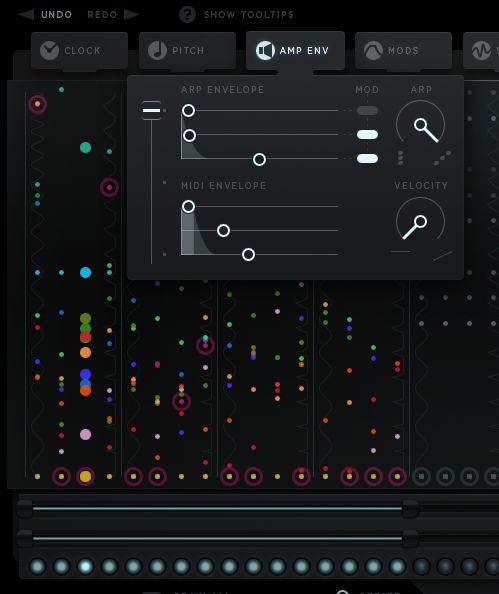 El carril de la MOD en Sugar Bytes Obscurium.
Tome un escuchar.
[id de audio = "36368"]
Step 5 - Offset the Lanes
Así que aquí
[id de audio = "36370"]
Ahora lo bueno con Obscurium es que se puede compensar todos sus datos de la secuencia de arriba y abajo entre los carriles utilizando el control deslizante a la derecha. Esto puede producir todo tipo de resultados extraños y maravillosos que le da más variación. Aquí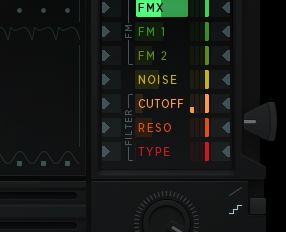 Carriles de compensación puede dar lugar a variaciones fantásticas.
[id de audio = "36371"]
Esto es, literalmente, la punta del iceberg de lo que Obscurium puede hacer. Una vez que te metes en el uso de los acordes y las características Superobscurium cosas se ponen muy interesante. usted
¡Echale un vistazo!