Sugar Bytes Obscurium ist schnell zu einem Go-to für mich synth. Als ich zum ersten Mal sah, dachte ich, es sah und hörte sich ein wenig geistige, aber sobald man den Dreh raus, es zeigt sich eine sehr intuitive und unterhaltsame Art und Weise zu kommen mit neuen musikalischen Ideen.
In diesem schnellen Tipp, den ich
Step 1 - Initialize
Das
Für Obscurium wirklich initialisiert werden Sie brauchen, um die Talsohle der folgenden Parameter, wie in ihrem aktuellen Zustand sie ziemlich großen Einfluss auf Ihre Patch haben. Sie sind wie folgt:
Dadurch erhalten Sie eine einzelne Note, die isn Folge
Step 2 - Basic Setup
Zunächst einmal, die Amp Env eingestellt, um vom Arpeggiator, indem Sie den Schieberegler nach links nach oben ausgelöst werden. Dies stellt die Hüllkurve wird jedes Schritt ausgelöst.
Stellen Sie die Waage auf Chromatic in der Registerkarte Pitch so die Noten aren
Sie sind dann frei, um den Pitch Spur auswählen und starten Einziehen einer melodischen Linie. Die Stellplätze sind im Hauptfenster und es markiert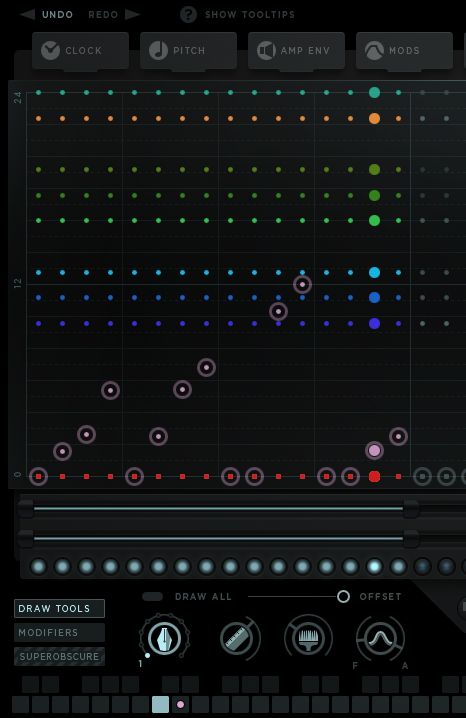 Sugar Bytes Obscurium Pitching es.
ich
[Audio-id = "36367"]
Step 3 - Go Crazy!!
Dies ist der beste Teil der Obscurium. Sobald Sie eine melodische Struktur haben, können Sie dann in die anderen Parameter gehen und starten Sie einfach malen! Dort
Verwendung des Random-Bürste ist eine gute Möglichkeit, versuchen Sie einfach ein paar Sachen aus, und wenn Sie etwas haben, können Sie in der Nähe der Melodie mit dem Zeichenstift-Werkzeug in Ordnung.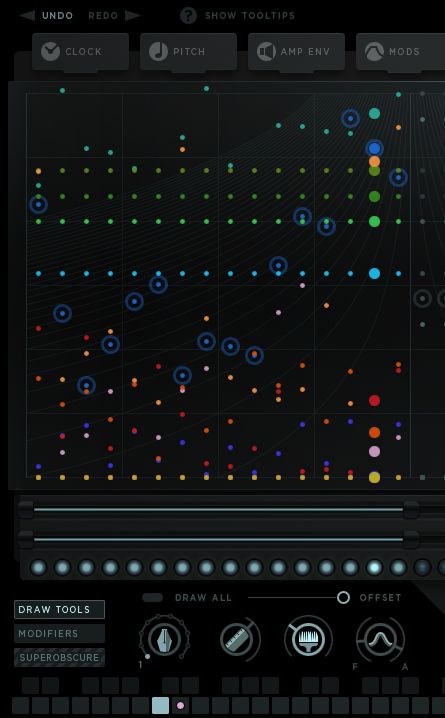 Malerei in Schritten in Sugar Bytes Obscurium.
Hier
[Audio-id = "36369"]
Step 4 - Use the Mod Lane
Die Mod Spur verwendet werden, um verschiedene Parameter in den Registerkarten zu steuern. Eines davon ist die Amp Envelope. Here I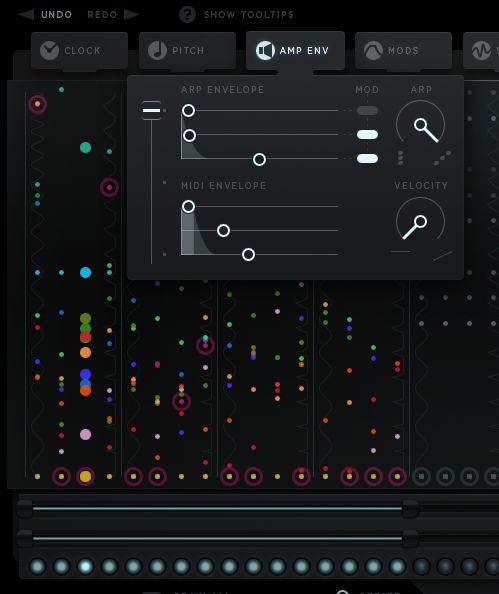 Die Mod Spur in Sugar Bytes Obscurium.
Nehmen Sie ein zu hören.
[Audio-id = "36368"]
Step 5 - Offset the Lanes
Also hier
[Audio-id = "36370"]
Nun ist die coole Sache mit Obscurium ist, dass Sie alle Ihre Sequenzdaten nach oben und unten zwischen den Bahnen mit dem Schieberegler auf der rechten Seite gegenüber. Dies kann alle Arten von seltsamen und wundervollen Ergebnisse geben Ihnen mehr Variation zu erhalten. Hier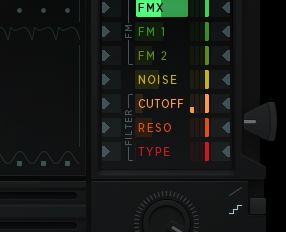 Aufrechnung Bahnen können in fantastischen Schwankungen führen.
[Audio-id = "36371"]
Das ist buchstäblich die Spitze des Eisbergs, was Obscurium tun können. Sobald Sie in mit den Akkorden zu bekommen und die Superobscurium Funktion die Dinge sehr interessant. Sie
Hör zu!