Yes, Virginia, there was a time when musicians wrote notes on a paper for parts they wanted to have performed before they or others played them. And some of us still do. The good news is that we Logic Pro users do no have to go to a store to buy the paper with empty staffs to write them on because it is very easy to create them in Logic Pro X.
There are of course various configurations of staff paper you may want to create. Let's start with perhaps the most common one, which has ten lines of a single staff.
Open a new empty project and create one software instrument without loading a patch.
At measure 1 in the Workspace, while holding the Control key, press the mouse button down and select Create Empty Region, as I am doing in Pic 1.
Grab the lower right-hand corner and change the length of the MIDI region to 40 bars. Assuming that you are using the default Logic Pro X key commands, press Command-5 to open the Score Editor, then press Control-P to switch to Page View. You should now see something similar if not identical to what I see in Pic 2.
Under the Layout menu, scroll to Numbers and Names and uncheck page and bar numbers as well as instruments names. In Pic 3 you can see that I have done so and how the display of the region has changed accordingly.
It is time to create a specialized Staff Style. Under the Layout menu, choose Show Staff Styles and the Staff Styles window appears. See Pics 4 & 5.
Under the New menu, select Single Staff Style and as you see in Pic 6. We now have a New Style.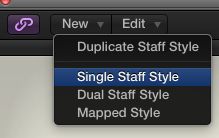 Pic 6
Double-click on the name and rename it whatever you choose. I have named mine Single Staff. Down in the bottom of the Staff Style editor, hold the mouse down, and change the clef from treble to "No Clef.5" to create a 5 line staff with, well, no clef ☺ See Pic 7.
Then uncheck "Key" and hold the mouse down in the Rest display to choose Hide. Close the Staff Style editor.
The region is still assigned to the Piano Staff Style so in the Region Parameter box, hold the mouse down and change it to your newly created Single Staff style. It should now look like Pic 8.
Close, but no cigar. Time to take a little trip to the Layout menu again and this time choose Clefs and Signatures. Notice that in this window, I have changed the Time Signature display to Hide All and I have checked Hide bar lines. See Pic 9.
Almost what we want but there are only 3 lines. However, if I move over to the Global tab and in the Maximum Bars/Line I change the Parts setting to 4 (as you can see I am doing in Pic 10), I now have a perfect page ready for printing my empty staff paper!
Learn about orchestration HERE.