Months ago I wrote an article about how to create signature patches in Logic Pro 9, which involved cabling in the Environment and was a little complex.

In Logic Pro X, thanks to its Track Stacks feature, specifically the Summing Track Stacks, it is now possible to do this far more powerfully AND easily, creating patches with not only multiple software instruments, but also incorporating multiple Channel Strip Settings. It even gives us the long wished for VCA style mixing that ProTools has always provided (more about that later).

In Pic 1, you can see I have created three software instruments and loaded a Channel Strip Setting for a piano instrument I created in Logic Pro 9. I am going for kind of a dreamy piano in the style of Thomas Newman in scores like "American Beauty."

These kind of Channel Strip Settings can take quite a while to create, but once created for years Logic Pro has given us the ability to open them in any project. That is a good start, but I want to go way beyond that and in Logic Pro X, I can.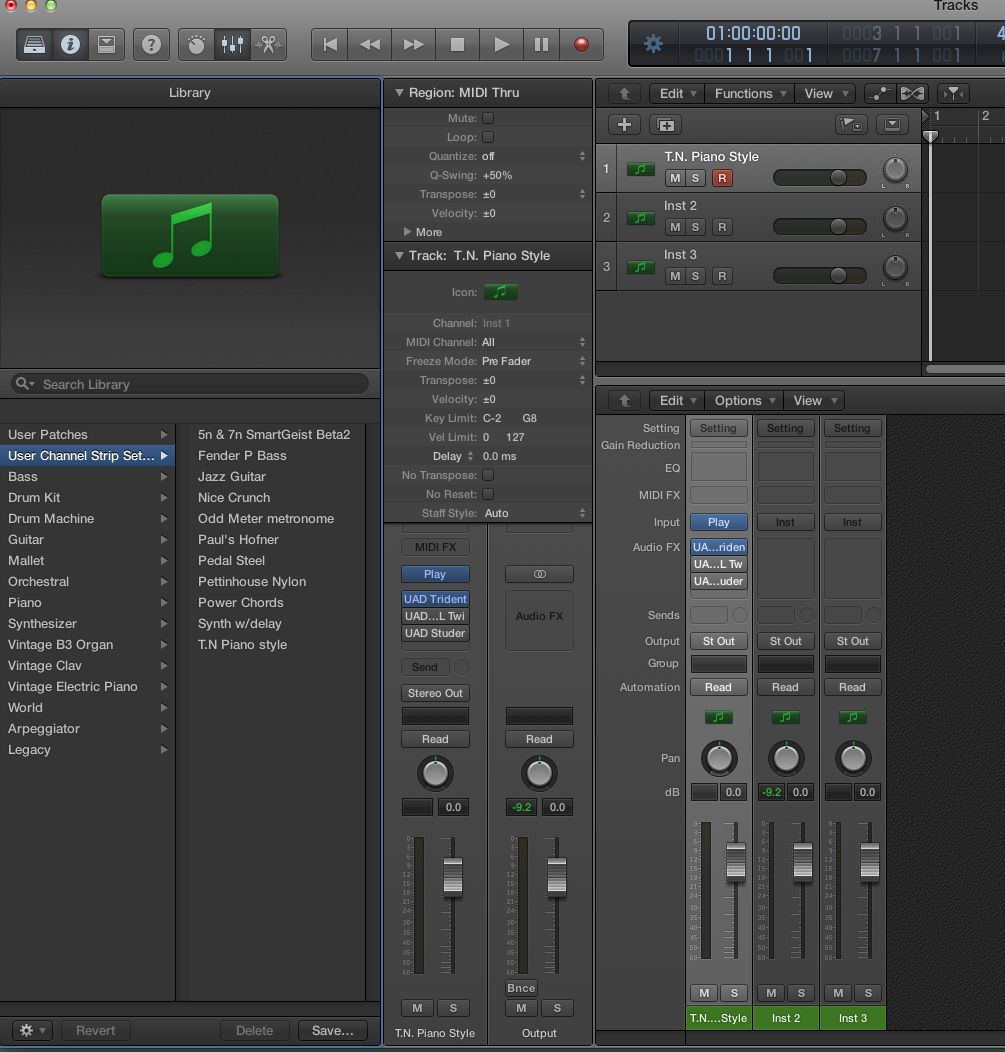 Pic 1.
I now load a Channel Strip Setting I created for a choir sound in the second software instrument. Like the piano Channel Strip Setting, it has lots of my favorite plug-ins, again chosen for a dreamy effect. I can now play either sound or arm them both and hear them both, adjust their levels and panning, etc. until I have a rich sound that could be the basis of a new Patch.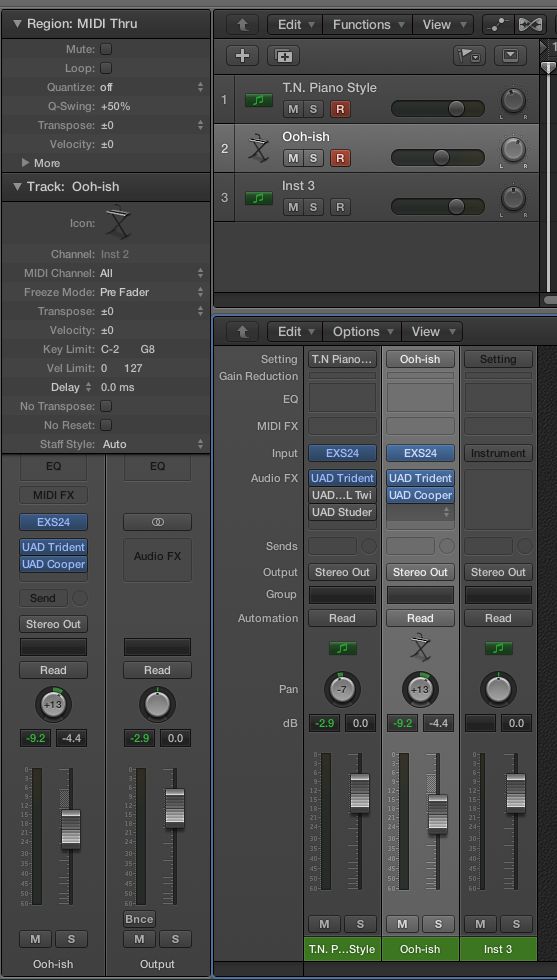 Pic 2.
This is an awesome sound, really lovely, but I have something even bigger and more unique in mind that I want to create. I decide to add a patch from Logic Pro X's new Retro Synth named Dynamic Soft Pad. See Pic 3.
It has a warm, thick character that will add to my patch's uniqueness. (By the way, Retro Synth is a great new Logic Pro X synth that emulates Moog, DX7, and Wavestation type synths. Check it out!)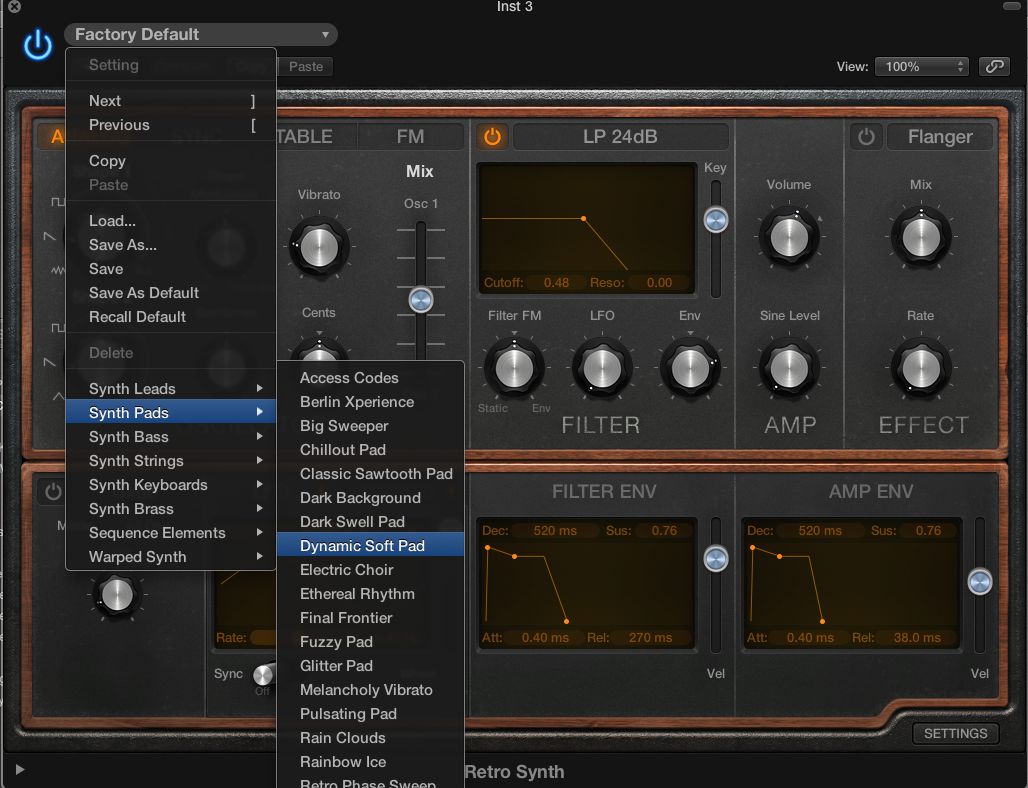 Pic 3.
This is a nice patch but perhaps just a little muddy in the low end for what I want. No problem. I open Logic Pro's Channel EQ and after analyzing the sound, I cut some low frequencies to thin it out and then, I save the Retro Synth with the Channel EQ as a Channel Strip Setting.
So now I have three software instruments for my dreamy and rich Patch. So far, so good.

Now however, I want to create a single playable instrument out of these three patches that I can use in any Logic Pro X project, past, present, or future. As I said, in the past this would have been a little complex to do, as it would have involved going into the Environment and doing some cabling. And even then, it would not have given me a single playable instrument patch comprised of multiple software instruments with multiple Channel Strip Settings. But now in Logic Pro X, it is actually very easy to do.

In Pic 4, notice that I have selected all three software instruments and under the Track menu, I have navigated to Track > Create Track Stack...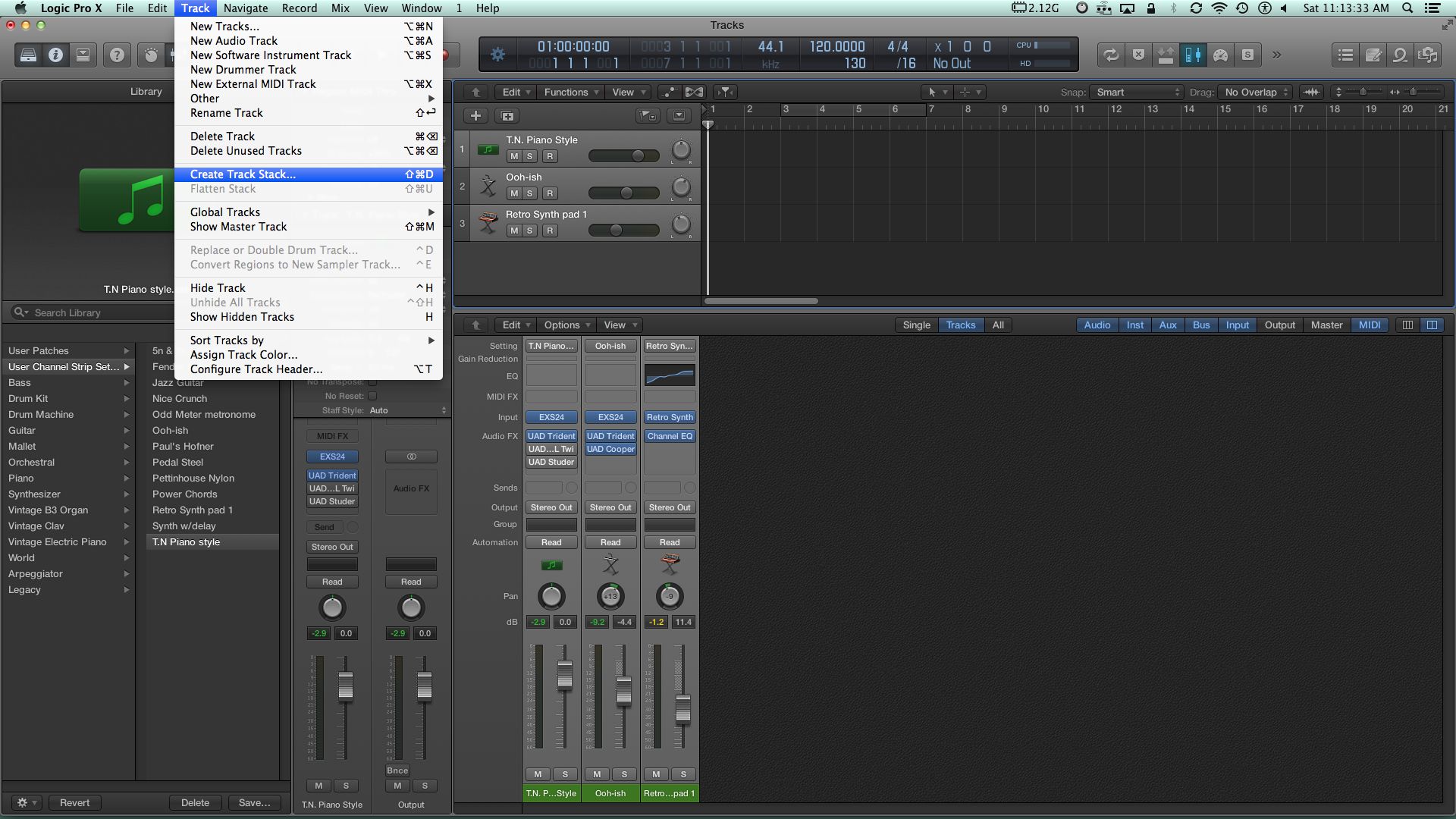 Pic 4.
This brings up the dialog box you see in Pic 5. Logic Pro X prompts me to choose between a Folder Stack and a Summing Stack. Opening the disclosure triangle reveals information that explains very clearly what a Summing Stack is. It is exactly what I want. Pic 6 shows you the definition of a Folder Stack. Also very useful, but not what I need for this purpose.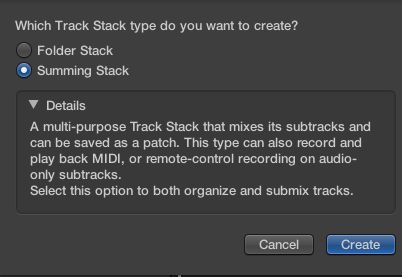 Pic 5.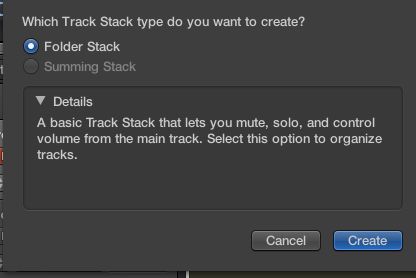 Pic 6.
In Pic 7, you can see that I have now created a Summing Stack that oddly enough is named Sum 1.
Its input assignment is Bus 1 and the three software instruments output assignment has changed from Stereo Output to Bus 1, so that they all feed to the Summing Stack via Bus 1. Logic Pro X has done all the work for you here.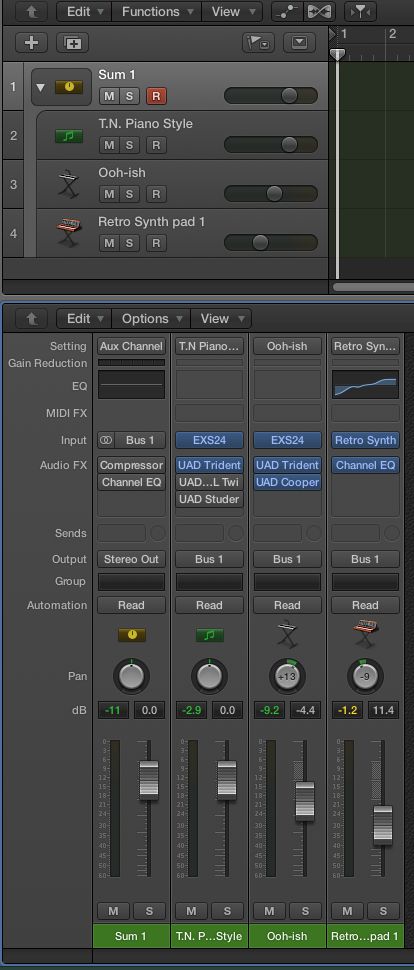 Pic 7.
So now I can play all three software instruments with all their plug-ins from their Channel Strip Settings on one track. At this point I could simply rename Sum 1 and save it as a Patch.
But before I do so, I want to add some reverb to my Summing Stack. No problem. I open a send to Bus 2 on my renamed Summing Stack track and it creates an Aux whose input is assigned to Bus 2. I simply open a reverb and send to it from the Summing Stack. See Pic 8.


Pic 8.
What if I want the reverb aux and the sends to it to be part of the Patch?
In the Mixer, choose the Aux and under the Options menu, select Create Tracks for Selected Channel Strips and it is added to the Track List. See Pic 9 & Pic 10.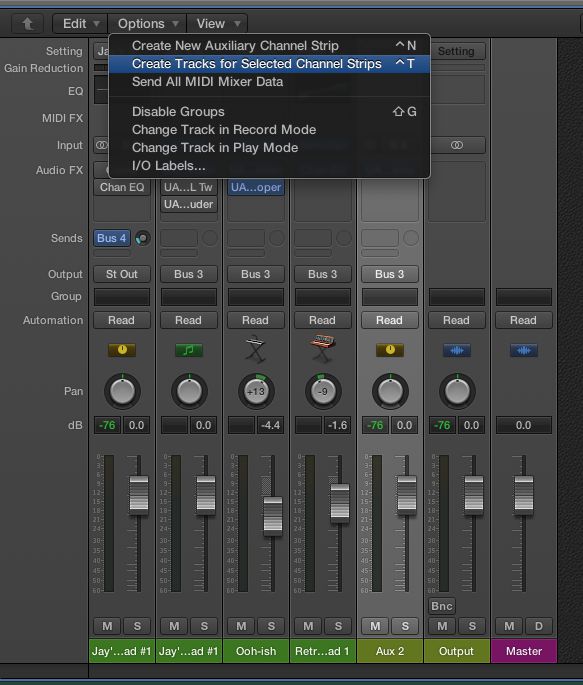 Pic 9.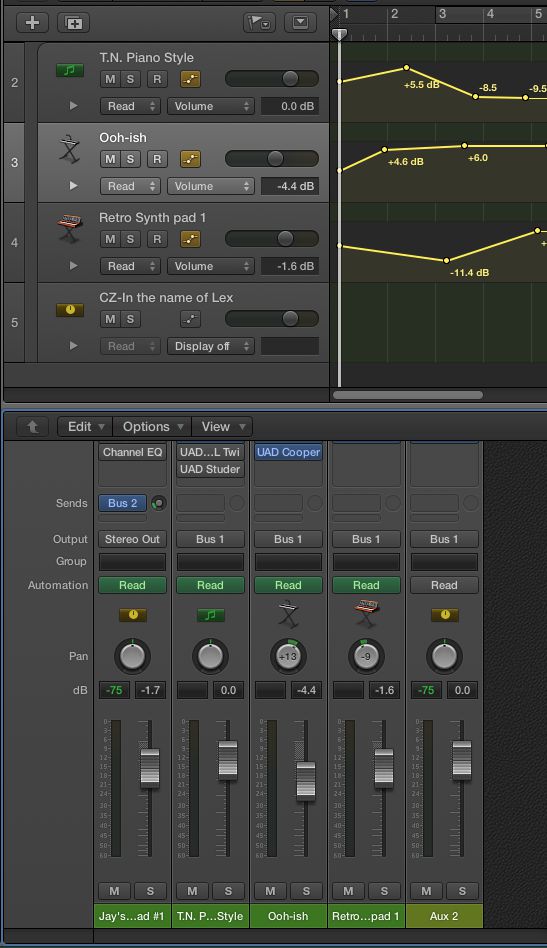 Pic 10.
Now I am ready to save the patch. I select the Summing Stack and click Save in the lower right hand corner of the Library, and the dialog box to name it appears, which I do in Pic 11.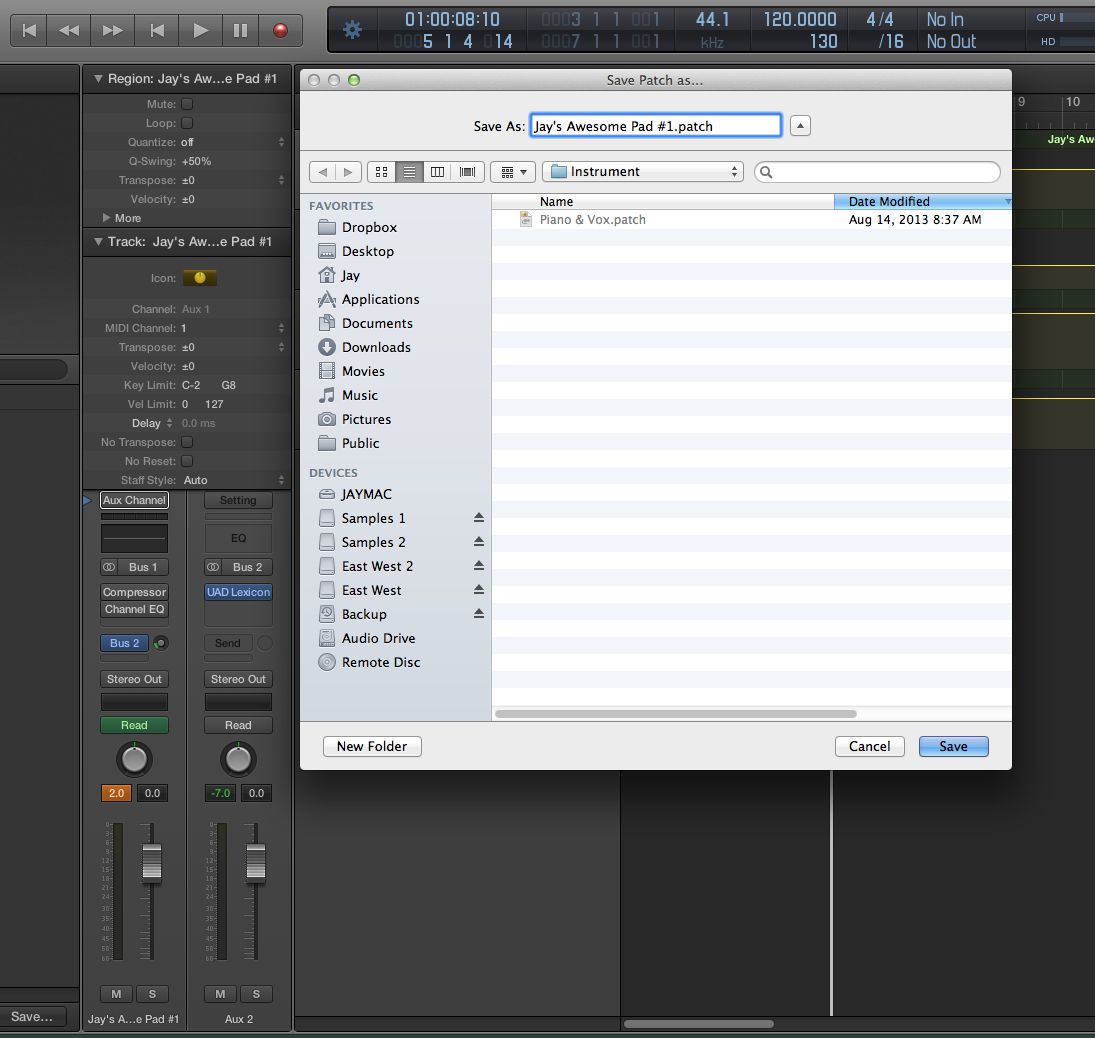 Pic 11.
It now appears in the User Patches in the Library, and will be available to me in all my projects. See Pic 12.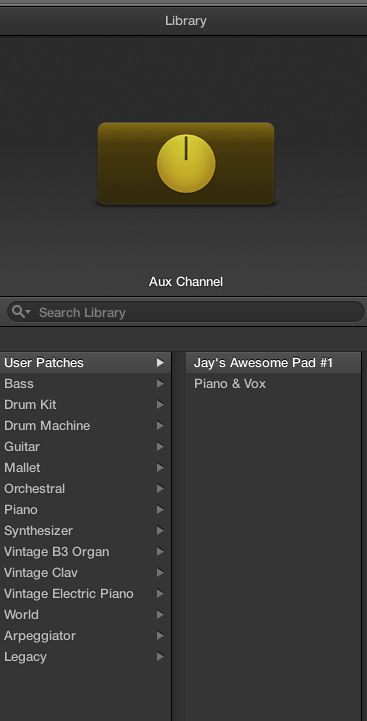 Pic 12.
Remember my mentioning of VCA mixing in the beginning of the article? ProTools has VCA groups that give you another layer of gain control when individual software instruments (or audio tracks) are automated. It functions much the way a Trim does on a console. Long time Logic Pro users have been asking for this kind of functionality forever, it seems and ProTools users have long teased us about the lack of it.
Well, with Summing Stacks, the Logic Pro developers have effectively given us that!

In Pic 13, notice that I have automated the volume of each of the three software instruments and then done some overall automation on the Summing Stacks track as well. Now that's what I call control!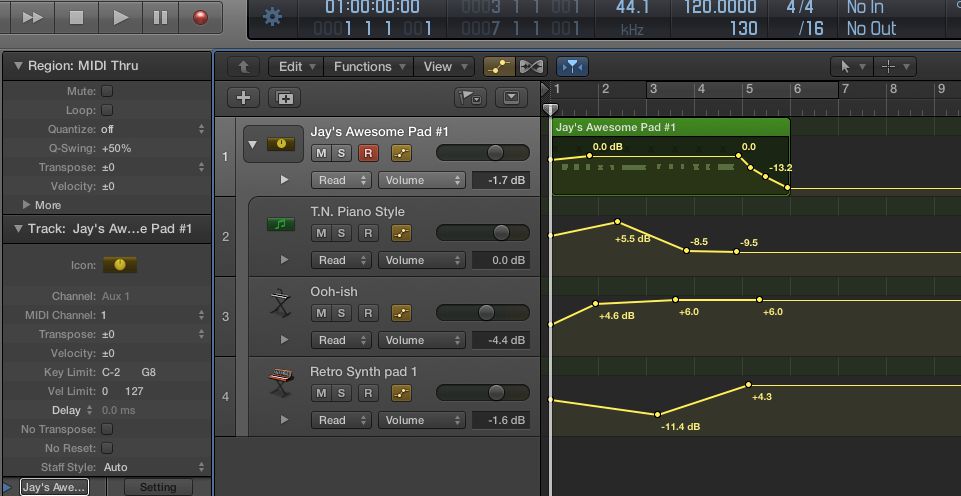 Pic 13.
Logic Pro X has given us many workflow improvements from Logic Pro 9, but this is perhaps my personal favorite. Have fun!