Some time ago I had the opportunity to visit with Charlie Clouser, noted film and TV composer and member of the same famous Nine Inch Nails group that introduced us to Trent Reznor. We talked about his very individual approach, which is not to be trying to sound like guys like Thomas Newman or Danny Elfman but to pursue an individual sound. Without divulging too much of his "special sauce", he did tell me and has posted on the forums that while he buys lots of libraries and virtual instruments, he cherry picks specific patches or part of patches and converts them to EXS24 instruments, as the EXS24 is so well integrated into Logic Pro and CPU efficient.
This is perfectly legal to do although of course, you cannot then turn around and sell them as your own.
Layering synths
So let's say I am composing a score where I have decided that I will feature a somewhat complex monster low brass patch, something that lifts the audience out of their seats and drops them back in, and I do not want to have to create it in cue after cue, using up a lot of CPU.
For this example, I am starting with a low brass patch from EastWest's Hollywood Brass. FULL DISCLOSURE: I work part time for EastWest/ Sounds Online as their Online Coordinator.) See Pic 1.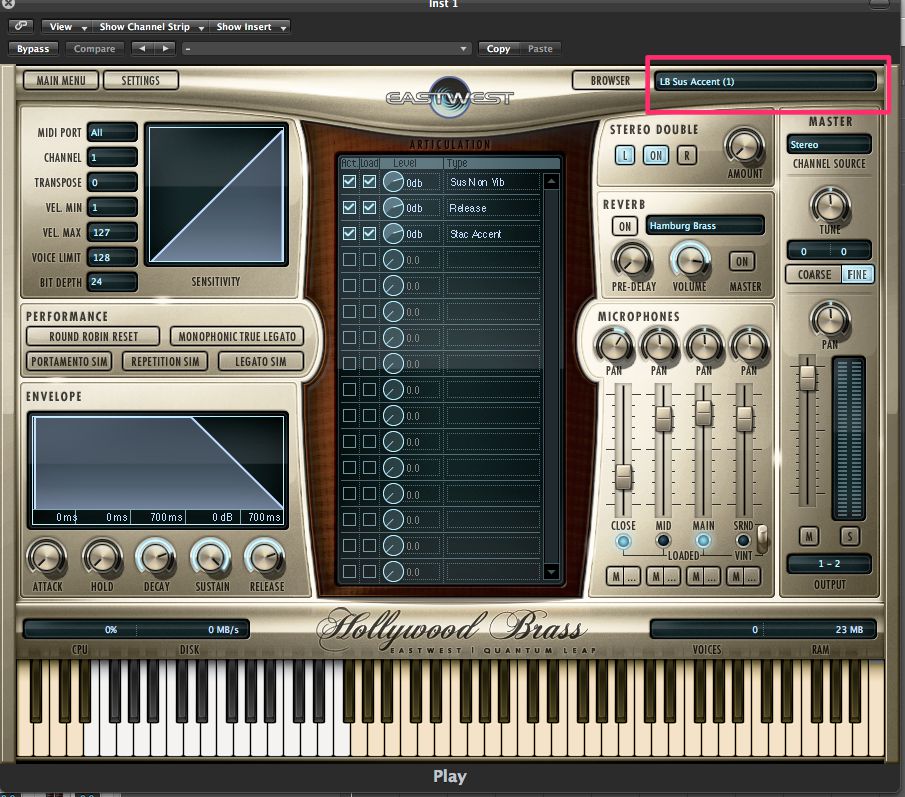 Pic 1: EastWest's Hollywood Brass.
I play in an octave a quarter note with C2 and C3, as you can see in Pic 2.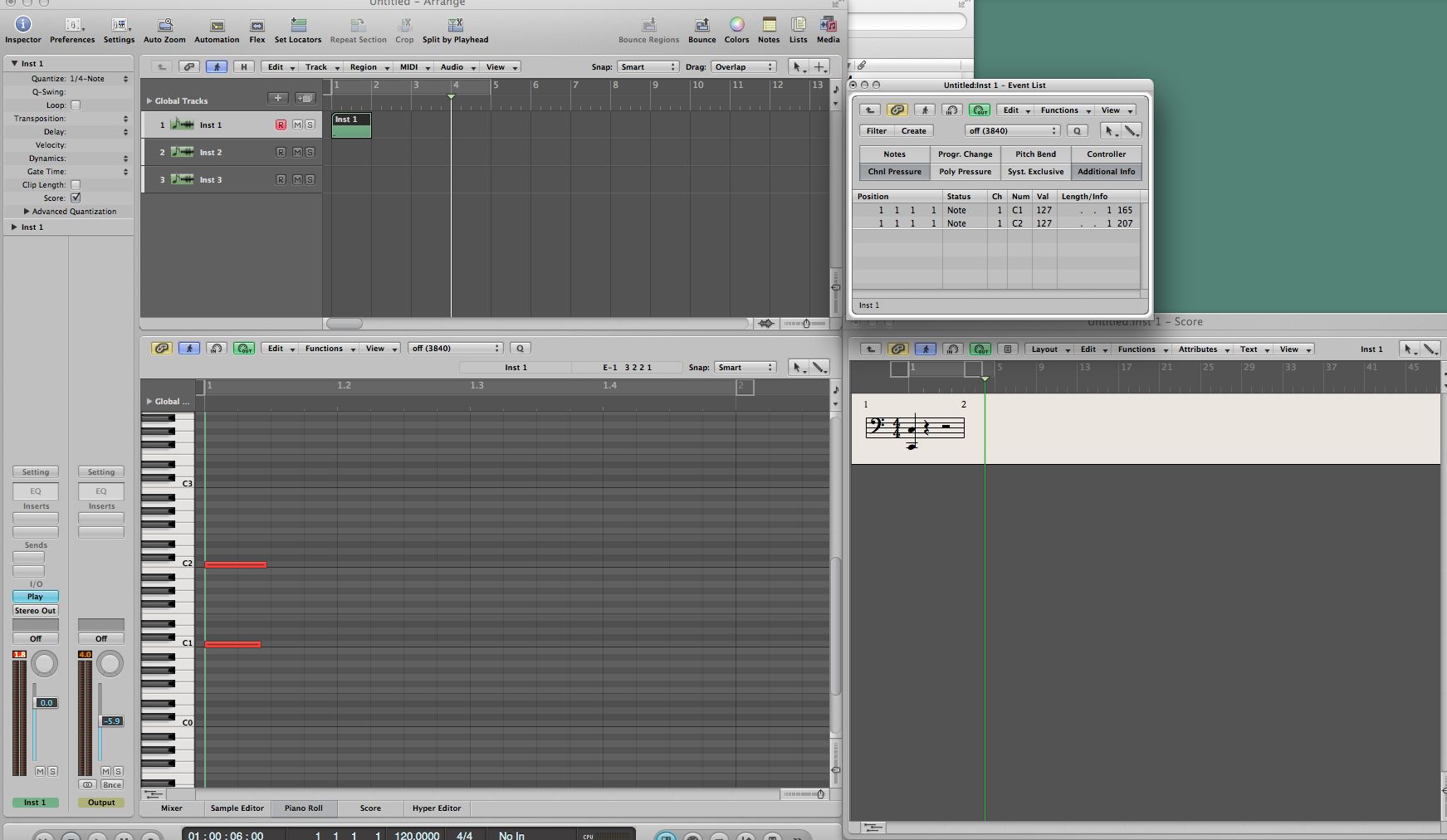 Pic 2: Octave.
This is an awesome sounding patch, but I have something bigger and more unique in mind that I want to create. I decide to add a patch from Spectrasonics' Omnisphere. My next step is to instantiate it and type the word "brass" into the search field, and man I see that I have a lot of choices. After auditioning the promising ones, I settle on "Polymoog Dream Brass" (Yes, it takes time, but it is necessary to get the sound I want.) See Pic 3.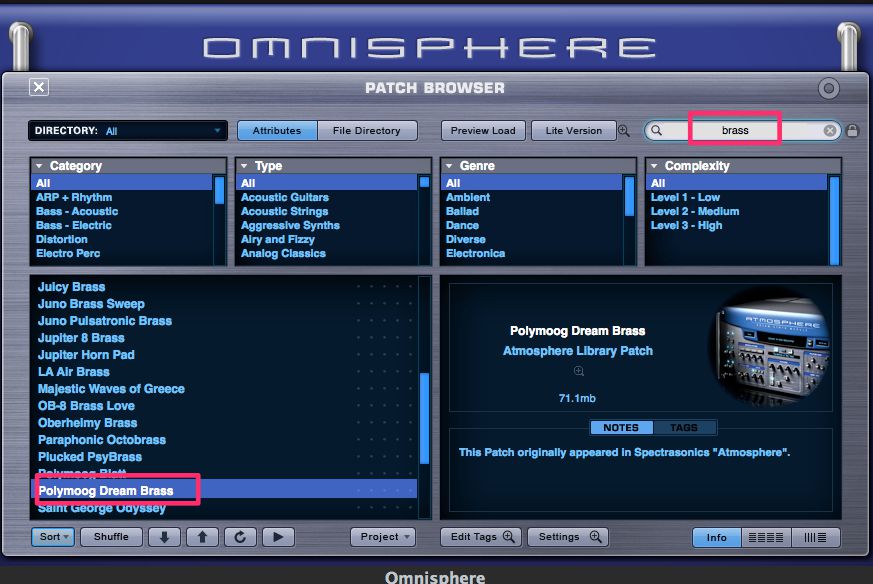 Pic 3: Polymoog Dream Brass.
I Option-drag the region to copy it, then pan the two a little and adjust the balances, and now I feel like I am getting somewhere! But I think that I will need to add a percussion hit with this to really make it pop for the audience.
For this I decide to turn to Project Sam's True Strike percussion library and after more auditioning, I choose a patch named "Gran Cassa and Tutti Hits". See Pic 4.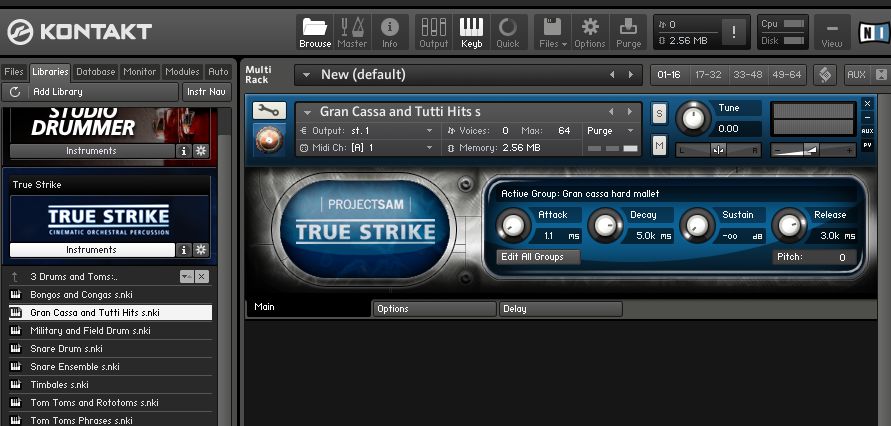 Pic 4: Project Sam's True Strike percussion library.
I record a single C1 note to go along with the octave patch in the other two instruments. Wow, this is some seriously powerful patch, but how about adding some FX to enhance it?
Add some processing
In the Mixer, I select the three instruments and open a send to Bus 5, which creates an Aux with that Bus as the input. In this example, I tried lots and lots of different FX plug-in combinations and finally settled on a chain of UAD-2 EL 7 Fatso Jr. into a Sonalksis Stereo Gate, followed by the Logic Compressor. To my ear, I have created something special and really useful for my score. Hooray! See Pic 5.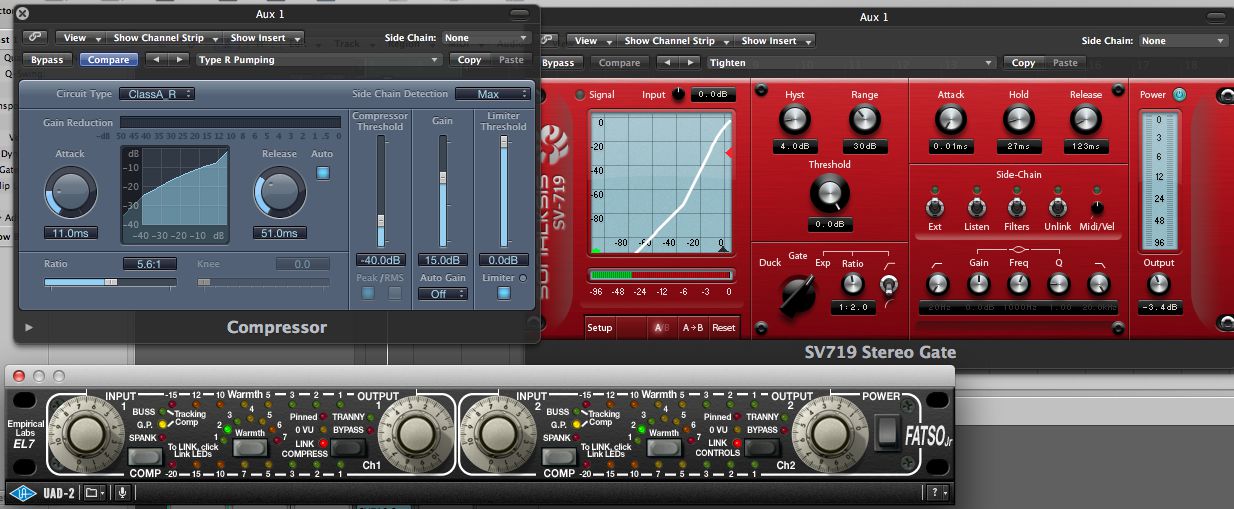 Pic 5: Add some ear candy!
I decide that I will be using this a lot in this score, and maybe in future projects as well. I can save the FX chain, save the instruments, etc. and import them into my template from project to project, but man, this took 3 software instruments and 3 FX plug-ins to create. What if I could simply play this as one EXS24 patch?
Convert to an EXS24 patch
Bounce the measure to audio.
Drag the audio file into the Arrange area, which creates a track for it.
Mute the other regions.
At this point, I can bypass all the software instruments and FX or delete them, etc. I now want to be able to play this hit from the EXS24.
Under the local Audio menu, I choose Convert Regions to New Sampler Track. See Pic 6.
A dialog box appears. I choose Select Create Zones From Regions, which will create a single zone in this case. I then click the first trigger note range and set it to C2, as you see in Pic 7.
I Click OK, and a new EXS24 track named Low Brass Hit is created, with a MIDI region with a held C2 and the original audio file is muted. See Pic 8.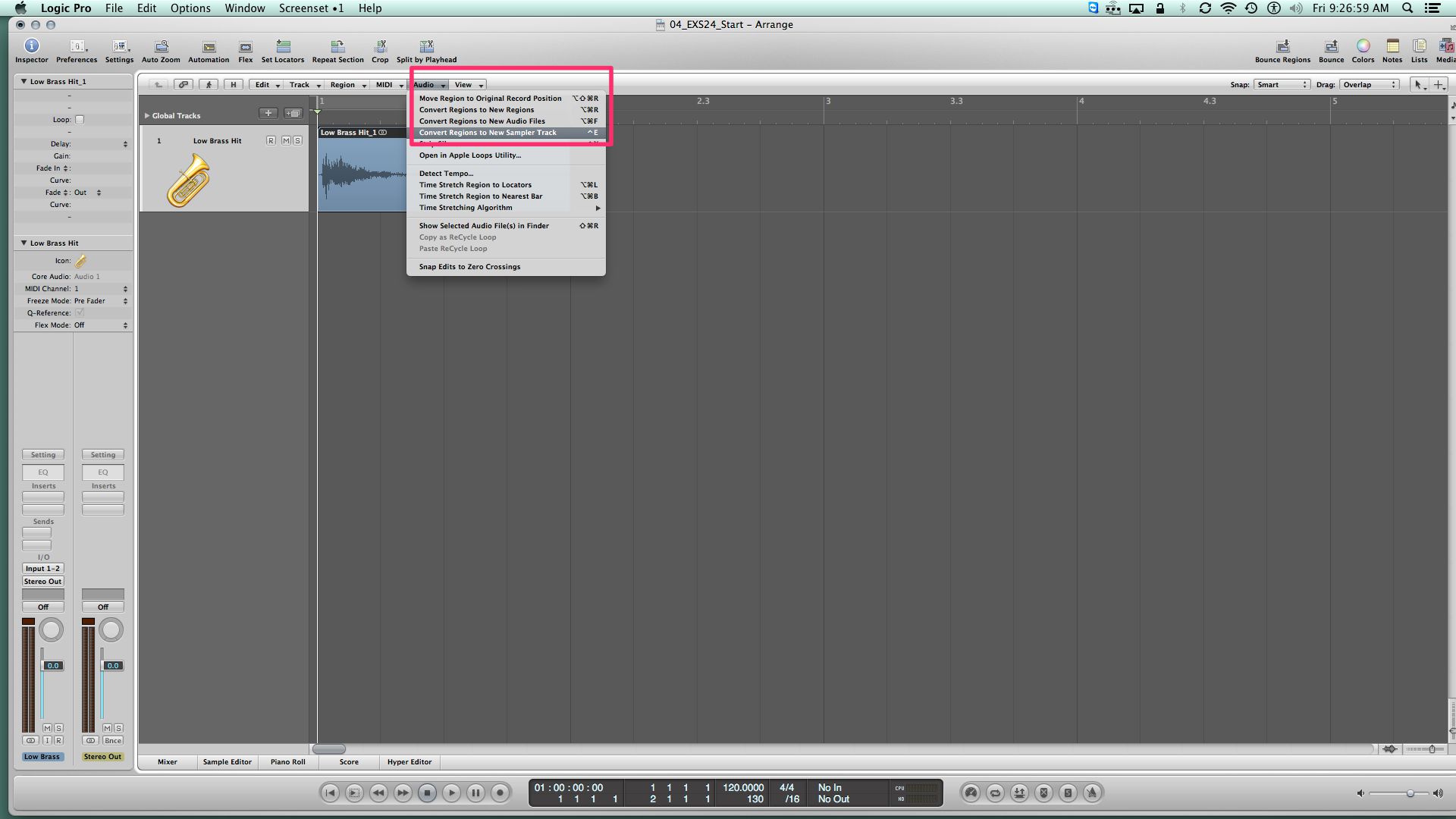 Pic 6: Convert Regions to New Sampler Track.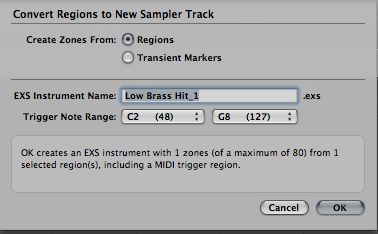 Pic 7: Select Create Zones From Regions.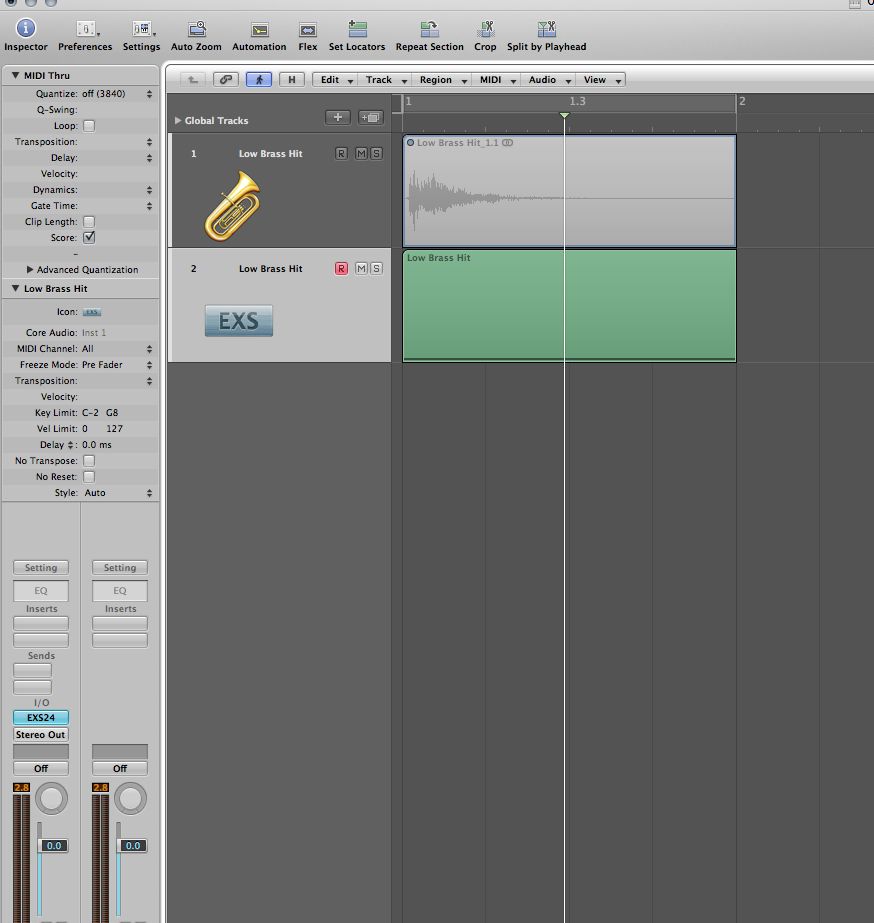 Pic 8: Pic 8: Voilà! EXS24 track is created!
So far, so good, I can now play C2 on my keyboard and hear my hit in all its glory. But man cannot live by C2 alone. I open the EXS24 Instrument Editor by choosing Edit in the GUI.
If I close the EXS24 parameters window, in Pic 9 notice that that we are in Zones view rather than Groups view. Right now the instrument is mapped to a single pitch. I want to extend it to a range of multiple pitches.
I then set the high note to C3 and drag the left border of the zone to C1, so that I have two octaves of possible notes to play. When I play it and listen I notice that I have to be careful to hold the note the full duration or it cuts off oddly. If however I check "1Shot" that issue goes away. See Pic 10.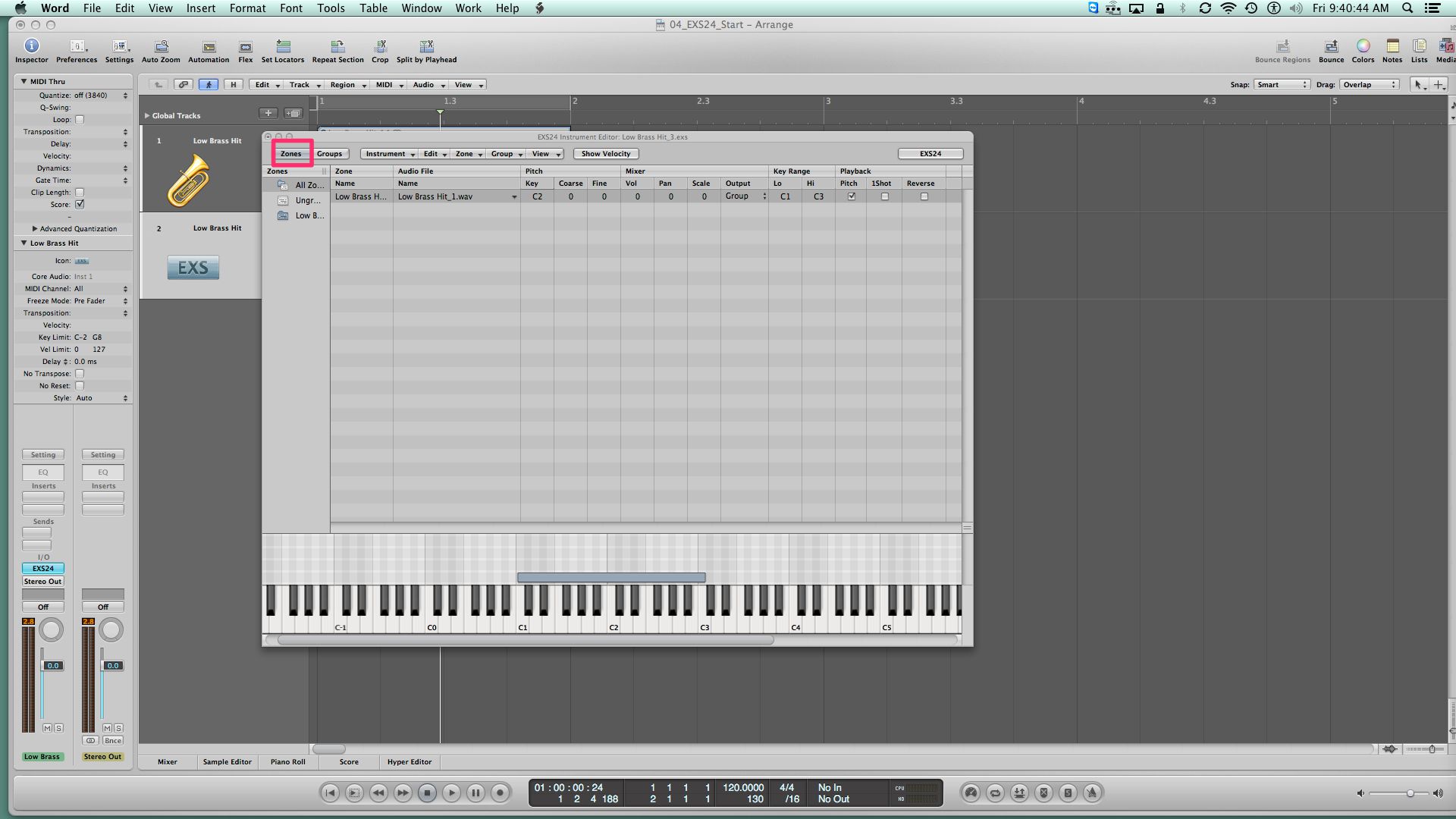 Pic 9: Zones view.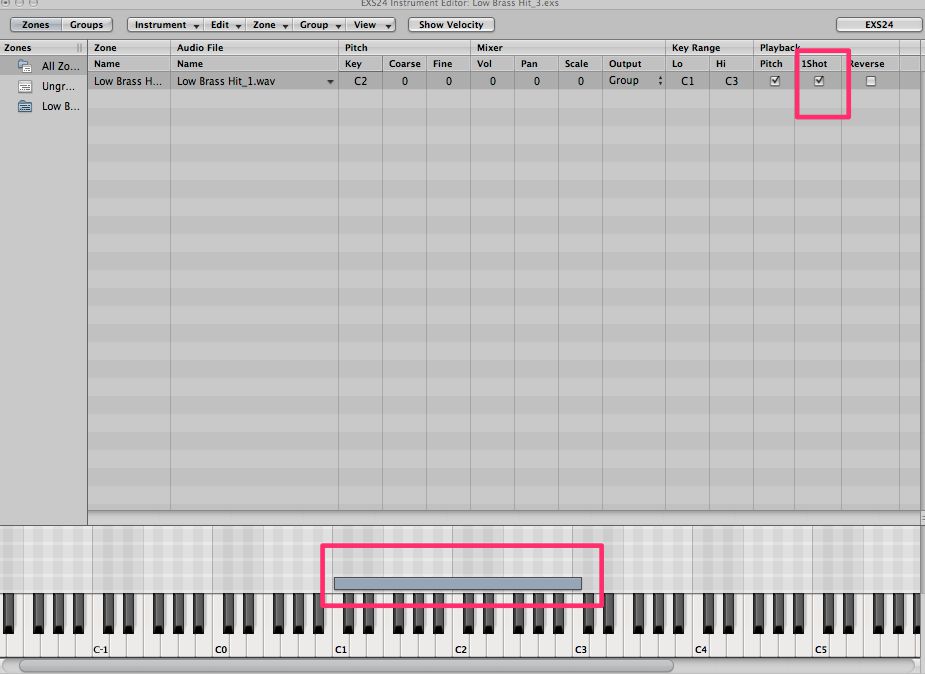 Pic 10: Make sure the sample plays from beginning to end by checking 1shot.
All that remains is to close the instrument editor by clicking in the upper left hand corner, as you see in Pic 11, and you will see the dialog box that appears in that pic.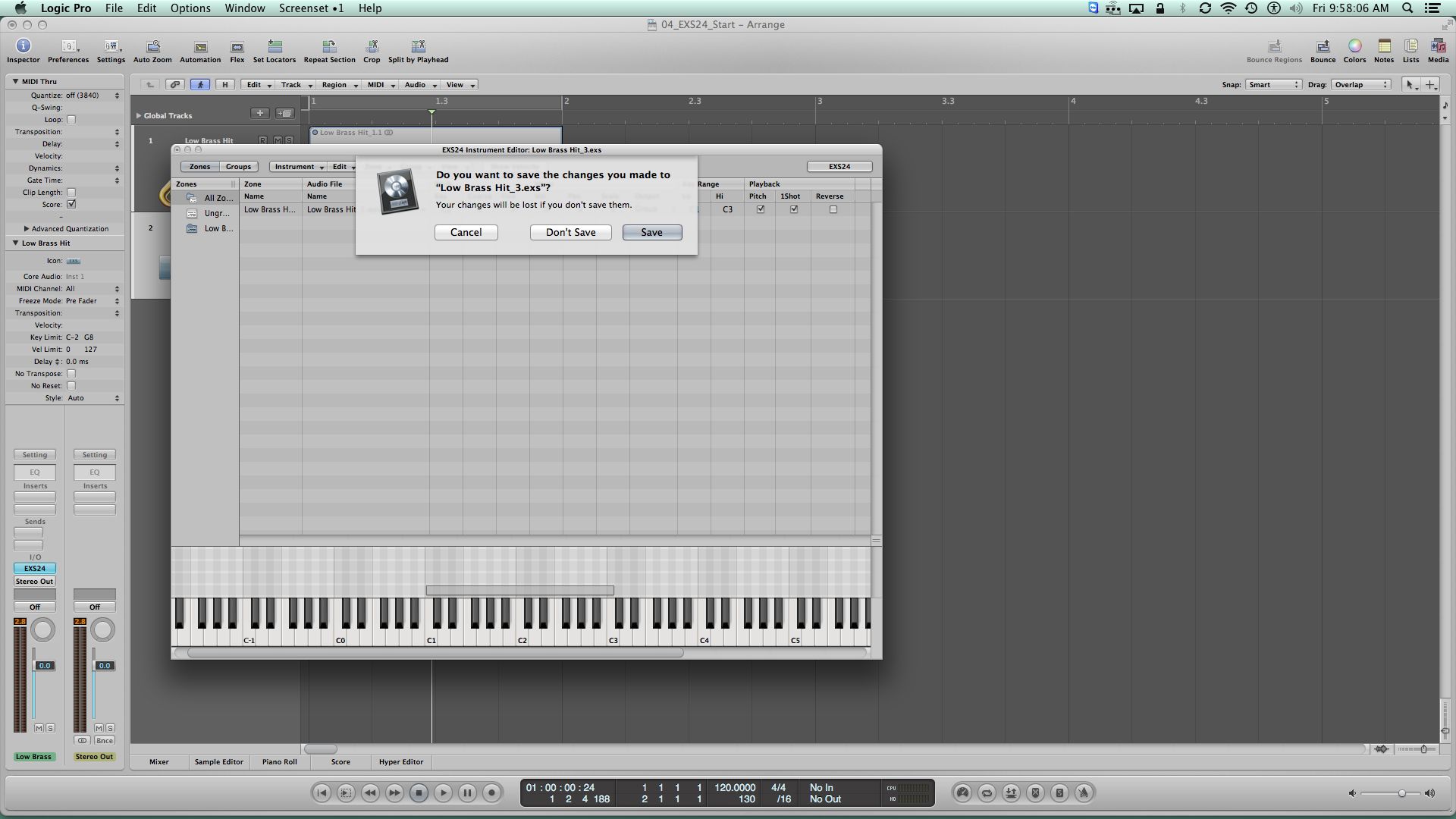 Pic 11: Save the EXS24 patch.
So now I have converted a sound that took 3 software instruments and 3 FX patches into a single playable EXS24 patch that will take a fraction of the CPU power to use.