One of the most dramatic and effective devices in the composition of music is the crescendo. Long, slow crescendos can create great impact in a film cue. A short suspended cymbal roll with a crescendo can make a transition in a pop ballad come alive.
Logic Pro X gives us a number of ways to create these with great precision. Let's explore a few.
In Pic 1, you see a percussion part with Logic Pro's host based automation enabled, It defaults to Volume by default.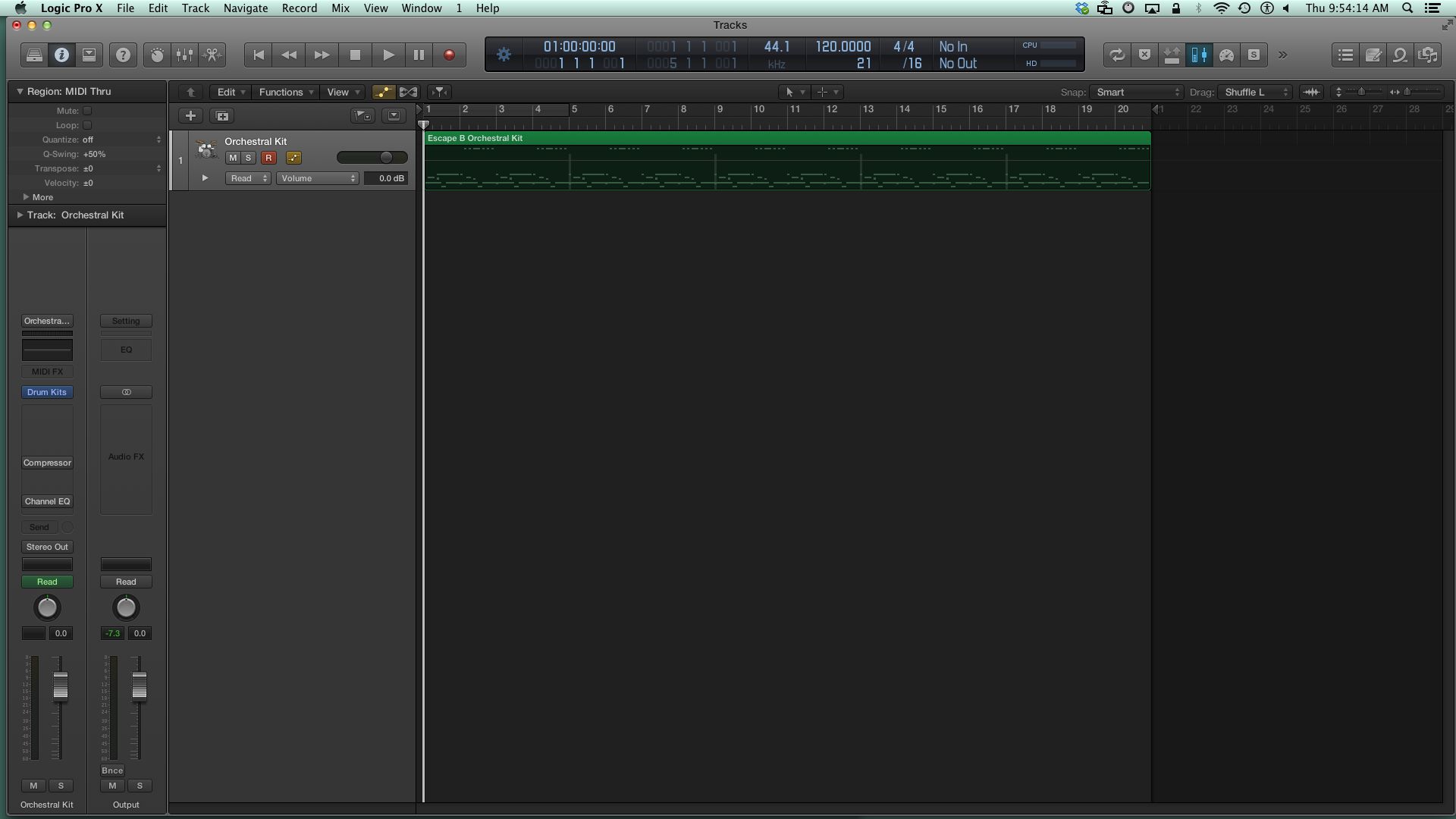 Pic 1
Let us say that I want a gradual crescendo from bar 11 to the end. All I need to do is to click in nodes at bar 1, bar 11, and at the very end, Then I simply drag the last node up to my desired level, as I have done in Pic 2.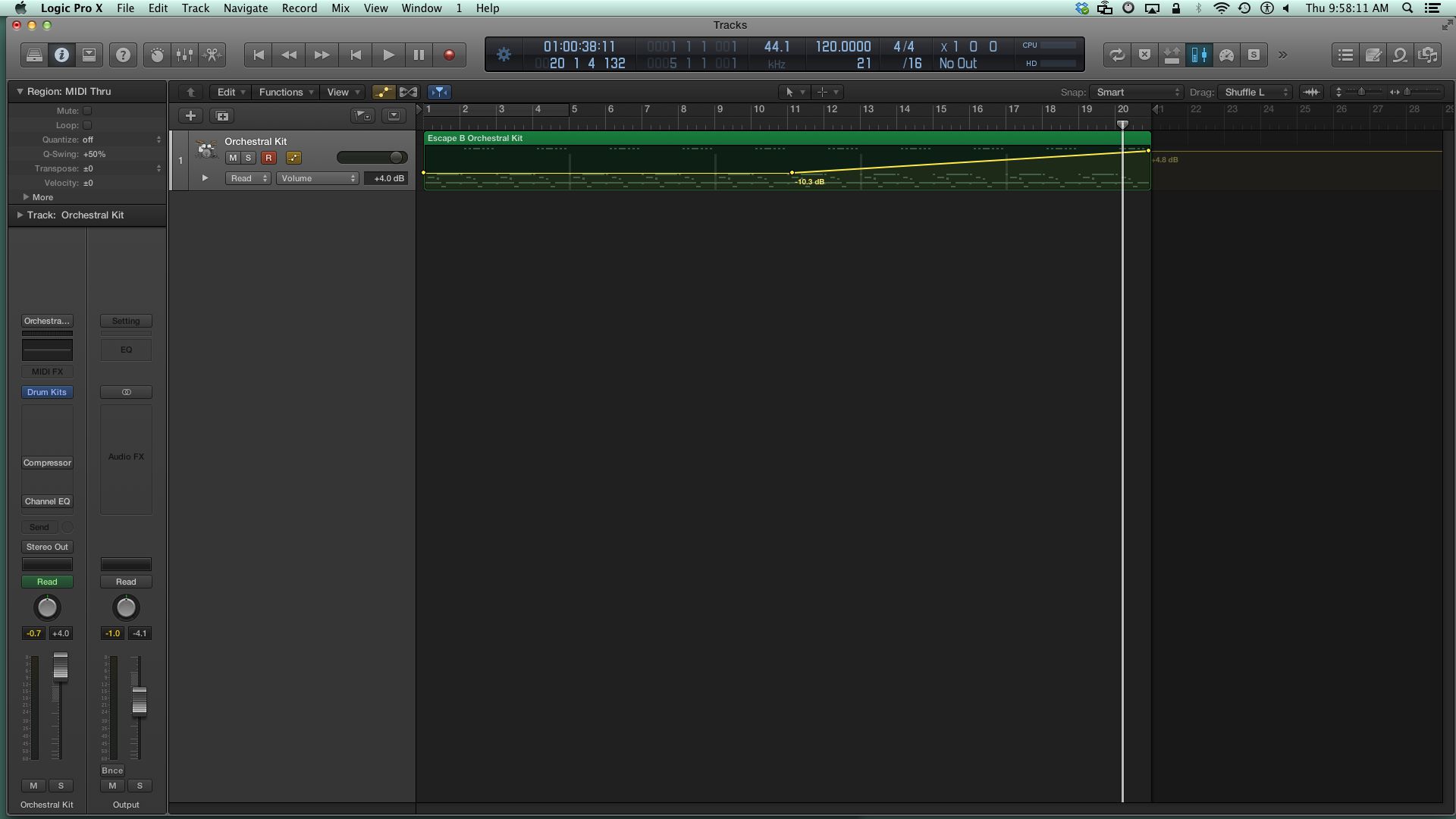 Pic 2
As Chef Emeril would say, "BAM!" However, if the instrument is programmed to change timbre, vibrato, or another feature with a MIDI continuous controller, i.e., CC11, then this may not be the way to go.
In Pic 3, I have a region for French horns with a patch that that does indeed get "brassier" as the CC11 number increases, and so I am enabling MIDI Draw for this task.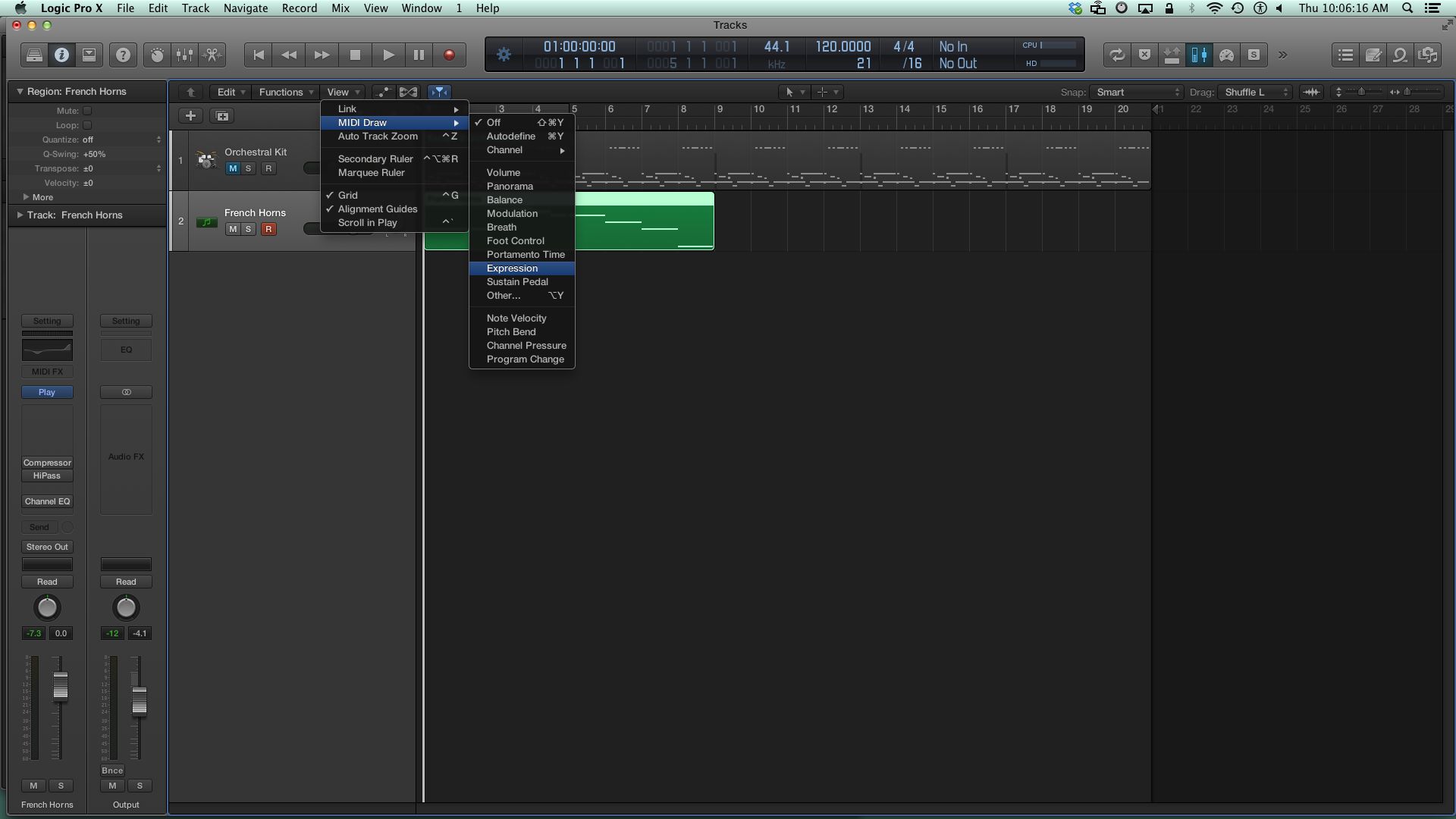 Pic 3
One again, it is a simple matter of clicking in the nodes and manipulating them as I have demonstrated in Pic 4.
Pic 4
Easy! But what if I want an even smoother crescendo?
Alternatively, I click in a few nodes for CC11 with the same and with the region selected, under the Windows menu I select Logic Pro X's Step Editor. See Pic 5.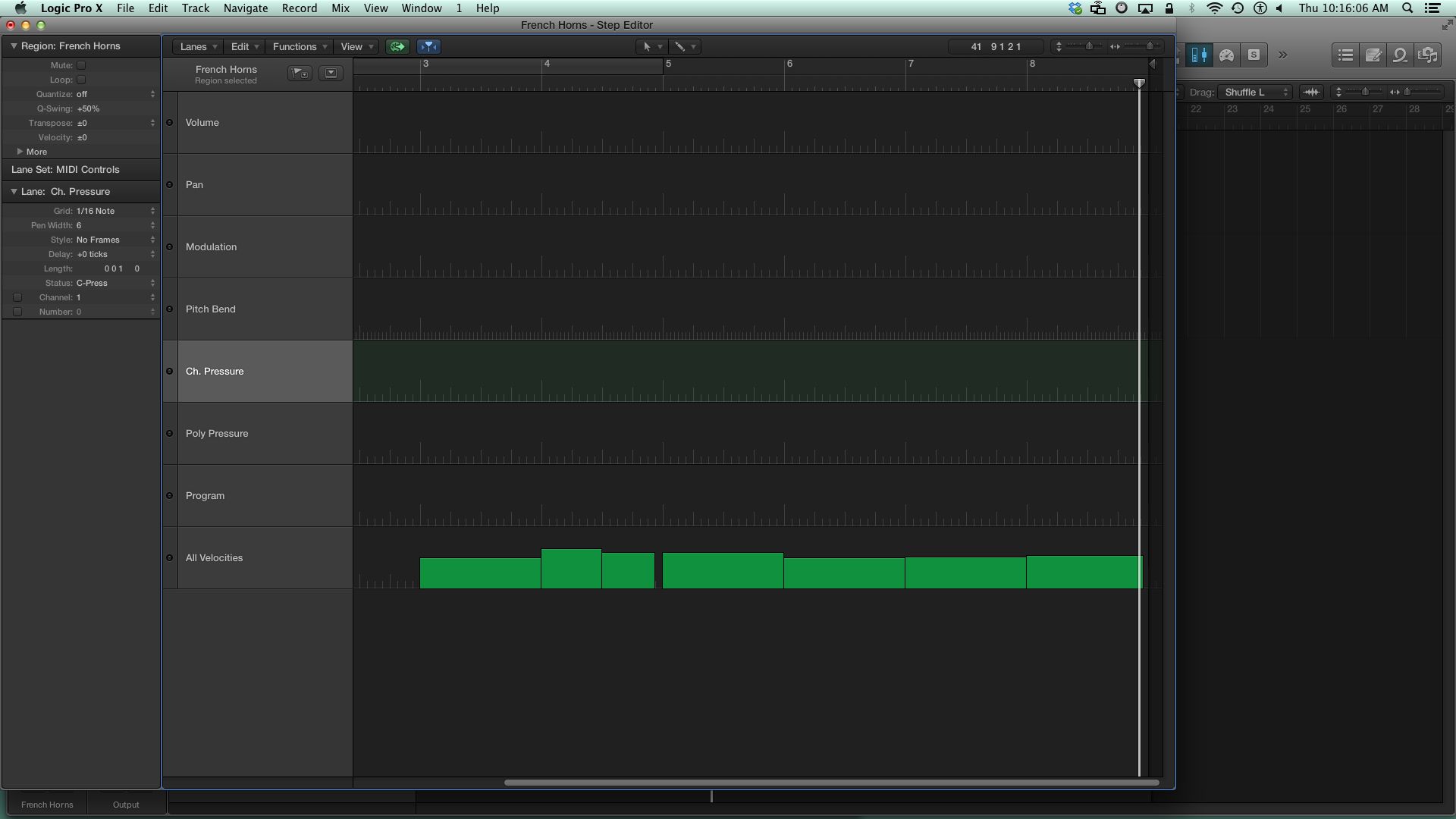 Pic 5
Somewhat surprisingly, while I see lanes for many things, I do not see Expression. If I navigate to the Layers menu in the Step Editor and choose New Lane Set for Current Events, I now see my Expression nodes, as you can see in Pic 6 and Pic 7.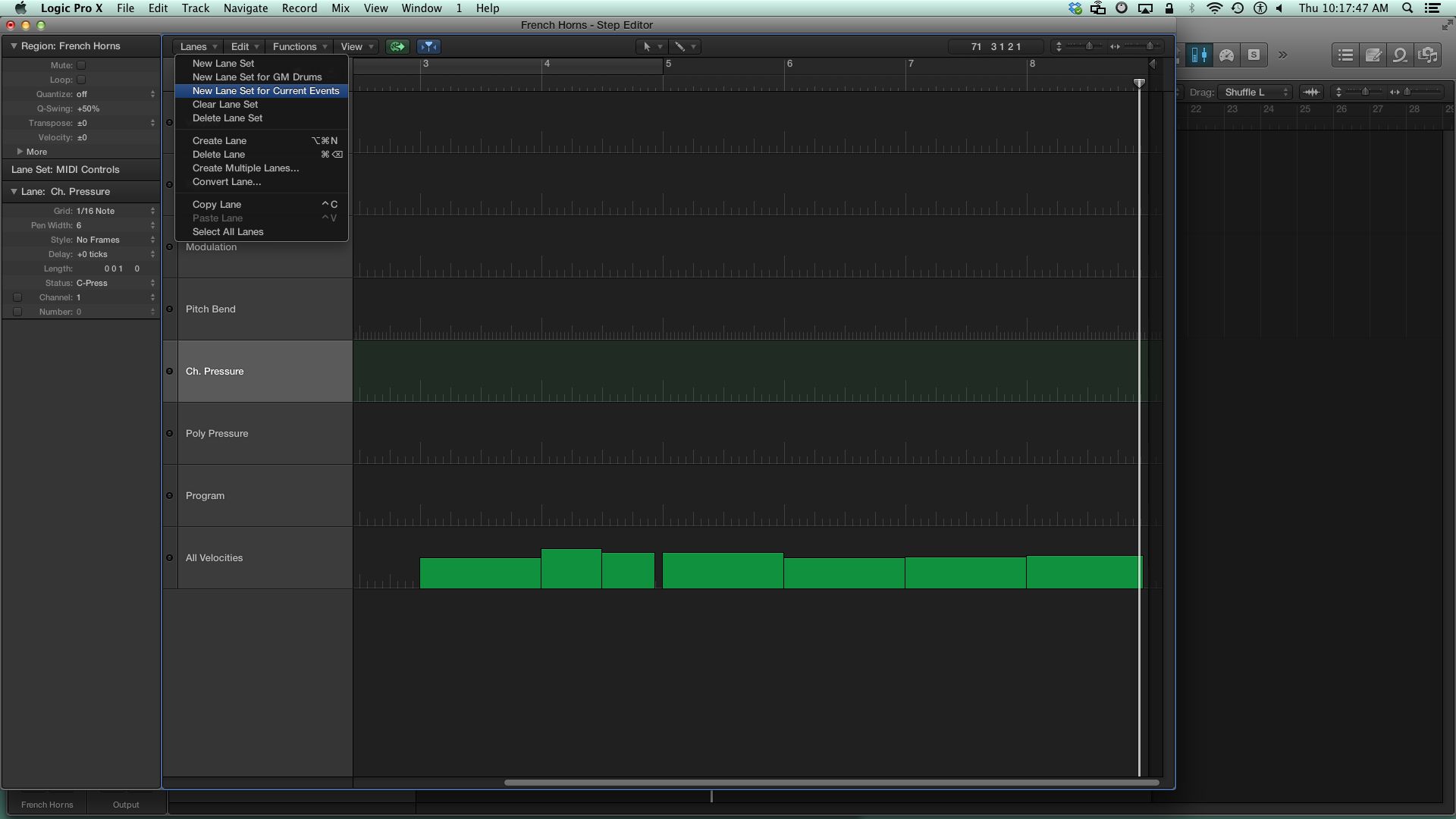 Pic 6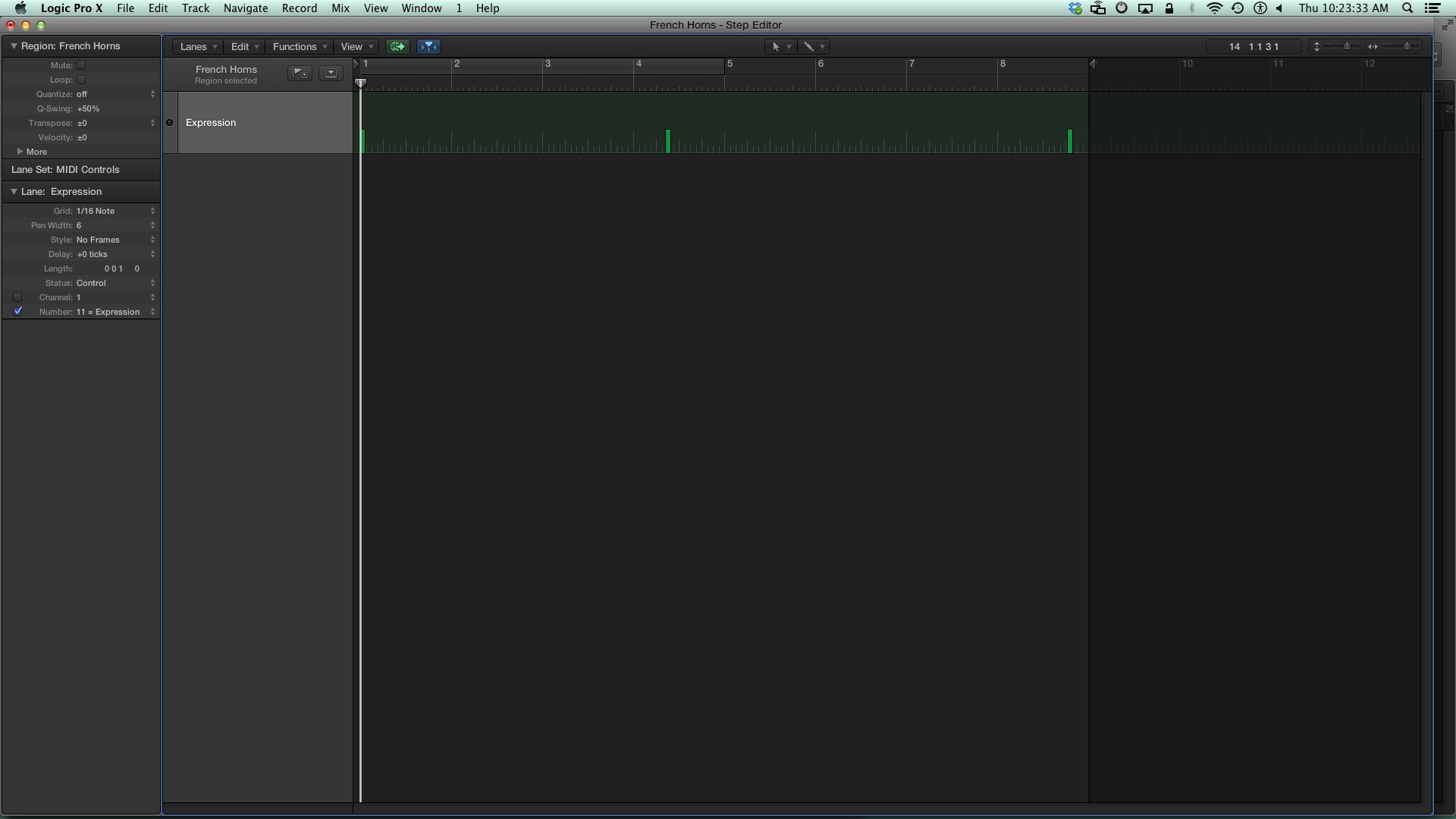 Pic 7
Logic Pro X has a very useful tool in the Step Editor called the Line Tool. If I assign my main tool to it, the pointer turns into a cross symbol. I want a very fine resolution, so in the Inspector settings for the Expression Lane, I change the grid to a 64th note and the pen width to 16. See Pic 8.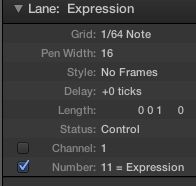 Pic 8
Now I need only depress the mouse at the place I want the crescendo to begin and hold the mouse down and drag it up and to the right, and then release the mouse button and voila, in Pic 9 I see that I have a perfect crescendo.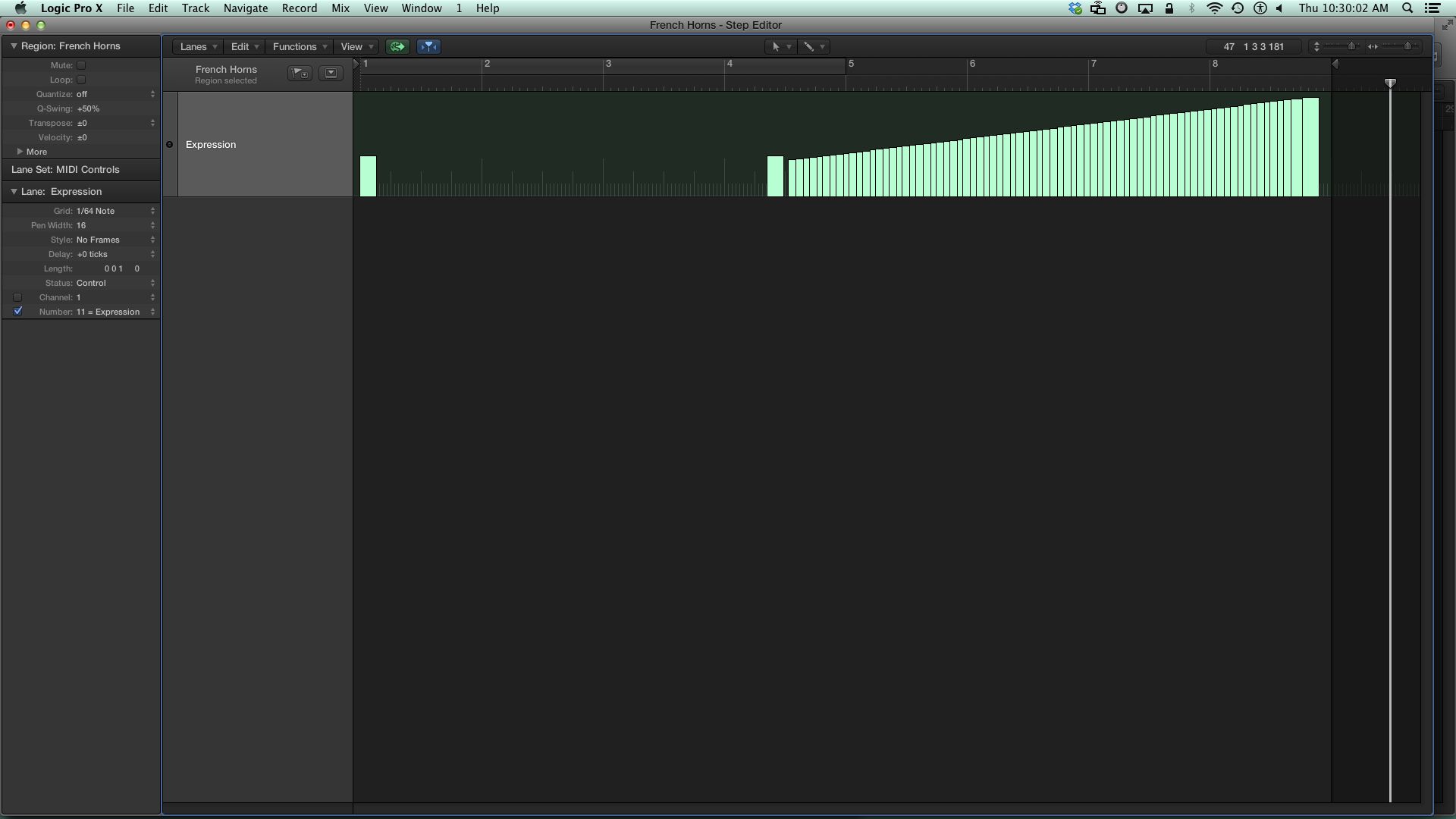 Pic 9
This was all pretty easy. Let's tackle something that is more complex. I have a suspended cymbal patch that I like but timing it so that the apex of the swell lands just where I want it to land can be a frustrating process of trial and error. See Pic 10.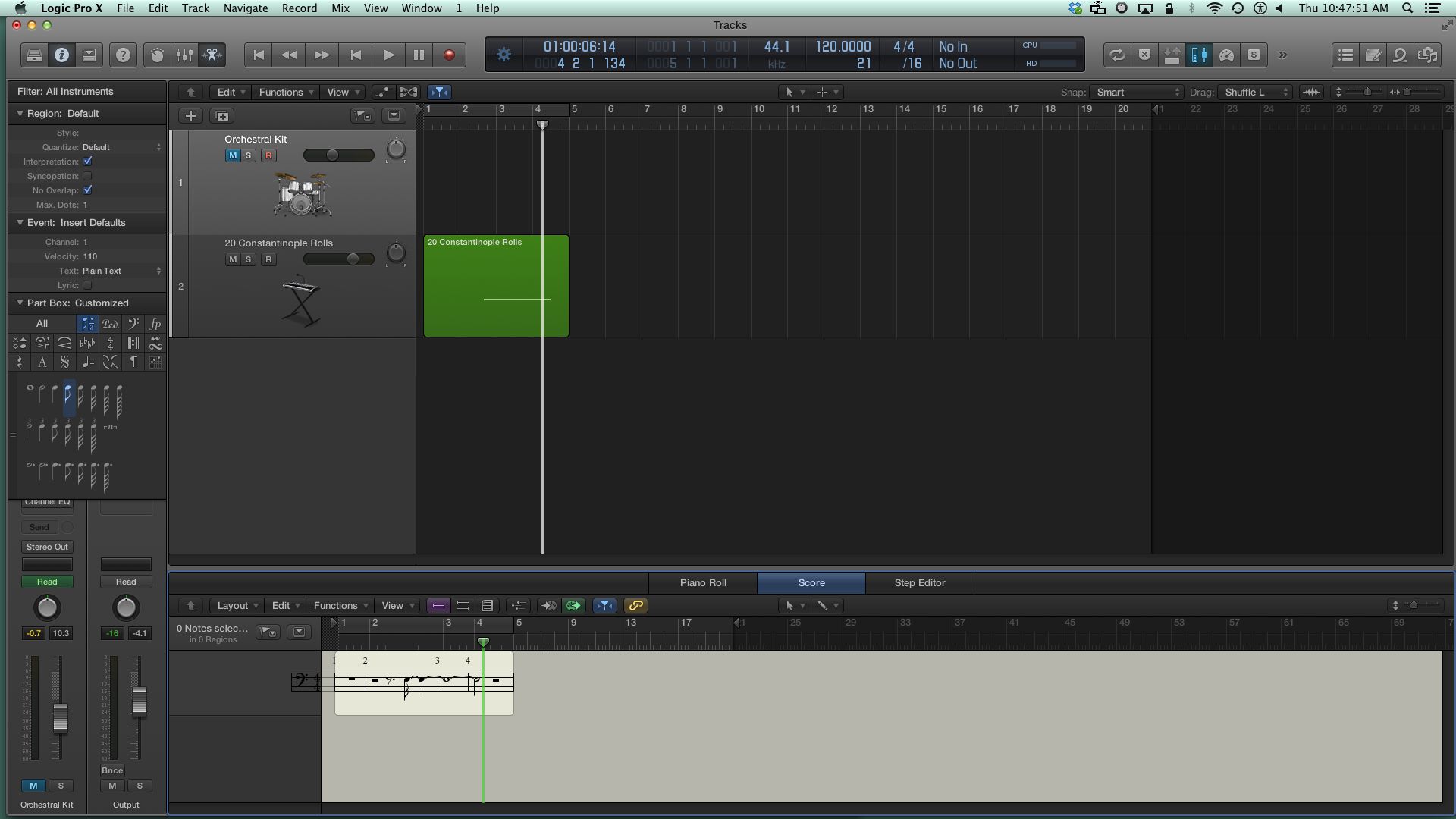 Pic 10
This can be accomplished much more precisely by bouncing my MIDI to audio, and then adjusting the Anchor point in the File Editor, formerly the Sample Editor in previous versions of Logic Pro. Under the File menu, I navigate to Bounce > Regions in Place, as you see in Pic 11.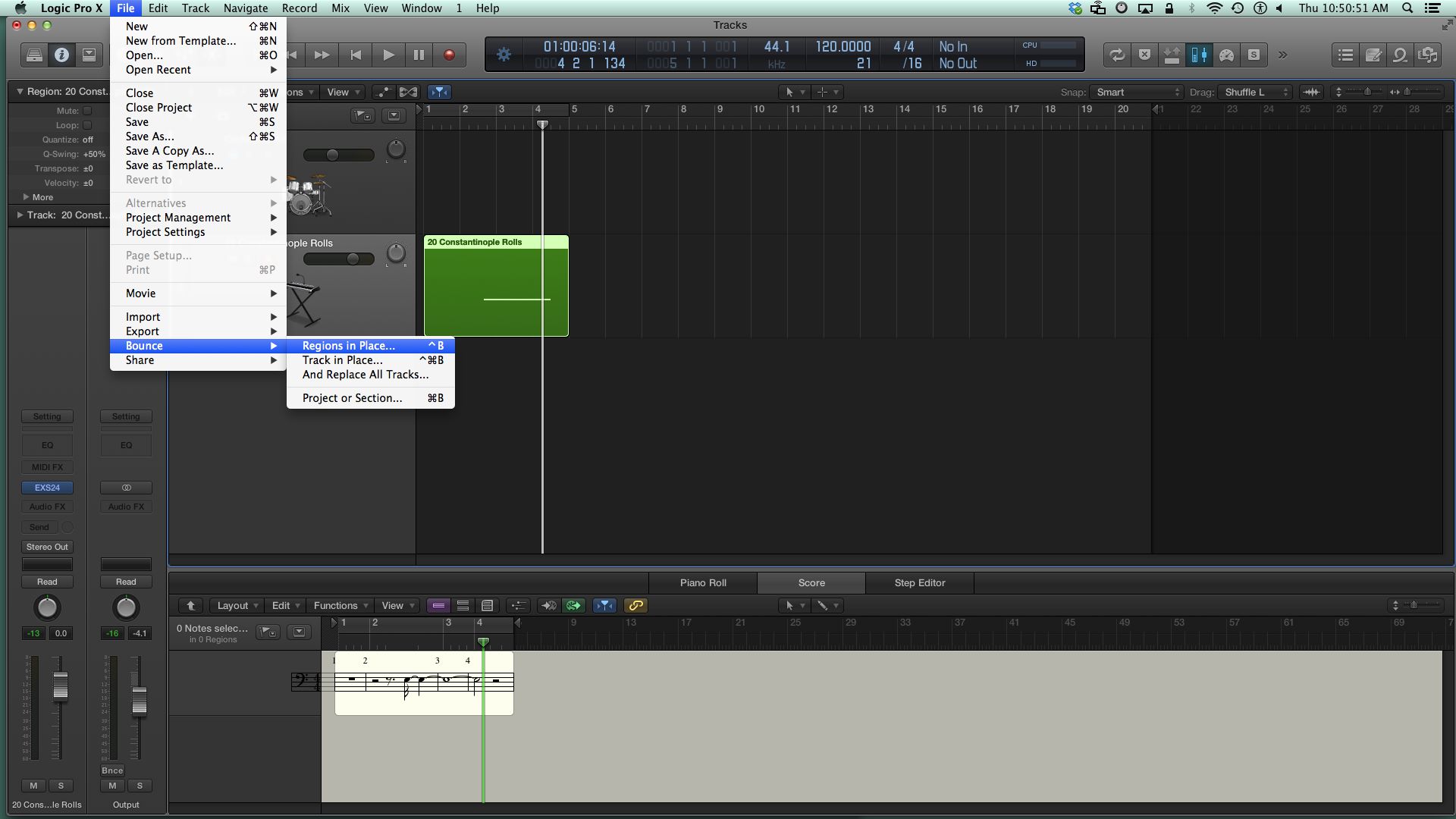 Pic 11
This brings up the window you see in Pic 12.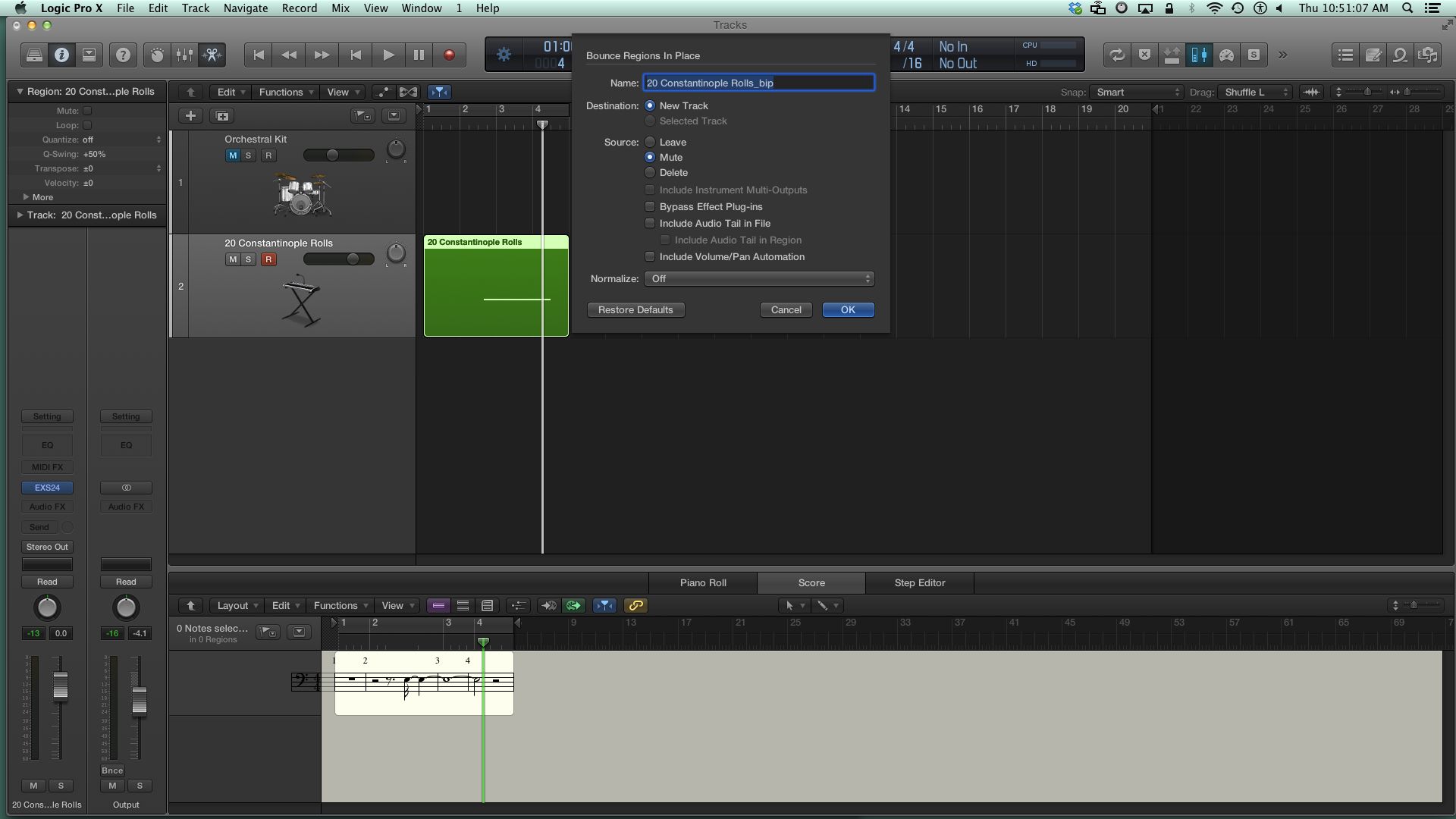 Pic 12
After making my choices, I now have an audio file. See Pic 13.
INSERT Pic 13.png
I want this to reach its peak right on the downbeat of measure 3. I choose the File Editor and under the Edit menu I make sure that Lock Position in Track when moving Anchor is NOT checked. See Pic 14.

Pic 14
I also make sure that the View is set to Bars/Beats, as you see in Pic 15.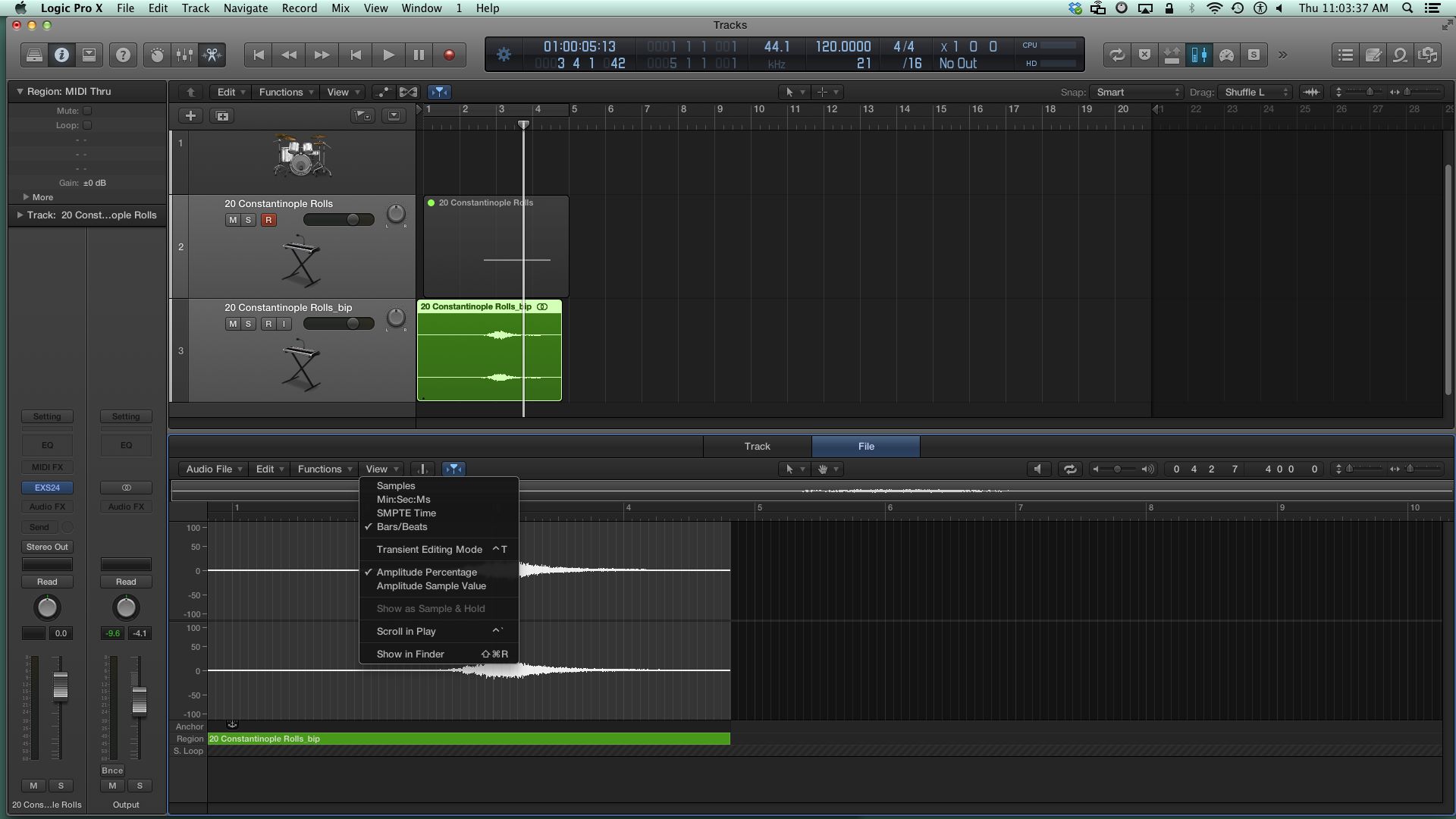 Pic 15
Now I simply grab the Anchor point in the lower left of the File Editor and drag it to the right until Bar 3 is lining up right in the part of the waveform I want it to hit. See Pic 16.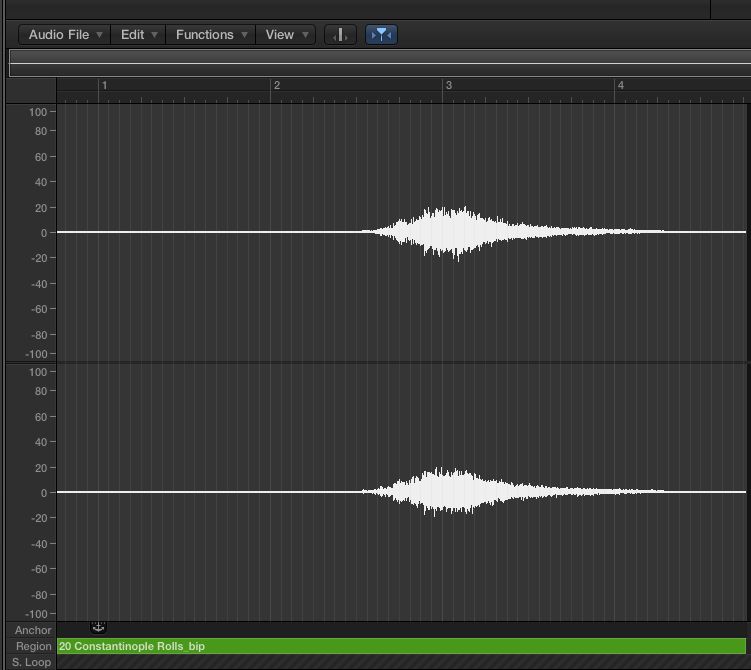 Pic 16
Now I have my perfect suspended cymbal swell!