The great thing about the Logic Pro X Mixer is that it has three available views: Single, Tracks, and All. Each view gives you the ability to filter in/out channel strips by category, e.g., audio, software instruments, auxes, busses, inputs, outputs, master, and MIDI. The less great thing about the Logic Pro X Mixer, in my opinion and a number of users I have heard from, is that because it is linked to whichever track(s) you select in the Track List in the Main Window, it chases those selections. And because of this, sometimes one view is simply not enough to work as efficiently as one might like. That is where using standalone Mixers with different views in a locked screenset can be a very desirable workflow.
In Pic 1, you can see that I have created a somewhat smallish Logic project that nonetheless has varying kinds of channel strips that I might like to have separate views of to mix. (Screen real estate is your friend BTW. Try this on a laptop at your own peril ☺ )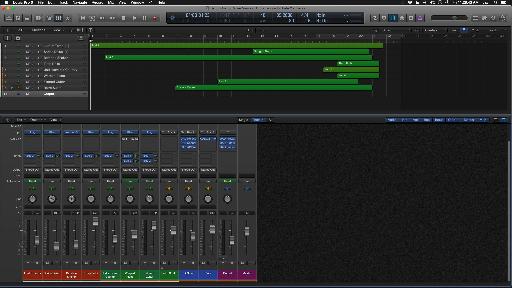 Pic 1
Step 1: Go to a new screenset by pressing 2 and open a new Main Window and resize it to be as small as is possible.
Step 2: If there are now two Main Windows, close one and resize the remaining Main Window to be as small as is possible.
Step 3: Open a standalone Mixer window either by pressing Command-2 or by navigating to it under the Windows menu.
Step 4: If it is not set to Tracks view by default, do so now.
Step 5: Filter out everything but software instruments in Tracks view by turning off every tab except 'Inst'