Rack di effetti audio sono uno degli strumenti più potenti sound design in Ableton Live, e una caratteristica davvero unica, senza un equivalente diretto su altre piattaforme. Non solo è possibile livello, combinare e morph tra gli effetti, ma è anche possibile utilizzare l'elaborazione parallela delle catene più rack di modificare drasticamente distinte bande di EQ del l'audio originale in ingresso. Che cosa significa, esattamente? In questo esempio vedremo qui, inizieremo prendendo un semplice anello di synth bass e isolare e comprimere le sue sub-basse frequenze, avremo quindi applicare un filtro passa-alto per isolare le alte frequenze - in cui abbiamo ' ll aggiungere un po 'di chorus e delay di ampliare e illuminare il suono.

Fig. 1: Il ciclo originale.
Infine si dovrà isolare le frequenze medie, che useremo per generare un po 'di atmosfera, fondo tutto senza confondere i sottotitoli a tutti. Il risultato finale: trasformare un normale synth-bass in un ciclo dinamico, pieno di frequenza colosso. Diamo uno sguardo.

LISTEN: Il ciclo originale
Accumulare
Se non hai mai usato di Live Rack di Effetti Audio, iniziare andando alla sezione Effetti audio del tuo browser periferiche e fare doppio clic o trascinare per aggiungere una a una traccia audio o MIDI nel set (Browser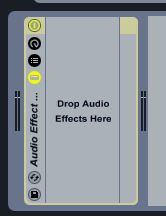 Foto 3: Trascinare un effetto Live o 3rd-party nel Device View.
La prima cosa che farò è aggiungere un Chorus e delay ping-pong.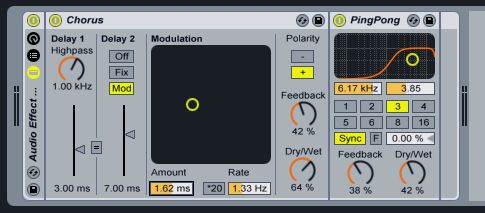 Pic 4: aggiungere un Chorus e delay ping-pong.
Tuttavia, dato che voglio solo questi effetti per elaborare le alte frequenze del suono, metterò un EQ3 prima (a sinistra) in catena con le bande Low e Mid disattivati ​​in modo che solo le alte frequenze sono di passaggio in eventuali ulteriori effetti su tutta la linea, in questo caso, la nostra Chorus / Delay combo.

Pic 5: EQ 3 impostazioni per isolare le alte frequenze.
PRO-SUGGERIMENTO: Regolare la frequenza Alto EQ3 per trovare la gamma di frequenze che stai cercando.
ASCOLTA: Isolato elaborazione fascia alta [id audio = "18628"]
Down Below
Essendo infine desidera effettuare ciascuna banda di frequenza separatamente, occorre elaborare il segnale in parallelo. Rack ci permettono di fare questo di avere più catene di effetti, l'elaborazione del segnale originale stesso secco attraverso effetti separati e parametri mixer. Se dovessimo creare due catene senza alcun effetto su entrambi, il segnale originale sarebbe raddoppiato, con conseguente graduale e le questioni di guadagno ma non è questo il piano qui. Per aggiungere una nuova catena, fare clic sul pulsante di visualizzazione Catena, sopra il pulsante Dispositivo vista sul bordo superiore sinistro del Rack di Effetti Audio (PIC 6), e stiamo ora guardando l'area di visualizzazione Catena al sinistra del dispositivi della catena selezionato.

Foto 6: il pulsante vista catena.
Prima di aggiungere una catena nuova, io rinominare (Comando-R) della nostra catena esistente alta per tenere tutto in ordine in fondo alla strada. Ora che siamo pronti per iniziare a elaborare le nostre frequenze basse, mi è sufficiente trascinare un altro EQ3 proprio dove vivo istruisce suggestivamente ci Inseriscila Effetti audio Qui nella vista catena, e voilà ! una nuova catena viene creato automaticamente.
PRO-SUGGERIMENTO: Fare clic destro o Control-clic nell'area vuota vista catena per accedere al menu di scelta rapida comando Crea catena.
Per isolare le frequenze basse, la prima cosa che faremo è disattivare le frequenze medie e alte nel EQ3 che abbiamo usato per avviare questa catena e noi rinominarlo basso prima di andare avanti.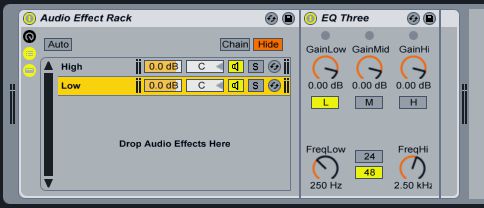 Foto 7: EQ 3 impostazioni per isolare le basse frequenze.
Ora aggiungeremo un compressore a bassa soglia e rapporto piuttosto alto, e un saturatore con una forma sinoid piega per rinforzare realmente le frequenze sub, noterete anche che ho regolato la frequenza EQ3 basso per isolare un minore gamma di frequenze che l'impostazione predefinita EQ3 di 250 Hz.

Pic 8: set FreqLow a 160 Hz.
ASCOLTA: Isolato elaborazione banda Low [id audio = "18620"]
LISTEN: due bande di elaborazione, alta più basso [id audio = "18621"]
Middle of the Road
Ascoltare ora, abbiamo una divisione dinamica tra due gamme di frequenza, e suona già molto diverso dal ciclo originale, ma c'è qualcosa che manca nel mezzo. Questa volta, mi tieni premuto il tasto Opzione, fare clic per selezionare la nuova creazione bassa catena nella vista Catena, e trascinarla appena al di sopra di duplicare la catena tra i due esistenti che potremmo anche fare selezionandolo e utilizzando il comando duplicato (CTRL + D), quindi trascinando la nuova catena di ri-ordinare, se necessario per motivi organizzativi. Dopo averlo fatto, mi prende subito rinominare la nostra terza media catena, attivare le medie frequenze del EQ3, mentre disattivando le bande Low e High. Io quindi eliminare il compressore, lasciando solo il Saturatore, che può minimizzare. Ora verrà aggiunto un riverbero con il Dry / Wet impostato al 100% bagnato, seguito da un Phaser e un Auto Pan.

Fig. 9: La catena "Mid".
Il risultato: un lento modulante, stereo panning di fascia media atmosfera.
ASCOLTA: Isolato trattamento di mezza banda
LISTEN: a tre bande di elaborazione, Alta, Media e Bassa [id audio = "18622"]

Miscelazione
Come avrete notato, la vista Chain ci dà una sezione mixer, simile a un rack tamburo, in cui ogni catena nel nostro caso, Low, Mid e High ha il proprio volume, pan, attivatore e solista. Il mute e solo sono particolarmente utili per capire esattamente cosa sta succedendo a ciascuna gamma di frequenze singolarmente durante le regolazioni. Having disabilitato vista Device disattivando la parte inferiore dei tre pulsanti di visualizzazione in alto a sinistra della nostra Rack, si può vedere che ho balanced our regolazione audio del volume di ogni catena, lo scorrimento della banda alta a sinistra, e il Mid banda a destra.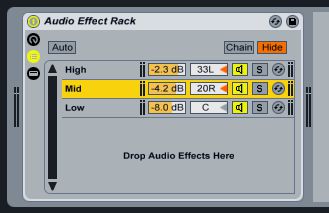 Foto 10: fascia alta stroncato a sinistra, banda media a destra.
LISTEN: a tre bande di elaborazione, misto, in stereo [id audio = "18624"]
PRO-SUGGERIMENTO: Per elaborare quattro o più bande di EQ in parallelo, utilizzare un EQ8 piuttosto che un EQ3 all'inizio delle vostre catene, configurato con filtri High-e passa-basso per isolare le frequenze desiderate per ogni catena.
Rack Attack
La complessità di un rack in particolare di ordine altamente creativo può comportare un po 'di progettazione ed esecuzione. Per salvare qualsiasi rack per un utilizzo futuro, è sufficiente fare clic sul pulsante Salva nell'angolo in alto a destra del dispositivo per salvarlo con un nome a piacere nel Browser.
Quando cicli di lavorazione, canzoni percussioni, ambiente o tutta, la possibilità di effettuare separatamente bande di EQ, come di cui hai bisogno, nel modo più specifico si vuole, apre possibilità illimitate di trasformazione spettrale. Fattore nella capacità di trasformarsi da una catena o banda di frequenza a quello successivo mediante il selettore del Chain e di modulare qualsiasi di questi parametri cremagliera tramite macro e / o inviluppi di clip, e si dovrebbe avere alcun problema a venire con alcune idee selvatici. Se alterare il materiale originale per un remix, la progettazione suoni per la vostra biblioteca, o semplicemente dando nuova vita a cicli stantii, Rack di Effetti Audio sono un potente strumento per ogni utente Live.
Per saperne di più sul potere di tutti i rack in diretta, tra cui Effetto MIDI, Drum Rack e strumento controllare il mio tutorial macProVideo, Hooked On Racks .