Audio Effect Racks sind eine der mächtigsten Sound-Design-Tools in Ableton Live, und ein wirklich einzigartiges Feature ohne direkte Entsprechung auf anderen Plattformen. Sie können nicht nur Schicht zu kombinieren und morph zwischen Wirkungen, aber Sie können auch die parallele Verarbeitung von mehreren Racks Ketten drastisch verändern separaten EQ-Bänder des ursprünglichen eingehenden Audiosignals. Was bedeutet das genau? Im Beispiel haben wir hier betrachten werde, werden wir, indem sie eine grundlegende Synth Bass-Loop und das Isolieren und Komprimieren ihre Sub-Bass-Frequenzen beginnen; wir dann einen High-Pass-Filter, um die hohen Frequenzen zu isolieren - wo wir " werde etwas Chorus und Delay zu erweitern und erhellen den Klang.

Bild 1: Die ursprüngliche Schleife.
Schließlich werden wir isolieren die mittleren Frequenzen, die wir verwenden, um einige Hintergrundinformationen Ambiente erzeugen werde alles ohne trüben die Subs überhaupt. Das Endergebnis: Umwandlung eines Standard-Synth-Bass-Loop in eine dynamische, voll-Frequenz Moloch. Lassen Sie uns einen Blick.

HÖREN: Das Original-Schleife
Rack
Wenn Sie noch nie von Live Audio-Effekt-Racks verwendet haben, indem Sie auf die Audio Effects-Abschnitt Ihrer Geräte-Browser und doppelklicken Sie auf oder ziehen, um ein zu einer Audio-oder MIDI-Spur in Ihrem Set hinzuzufügen starten (Browser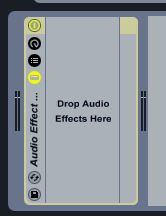 Bild 3: Ziehen Sie ein Live-oder 3rd-Party-Effekt in den Device View.
Das erste, was ich tun werde, ist einen Chorus und Ping-Pong Delay.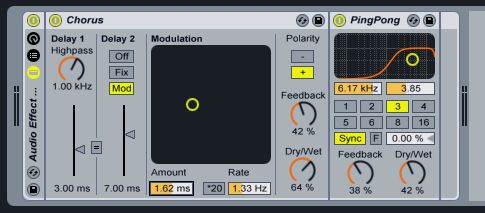 Bild 4: Fügen Sie einen Chorus und Ping-Pong Delay.
Allerdings, da ich nur wollen, dass diese Effekte auf die hohen Frequenzen des Schalls zu verarbeiten, werde ich eine EQ3 vor (links) zu platzieren in der Kette mit den Low-und Mid-Bands deaktiviert, so dass nur die hohen Frequenzen sind durch in Passieren alle Auswirkungen im weiteren Verlauf, in diesem Fall, unsere Chorus / Delay-Combo.

Bild 5: EQ 3 Einstellungen, um die hohen Frequenzen zu isolieren.
PRO-TIP: Stellen Sie die hohe Frequenz der EQ3 den Frequenzbereich finden Sie suchen.
LISTEN: Isolierte High-Band Verarbeitung [Audio id = "18628"]
Unten
Da wir letztendlich wollen jedes Frequenzband separat zu bewirken, müssen wir das Signal parallel zu verarbeiten. Racks können wir dies, indem er mehrere Effekte Ketten zu tun, die Verarbeitung der gleichen ursprünglichen trockenen Signal durch separate Effekte und Mixer-Parameter. Wenn wir zwei Ketten ohne Auswirkungen auf entweder schaffen sollten, würde das ursprüngliche Signal verdoppelt werden, was Phasing und Gewinn Probleme, aber das ist nicht der Plan hier. Um eine neue Kette hinzuzufügen, klicken Sie auf die Kette Schaltfläche Ansicht, oberhalb der Geräteansicht Taste auf der oberen linken Rand des Audio Effect Rack (PIC 6), und wir suchen nun an der Kette view Bereich links der Vorrichtungen der aktuell ausgewählte Kette.

Bild 6: Die Kette Schaltfläche Ansicht.
Bevor Sie eine neue Kette, werde ich umbenennen (Befehlstaste-R) unsere bestehende Kette Hohe zu halten alles ordentlich die Straße hinunter. Jetzt, da wir bereit zu beginnen Verarbeitung unserer niedrigen Frequenzen sind, werde ich ziehen Sie einfach ein anderes EQ3 genau dort, wo Live-suggestiv weist uns an Audio Effects Hier Drop in der Kette Ansicht, und voila! eine neue Kette wird automatisch erstellt.
PRO-TIP: Rechts-Klick oder in den leeren Kette Sichtbereich gedrückter Ctrl-Taste für den Zugriff auf das Kontextmenü erstellen Kette Befehl.
Um die niedrigen Frequenzen zu isolieren, ist das erste, was wir tun, deaktivieren Sie die mittleren und hohen Frequenzen in der EQ3, dass wir verwendet, um diese Kette zu starten und wir werden es Low umbenennen, bevor wir weiter.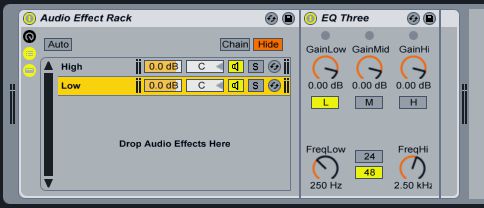 Bild 7: EQ 3 Einstellungen, um die niedrigen Frequenzen zu isolieren.
Jetzt werde ich hinzufügen, einen Kompressor mit einer niedrigen Schwelle und ziemlich hohes Verhältnis und eine Saturator mit einem sinoid Faltenform wirklich aufpeppen die Sub-Frequenzen, Sie werden auch bemerken, dass ich das EQ3 Low Frequency angepasst, um eine niedrigere isolieren Frequenzbereich als die Standard-EQ3 Einstellung von 250 Hz.

Abb. 8: FreqLow Satz bis 160 Hz.
LISTEN: Isolated Low-Band Verarbeitung [Audio id = "18620"]
LISTEN: Zwei-Band-Verarbeitung, hoher plus Low [Audio id = "18621"]
Middle of the Road
Hören jetzt haben wir eine dynamische Aufteilung zwischen beiden Frequenzbereiche haben, und es klingt schon ganz anders als die ursprüngliche Schleife, aber da fehlt etwas in der Mitte. Dieses Mal werde ich halten Sie die Wahltaste gedrückt, klicken Sie auf die neu erstellte Low-Kette in der Kette Ansicht auszuwählen, und ziehen Sie es einfach über sich selbst, um die Kette zwischen den beiden bestehenden, die wir auch, indem Sie es tun konnte, und duplizieren mit dem Duplizieren-Befehl (Command-D), dann ziehen die neue Kette auf immer wieder nachbestellen für organisatorische Zwecke benötigt. Nachdem dies erledigt, dass ich schnell umbenennen unsere dritte Kette Mid, aktivieren Sie die mittleren Frequenzen des EQ3, während de-Aktivierung der Low-und High-Band. Ich werde dann löschen Sie den Kompressor, so dass nur die Saturator, was ich kann zu minimieren. Jetzt werde ich ein Reverb mit dem Dry / Wet auf 100% Wet, durch einen Phaser und ein Auto Pan gefolgt hinzuzufügen.

Bild 9: Die "Mid"-Kette.
Das Ergebnis: ein langsamer Modulation, Stereo-Panning mittleres Niveau Ambiente.
LISTEN: Isolierte Mid Band-Verarbeitung
LISTEN: Drei-Band-Verarbeitung, High, Mid und Low [audio id = "18622"]

Vermischung
Wie Sie vielleicht bemerkt haben, gibt die Kette view uns einen Mixer-Sektion, ähnlich einem Drum Rack, wo jeder Chain in unserem Fall, Low, Mid und High hat seine eigene Lautstärke, Panorama, Aktivator und solo. Die Mute-und Solo sind besonders nützlich, um herauszufinden, was genau zu jedem Frequenzbereich geschieht individuell, wie Sie Anpassungen vornehmen. Nachdem deaktiviert das Gerät Blick durch Deaktivieren der unteren der drei Blick Schaltflächen in der oberen linken unserer Rack, können Sie sehen, dass ich ausgeglichen unseren Sound Einstellen der Lautstärke jeder Kette, Panning das High-Band auf der linken Seite, und die Mid Band nach rechts.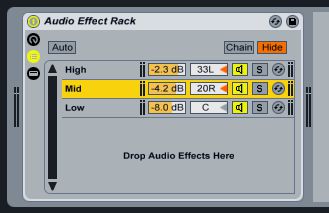 Abb. 10: High-Band verrissen nach links, Mid-Band auf der rechten Seite.
LISTEN: Drei-Band-Verarbeitung, gemischt in Stereo [audio id = "18624"]
PRO-TIP: Um vier oder mehr EQ-Bänder parallel zu verarbeiten, verwenden Sie eine EQ8 anstatt eine EQ3 zu Beginn Ihrer Ketten, konfiguriert mit High-und Low-Pass-Filter, um die gewünschten Frequenzen für jede Kette zu isolieren.
Rack Attack
Die Komplexität eines Rack vor allem eine kreative man beinhalten einiges an Planung und Ausführung. Um eine Rack für die zukünftige Verwendung zu speichern, einfach auf die Schaltfläche Speichern klicken Sie in der oberen rechten Ecke des Geräts, um es unter einem beliebigen Namen Sie im Browser speichern.
Bei der Verarbeitung von Loops, Percussion, Ambiente oder ganze Songs, die Fähigkeit separat bewirken so viele EQ-Bänder, wie Sie benötigen, so konkret wie Sie wollen, eröffnet grenzenlose Möglichkeiten zur spektralen Transformation. Faktor für die Fähigkeit zu morphen von einer Kette oder Frequenzband zur nächsten über die Kette Selector und zur Modulation dieser Rack-Parameter über Makros und / oder Clip-Hüllkurven, und Sie sollten kein Problem kommen mit einigen wilden Ideen haben. Ob verändern ursprüngliche Material für einen Remix, Gestaltung Sounds für Ihre Bibliothek oder einfach neues Leben einzuhauchen stale Schleifen sind Audio-Effekt-Racks ein leistungsfähiges Werkzeug für jeden Live-Benutzer.
Weitere Informationen über die Leistung aller von Live Racks inklusive MIDI-Effekt, zu überprüfen Drum-und Instrumenten-Racks meine macProVideo Tutorial, Hooked On Racks .