Default templates for your DAW of choice can be a way to maximize both your studio time and your creativity. While many studio programs come with their own templates, they are rarely customized to the specific way that we write or record and often wind up creating more work just to get started. Who wants to spend time calling up instruments and naming tracks when the creative juices are flowing? Not me, that's for sure! Let's take a look at creating some killer default templates in Ableton Live, Pro Tools and Logic.
3, 2, 1… and you're LIVE!
With Ableton Live, it's easy to alter the 'default set' that loads up every time you start the program. I typically use Ableton Live for songwriting with a 'riff based' approach. When I don't have anything concrete, but I want to just sketch out a TON of riffs that could be assembled into a song, Live is just the tool I need.
In order to maximize my time when inspiration strikes, I created a set where I have all the instruments in my band already set up. Since I've got the screen real estate, I've even included just about every class of keyboard sound I might decide to use when my band plays a song. If you take a look at the screenshot, you'll see the coolness of this. I boot up Ableton Live, and instantly I've got access to every instrument in my band.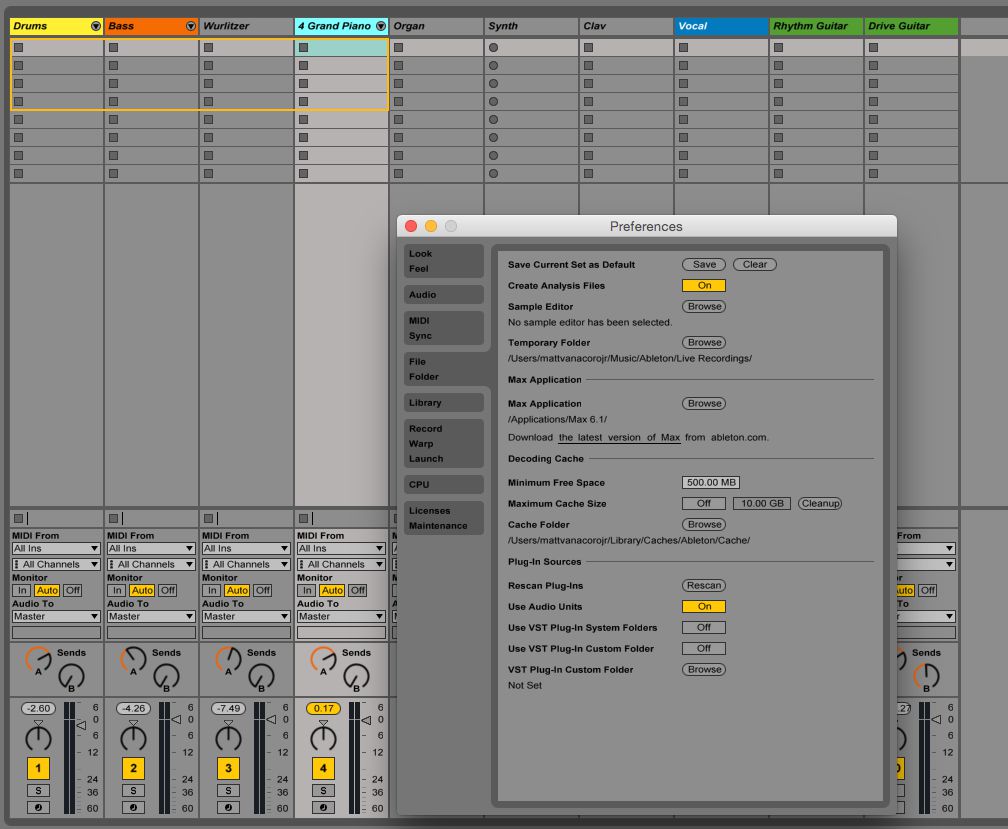 If you look under 'preferences' and choose 'file/folder' you'll see 'save current set as default' right up at the top.
I've also tried to stick with instruments that come with Live as much as possible unless I really *really* hate a specific sound. That's just a bit of a trick to spark inspiration! It helps me give the song I'm working on an Ableton Live 'sound' and can often be just the thing to shock me out of writer's block.
After you've configured the perfect 'set' for the way YOU use Ableton Live the most, simply go to the Preferences menu, look under 'File/Folder' and choose 'save current set as default'. That's it, you're done! When you start Live from now on, it will start up with a blank song configured exactly the way you want it!
Putting the 'Pro' in Pro Tools
When I'm working in Pro Tools, I'm usually recording a band or working mostly in audio, so I'll generally set up a template that allows me to record a lot of tracks, have monitor mixes already routed, and have my inputs/outputs trimmed down to the bare necessities in the I/O menu so that I can find what I'm looking for quickly (having 64 virtual buses is nice, but I generally use 4 or 5 so I tend to put my Pro Tools on a strict diet). I like to have a band come in, plug in and get going—so I configured my default template accordingly.
After you've configured your perfect setup, go to 'File' and choose 'Save as Template'. You'll then get the option to save your template to a folder where you might keep several different 'setups' or save it as the default template. Choose the default template if you're going to use one, or choose the folder option if you think you might make a few setups.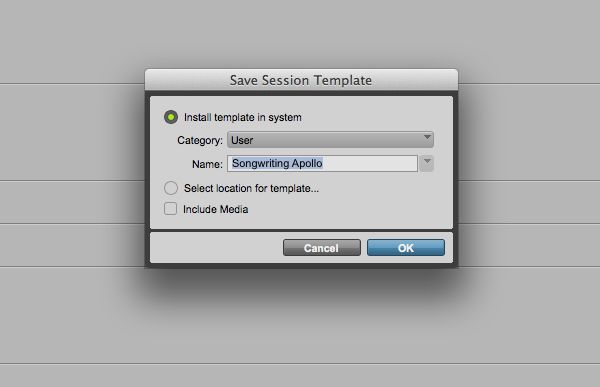 Making Logic More Logical
When I'm working in Logic, I'm generally composing for film or TV so I created a template to make the most out of the instruments you get when you purchase Logic. I want to squeeze every last bit of power out of EXS24 that I can, and my templates reflect that.
Logic lets you keep as many templates in your 'default templates' area as you want, which is pretty cool! Simply choose 'File' then 'Save as Template' and the next time you start up Logic, go to 'Create a New Project from a Template' and choose the folder 'my templates'. You can fill it up with as many time-saving templates as you like!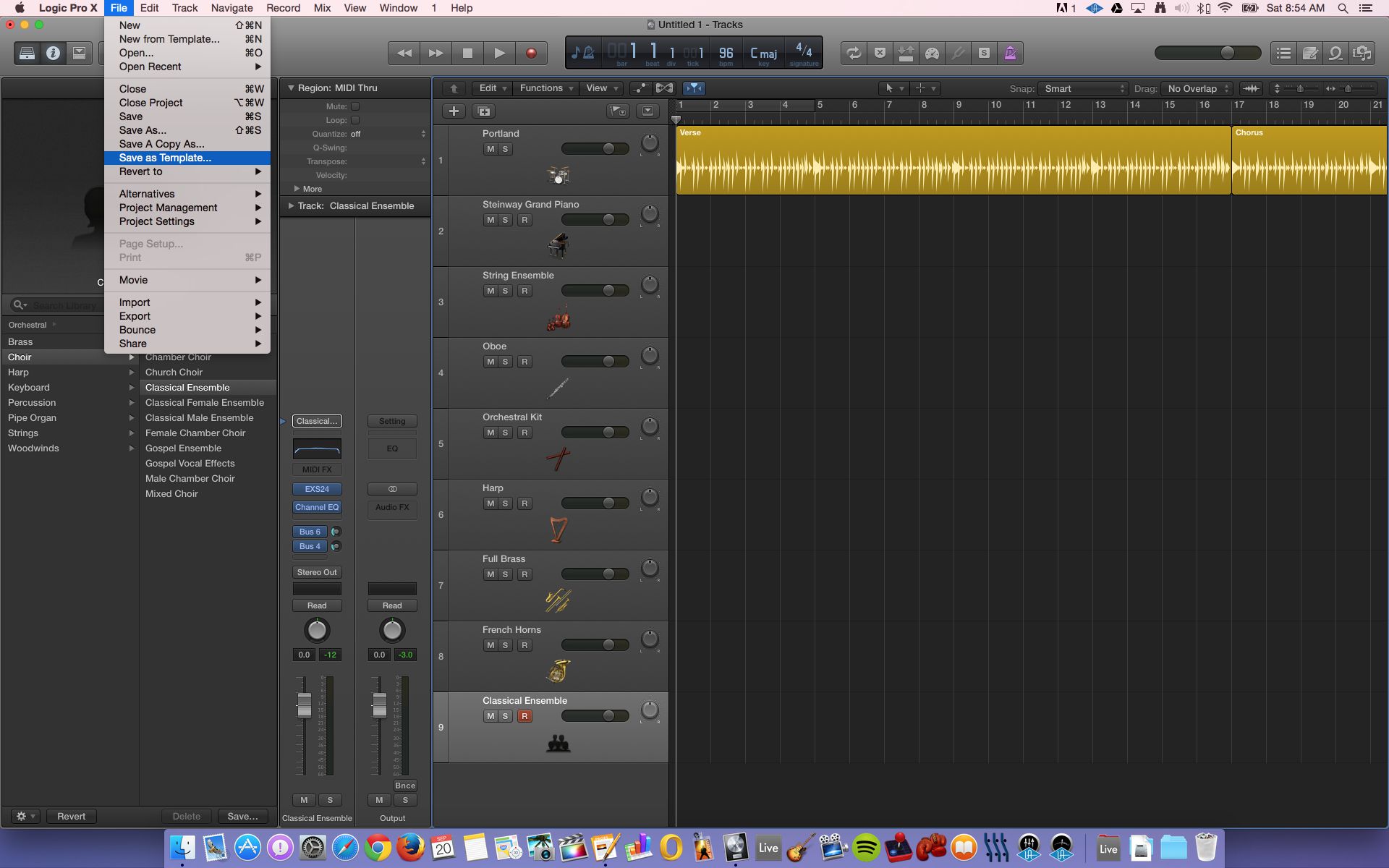 You paid for EXS24, you might as well use it! Stack up your Logic templates with some great instruments!
Conclusion
Templates are a great way to get the technology 'out of the way' and get YOU to the 'making music' portion of your day quicker. I'm surprised more people don't use them, and I die a little inside when I see an engineer creating a typical setup from scratch time after time. Set up some sweet templates and give yourself some more time for making music!