There are a huge amount of drum libraries available now and these feature just about every style of drum hit you could imagine but one thing I find is that they are often lacking in basic stereo width.
There are some occasions when you need a strong stereo drum sound and often the best solution is to create one yourself. Let's take a look at how to create a stereo snare / clap in Logic Pro.
Step 1 - Choosing your Core Sound
Start by adding your core sound, this drum hit will act as the centre of our stereo hit and does not have to be stereo itself. In fact it can work quite well if this sound is quite mono in nature. This will give us a nice contrast between this sound and the stereo effects we'll add next.

Our simple mono core snare sound in Logic
The core snare sound:
Step 2 - Adding your Secondary, Stereo Sounds
Next up we'll add the stereo end of the sound. I find the easiest way to create a wide stereo hit is to use the same sound panned hard left and right on two channels. To do this you'll need to duplicate the drum hit in question (in this case I'm using a nice crisp electronic clap) and place it on two independent channels.
The untreated clap we'll be using:
With your two new channels created pan one to the left and one to the right. You should hear exactly the same sound as you started with. The key to making the sound stereo is to slightly delay one side. Most DAWs give you the option to do this but you can manually move the audio itself if you prefer. You'll only need to move one of the files a very small amount before you hear the effect (often by a few ticks or samples).

The two claps are delayed to create a stereo effect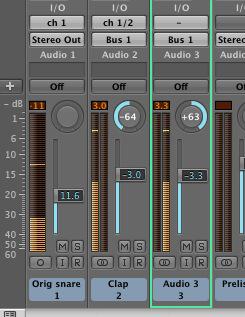 ... And then panned hard left and right
You should now have a good solid stereo drum hit and remember you can use this technique with any sound not just a snare.
The stereo clap is completed:
Step 3 - Using Some Effects to Enhance the Stereo Width
To enhance the stereo effect of your new hit you can use some reverb or ambiance. It's advisable to go for very short reverb here as anything else will swamp the effect. I've applied a very straight forward ambience patch from Logic's Space Designer.
You can also try very short delay effects here as well, but again be wary of using anything too heavy as all your work could be masked.
The final mix of drums with no reverb: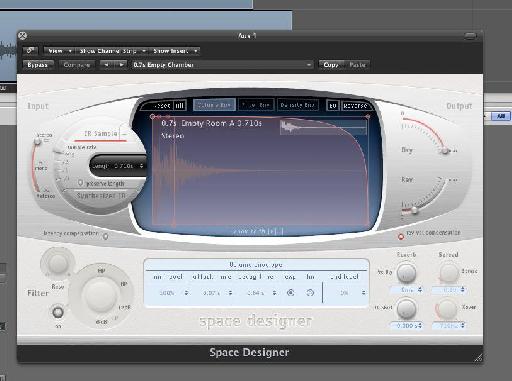 The reverb unit used for extra space
The final mix with added reverb:
More great tutorials on Drums Synths in Logic.